Early Birds: NFL Week 7 opening lines, market reactions and early bets to target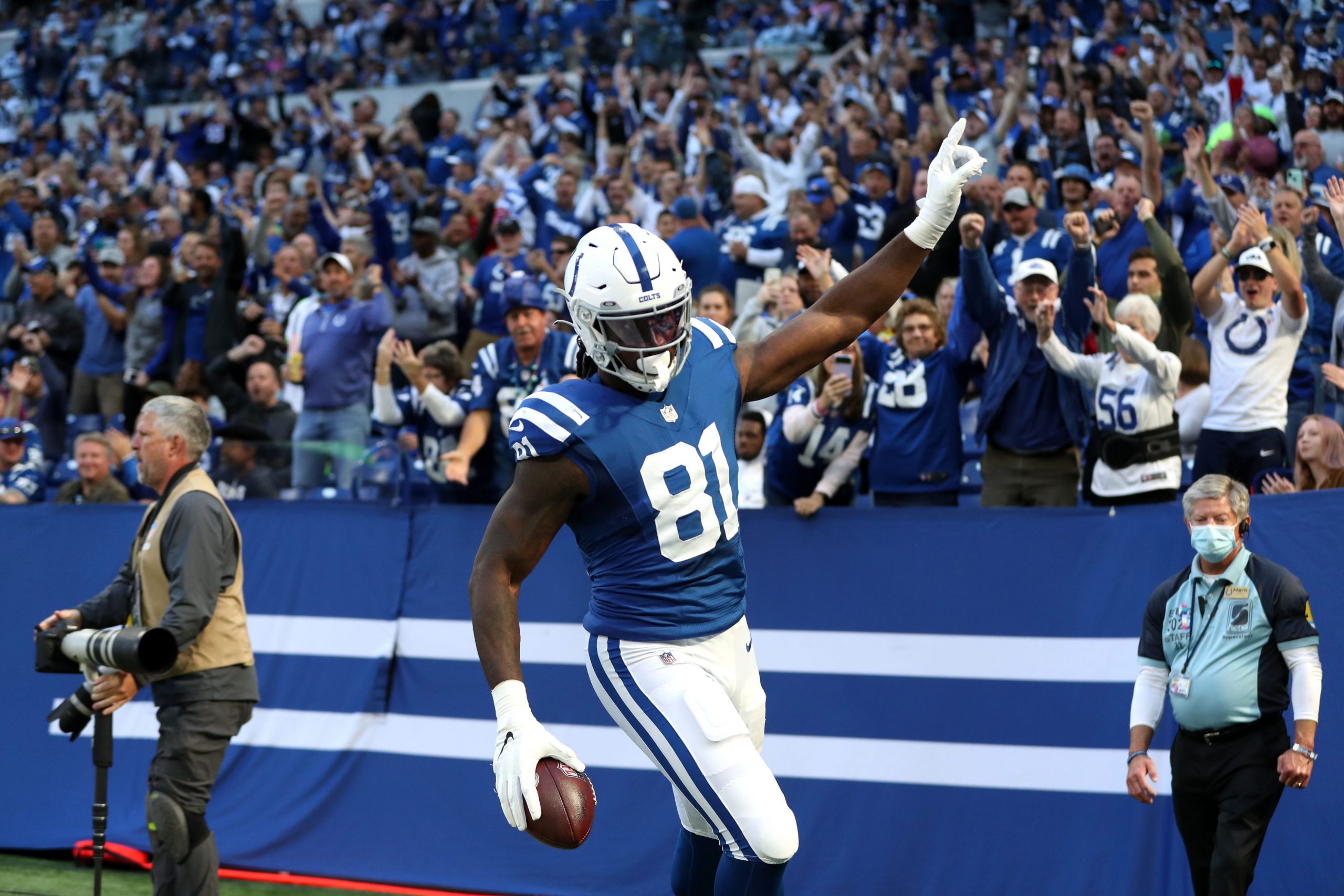 Week 6 was another winning one for NFL bettors as favorites went 7-0 ATS during the 1 pm window on Sunday, followed by a dramatic cover in overtime by the Cowboys, the biggest loss of the weekend for oddsmakers. "Our worst Sunday of the NFL season so far," said TwinSpires Trading Analyst Zachary Johnson. It's also the second straight week that underdogs will finish below .500 ATS after finishing above .500 in each of the first four weeks.
Looking ahead to next week, the NFL board is really sharpening up with four double-digit spreads and I don't see much I like at this stage, besides one game. The college football markets seem to be presenting the best opportunities, and I expect a decent amount of closing line value by week's end.
Indianapolis Colts at San Francisco 49ers

Colts +4.5
*Bet at Unibet on Sunday night
Indianapolis has drawn the attention of many sharp bettors the last three weeks after an 0-3 start and they have responded with three straight wins ATS. T.Y. Hilton provided a spark to the passing game on Sunday against the Texans and Jonathan Taylor looked dominant on the ground, racking up 10.4 yards per carry. The 49ers are coming off a bye week, but there are still question marks about who is starting under center, so I understand why the smart money is coming in on the Colts once again. Most of the market has already pushed this line to +4, so barring injury (check Hilton's status this week) I expect at least a half-point of movement in my direction.
San Diego State at Air Force

Air Force -3.5
*Bet at FanDuel on Sunday night
The Aztecs needed double-overtime to get past San Jose State and allowed 117 rushing yards in the process. That's great news for Air Force, one of the nation's top rushing teams. The Falcons are 5-2 ATS this season after an impressive outright underdog win at Boise State, their fourth straight against the number. I expect Air Force to close at -4 or longer.
New Mexico at Wyoming

Wyoming -19.5
*Bet at MGM on Sunday night
New Mexico has one of the worst offenses in the nation averaging just 3.7 yards per play and it won't get any easier this week on the road against a Wyoming defense ranked 10th in opponent yards per play (4.3). It's safe to assume the Cowboys offense won't play any worse than they did last week, when they were shutout against Fresno State. The Lobos are one of just four teams in the FBS that are winless ATS (Kansas, Missouri, Clemson). I expect Wyoming to close at -21 or longer.
LSU at Ole Miss

Ole Miss -10.5
*Bet at MGM on Sunday night
LSU is an easy sell this week after their incredible upset win over Florida and the bizarre situation surrounding Ed Orgeron. I would not be surprised if most of the focus in Baton Rogue is about who the next head coach will be, and not this week's opponent. That's great news for Lane Kiffin and Matt Corral, who should feast on a banged-up LSU defense that's ranked 95h in opponent yards per play. The Rebels offense is 3rd in yards per game (537.6) and 6th in points per game (41.6) and Corral is a legit Heisman candidate. This is a bad matchup for the Tigers defense and I expect Ole Miss to close at -11.5 or longer.
NC State at Miami
NC State -3
*Bet at MGM on Sunday night
The Wolfpack control their own destiny in the ACC Atlantic and feature one of the best defenses in the nation, ranked 7th in opponent YPA (5.8) and 21st in opponent yards per play (4.7). Meanwhile, Miami's offense struggles to move it and freshman quarterback Tyler Van Dyke threw three interceptions against UNC last week in relief of the injured D'Eriq King, who is out for the season. I expect the Wolfpack to close at -3.5 or longer.
Georgia Tech at Virginia

Over 60.5
*Bet at MGM on Sunday night
This game should be played at a frantic pace as UVA runs the 2nd most plays per game in the country (83.7) and Georgia Tech isn't far behind in 58th (70.4). Despite their fast tempo, the Under is 4-0 in the last four games for the Cavaliers, however the average total in those games was almost 68.5, so I believe we are getting this number at a slight discount. Georgia Tech's offense has been proficient of late, surpassing the 30-point plateau twice in the last three games. The lookahead total in this game was 60, which means it's already ticked up a half point, and I expect it to close at 61 or higher.
Oklahoma State at Iowa State
Iowa State -6.5
*Bet at MGM on Sunday night
At first glance, this line makes absolutely no sense. Oklahoma State is unbeaten and coming off a very impressive comeback win at Texas. Meanwhile, Iowa State has looked sluggish when managing up in competition this season with two losses already on their resume (vs. Iowa, at Baylor). However, oddsmakers are betting on a letdown by the Cowboys, as the initial line movement in this game went towards the Cyclones from a lookahead of -6. Based on what I'm seeing early on, I expect Iowa State to close at -7 or longer.
Oregon at UCLA
UCLA -1
*Bet at MGM on Sunday night
Just like Oklahoma State/Iowa State, this game features an unranked team favored against a ranked one, which immediately raises a red flag. The Ducks escaped last Friday night with a home win over Cal, and didn't look great in the process. They will face a much stiffer test against the Bruins who have scored the most points in the Pac 12 this season. The Bruins also excel at stopping the run, ranking 17th in opponent yards per rush (3.2), which means this game will fall on the shoulders of Anthony Brown, who has only throw one touchdown pass in the last two games. I would rather trust the steady hand of senior Dorian Thompson-Robinson, who has a 13-2 TD-to-INT ratio this season. Based on the early market movement, I expect UCLA to close at -2 or longer.
NFL Week 7 opening lines
Let's look at the early lines for this week's NFL Week 7 slate, courtesy of FanDuel Sportsbook:
Thursday Night Football
Denver Broncos (+5.5) at Cleveland Browns
Sunday afternoon
Cincinnati Bengals (+6.5) at Baltimore Ravens
Carolina Panthers (-3) at New York Giants
Washington Football Team (+10) at Green Bay Packers
Kansas City Chiefs (-4.5) at Tennessee Titans
Atlanta Falcons (-1.5) at Miami Dolphins
New York Jets (+7) at New England Patriots
Detroit Lions (+14.5) at Los Angeles Rams
Philadelphia Eagles (+3) at Las Vegas Raiders
Chicago Bears (+12.5) at Tampa Bay Buccaneers
Houston Texans (+17) at Arizona Cardinals
Sunday Night Football
Indianapolis Colts (+4.5) at San Francisco 49ers
Monday Night Football
New Orleans Saints (-3) at Seattle Seahawks

Pickswise is the home of NFL Picks. Check out our latest playoff picks and round-by-round analysis as well as our free Super Bowl predictions.