NFL
Back
Inked: The NFL teams with the most tattooed fans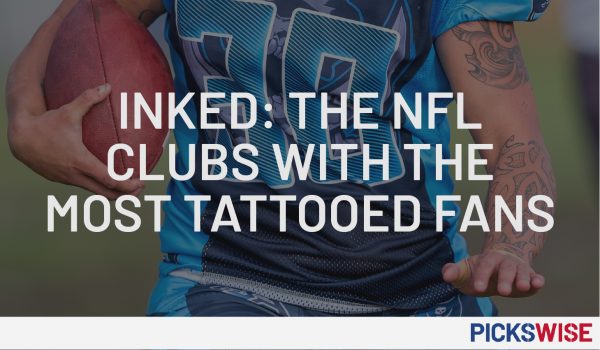 NFL
8:24AM
Tue 12th January 2021

NFL
8:24AM
Tue 12th January 2021
Andrew Wilsher
See Bio
Andrew Wilsher

@aWilsher94
andrew.wilsher@racingpost.com
Editor of Pickswise. Born and raised in jolly old London, England, with an undying love for the NFL, NBA, soccer, and horse racing. A big-time sports bettor who loves futures markets and backing underdogs. Long-suffering New York Jets fan.
By Andrew Wilsher

@aWilsher94
andrew.wilsher@racingpost.com
See Bio
Editor of Pickswise. Born and raised in jolly old London, England, with an undying love for the NFL, NBA, soccer, and horse racing. A big-time sports bettor who loves futures markets and backing underdogs. Long-suffering New York Jets fan.
Whether they're your local team or a club you've always admired, you'll have your own way of showing support for the football side you follow – likely through traditional, moderate means. But, what about the fans who so intensely follow their team that they go to extreme lengths to demonstrate appreciation?
Unearthing Instagram hashtag data, we uncover the NFL teams with fans so dedicated that they've been inked in club colors. Analyzing the findings, we've ranked the sides by the number of relevant posts and explored the reasons behind some of the more interesting revelations.
Which teams are leading the way?
Compiling data from a wide array of relevant Instagram hashtags, each clearly labeling an NFL-inspired tattoo, we've discovered that the Philadelphia Eagles, Chicago Bears, Las Vegas Raiders, New England Patriots, and Denver Broncos boast the most ink-friendly fans. With over 4,000 dedicated Instagram posts per club, there's no shortage of hardcore advocation from supporters. 
Meanwhile, at the other end of the spectrum, there are several clubs laboring behind with less than 100 tattooed fan posts each, with the bottom four including the New York Jets, New Orleans Saints, Tampa Bay Buccaneers, and Tennessee Titans – the latter sits bottom of the pile with a measly seven posts across the entire fan base. Yikes! Find the complete list below, and see where your club lands: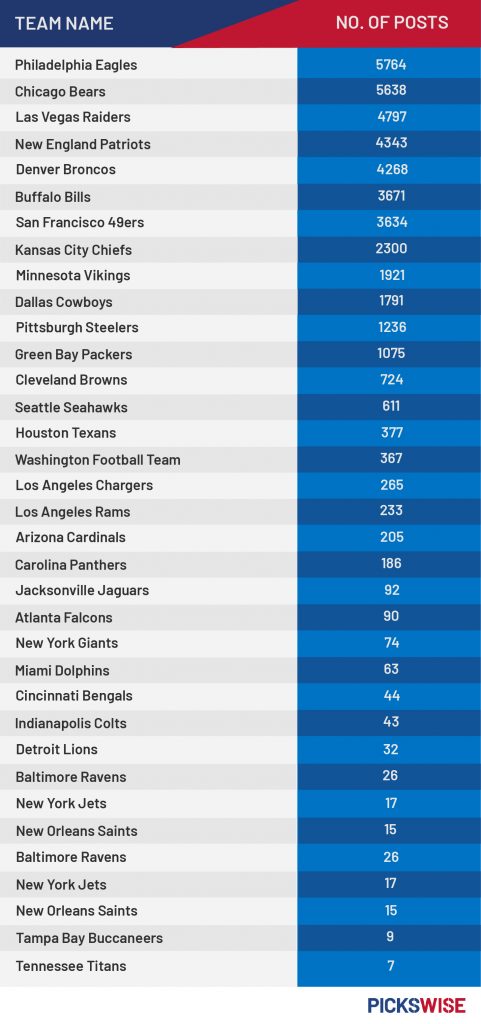 What's inspiring these football tattoos?
So, what prompts an American to decorate their body with their team's crest? Aside from pure, immeasurable devotion, there are two main reasons that a club might register strong numbers on the tattoo front: recent and historic success and general following. 
Celebrating Super Bowl success
Fans love celebrating success. And what's more worthy of commemoration than witnessing your club lift the ever-coveted Vince Lombardi Trophy in the Super Bowl? With this in mind, it's unsurprising that the top third of football-inspired tattoos are attributed to clubs that hold an impressive two-thirds of all NFL Championship titles, including the Patriots, 49ers, Cowboys, and Steelers. 
Similarly, each of the five Super Bowl 49-53 victors (Patriots, Broncos, Eagles) also place within the top five most prominently tattooed club colors. This suggests a contemporary impulsiveness lesser seen in previous generations of winners, with recent winners Philadelphia Eagles' fans celebrating their maiden success in spectacular style by storming to the top of our tattoo chart.
Despite 2020 being unwittingly anomalous, and tattoo parlors facing partial closure throughout the year, second-time and most recent Championship holders Kansas City Chiefs also sit comfortably within the top ten for inked fans. 
More astonishing, however, is the peculiarly underwhelming popularity of 2012 and four-time champions the New York Giants across the Instagram tattoo community. Collectively, the Giants, along with the Miami Dolphins, Indianapolis Colts, and Baltimore Ravens, account for almost 20 percent of all titles, and yet it's perennial four-time losers the Buffalo Bills and Minnesota Vikings who claim the vast tattoo advantage.
Is there a correlation with social following?
Since we've been dissecting Instagram data, it makes sense to compare the hashtag activity with the follower numbers of the 32 official club accounts. Among the top five followed accounts, we have some of the most decorated clubs in the Patriots, Cowboys, Steelers, and 49ers, with the Seahawks also making the cut. 
Not unexpectedly, when comparing page followers with tattooed fans, there is a prominent correlation: nine of the ten most followed teams also feature within the top 14 in our tattooed fan ranking.
Peculiarly, though, highly decorated side the New York Giants have scored a remarkably low tattoo index score despite boasting four Super Bowl titles and being the eighth-most followed team with 2 million fans. A pitiful sub-100 fan posts showing off inked club colors puts the Big Blue in the bottom ten for tattooed representation. 
Even more astonishing is the follower-to-fan post comparison. Put beside humbled serial losers the Buffalo Bills, you'd expect the Giants to have a field day, but it's the perpetual second placers who take the victory on this count. Despite meekly claiming the lowest follower count among our index's top 16 clubs, the Bills register a fan tattoo per 211 followers, compared to the supposed-glittering Giant's ironically gigantic 27,000 followers for every single club-inspired tattoo. Small victories, eh?
So, with another Super Bowl rolling around, what will next year's 2021 tattoo index standings look like, and will the Eagles retain their crown? We've got the latest Super Bowl Predictions and best free betting picks for the end of the NFL 2020/21 season.
Last updated: Wed 20th January 2021