College Basketball
Back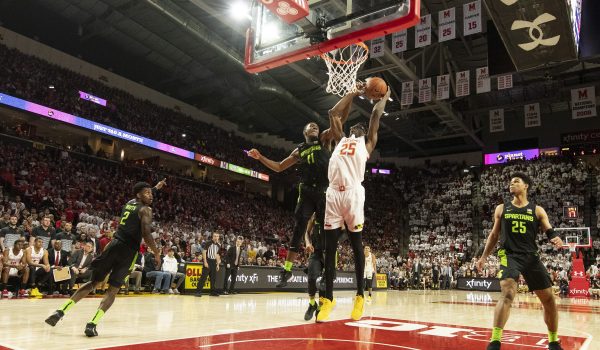 Is this the year for the Big Ten? Which team has the best odds
The National Championship in College Basketball has had plenty of strong contenders from all across the country every season. This year has been no different, and that should prove for a very exciting March Madness. It has been 20 long years since the Big Ten has celebrated on Championship Monday. Maryland won it all in 2002, but that was when they were a part of the ACC. Michigan State is the last true winner for this conference. The 2019-20 season has shown that the Big Ten is ready to win the crown again. Is this the year the Big Ten will reign supreme? Who has the best odds?
The top two teams stand a chance
The top of the Big Ten has been a luxury place to be as Maryland holds a thin one-game lead over the Spartans, Badgers, and Illini. That lead could easily disappear with the final two games for the Terps are at Rutgers and then a home game against Michigan. Michigan State looked like it was going to slide down the standings, but they have kicked it into another gear down the stretch, and if they can survive a daunting road visit to Penn State, they have a chance to share the Big Ten crown with Maryland. The way the Spartans performed in their huge road win at Maryland proved that they will be a contender in the NCAA tournament. The Spartans and Terrapins have the best odds out of the Big Ten, Michigan State at +1400 and Maryland at +2000.
The rest is a toss-up
Behind the Terps and Spartans is a whole gaggle of teams that could contend for the NCAA title. Between Ohio State, Michigan, Iowa, Wisconsin, and Illinois, they all have a chance to reach the second weekend of the tournament given their draw. One thing is for sure, facing a Big Ten team, isn't something some of the one-seeds and two seeds don't want to see in their bracket. The Nittany Lions have stumbled a bit in recent games so if they can survive their home battle with Michigan State (check our expert picks) tonight they are still a likely threat in the coming weeks. Wisconsin a current five-seed according to ESPN's Joe Linardi isn't a team that one-seed Baylor will want to see in the second round.
So is it the year?
Top to bottom the Big Ten is no doubt the strongest conference in the country, but with Maryland and Michigan State as the two only true threats, it looks like the Big Ten may have to wait another year. Luckily for both teams, the tournament field will be wide open, which has proven to be a good thing for the Big Ten in the past. Can the Big Ten's elite guards Cassius Winston or Anthony Cowan Jr. lead their respective teams all the way?
Last updated: Tue 3rd March 2020