Jared Smith's Back to the Futures: Judge jumps Ohtani for AL MVP favorite, other MLB insights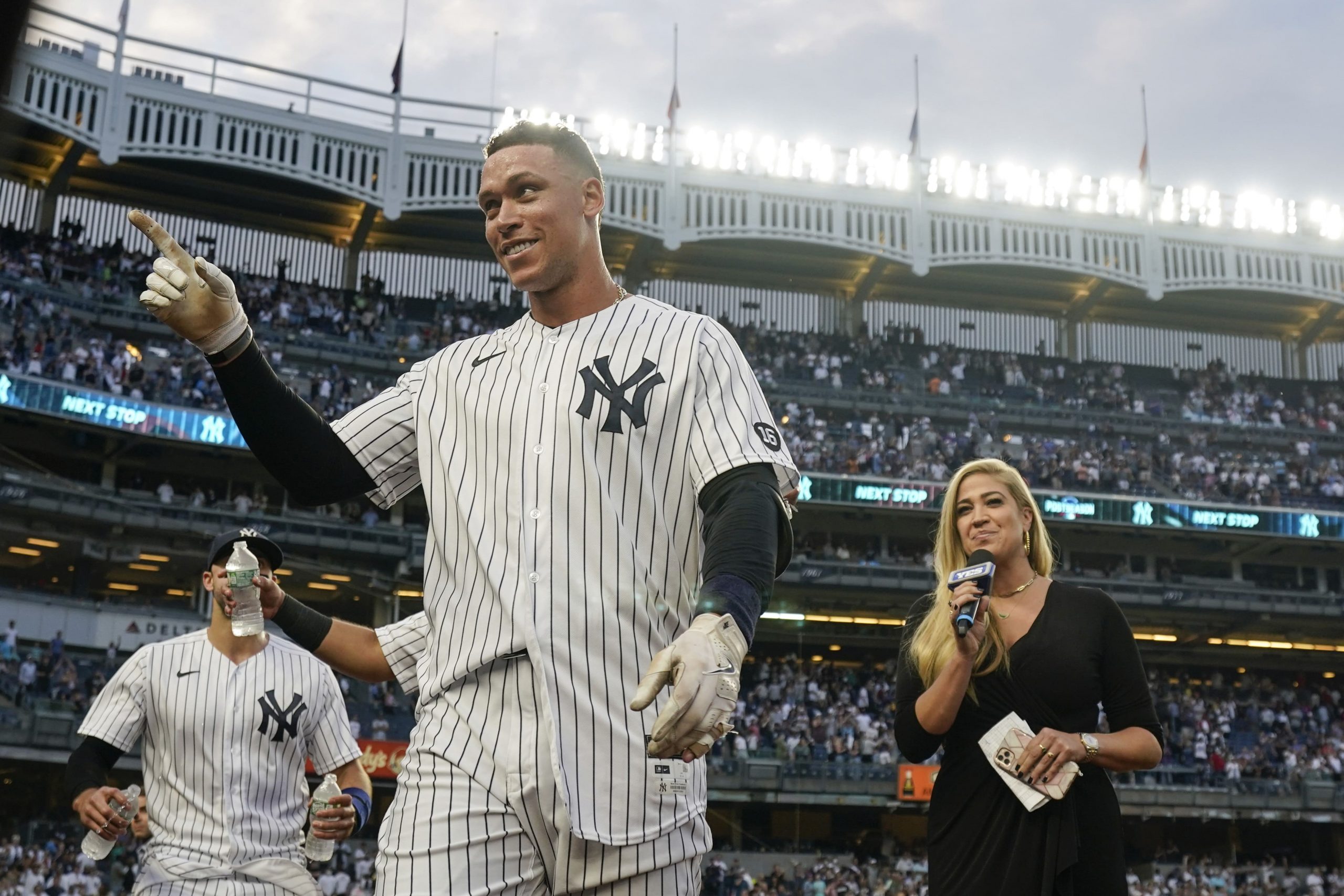 It's hard to believe but we're already more than one-quarter of the way through the 2022 MLB season. Sure, there have been a few surprises, which we will get to later in this column, but the contenders are starting to separate themselves from the rest of the pack. 
"You know 50 games in the Yankees are going to be in it, and the Dodgers, and the Astros," said an MLB team insider and my most trusted baseball source. A power surge in the Bronx has helped Aaron Judge pull in front of Shohei Ohtani as the favorite to win AL MVP. Since April 21st, Judge's odds have skyrocketed from +3000 to +200 at PointsBet, in front of Ohtani who is sitting just behind at +225. 
I invested 2.4u on Ohtani at +350 last month and still feel good about him being at or near the top of the market all season, barring injury of course. The same can be said for Judge, whose breakout has helped the Yankees be the first team to 40 wins this season. 
"Markets are always changing obviously and as I'm writing this, we just moved him to +100 and bumped Ohtani up to +160," said Westgate Senior Risk Supervisor Casey Degnon. "Obviously, there is a ton of baseball left but I do feel like Judge deserves to be the leader in the clubhouse right now."
Judge also has a built-in narrative with his looming contract extension, which is always something to consider anytime you're betting on an award voted on by the media. There's a decent chance I'll unwind my Ohtani position by betting Judge at some point this summer, but for now, I'll sit tight. 
Who will meet in the World Series? 
My source still believes Houston is the cream of the crop in the AL, and the market is beginning to catch up. Since April 29th, the Astros odds to win the World Series have moved from +1100 to +750 at PointsBet, and I still think there is room to the upside considering they are the only team in the American League that is a virtual lock to win their division at this early stage of the season.
"I agree that Houston could potentially be undervalued especially because of all the recent success they've had," added Degnon. "In terms of being ahead of the Yankees I'm not quite sure yet. Although, I'm not ready to trust the Yankees pitching in October. We also have some built up liability on the Yankees World Series so that's a big part of our future pricing as well."
If you shop around, you can still find the Astros at +850 to win it all, but I believe +400 to win the pennant is the better bet at this stage and I will be opening a position this week.
Cy Young race heats up
Houston clearly doesn't have a problem pushing Justin Verlander despite his recent Tommy John surgery, and it's looking more like he and Gerrit Cole as the top contenders going forward. My source believes JV gets the nod because of the narrative involved with what he's been able to accomplish so quickly after a major elbow injury. 
"I've never seen a pitcher that has had Tommy John surgery where they just throw caution to the wind. I suppose maybe getting a year and a half off helped, but if he's going to throw 200 innings off Tommy John, I've never seen that before."
Narrative aside, betting on Verlander is a risky play right now because there's no way of predicting if his elbow will hold up all season. 
"Right now, we have 4 guys favored at 5/1 to win the award. Verlander, Cole, Shane McClanahan and the most shocking name on the list, Nestor Cortes," added Degnon. "You can definitely make a case for Verlander to be the favorite but it's crowded at the top as these guys have all summer to separate themselves."
The National League is even a muddier picture. My source believes Corbin Burnes has lost a step, which has opened the door for guys like Sandy Alcantara and Joe Musgrove to creep up the odds board. All 3 of those are +400 or shorter at Westgate, with other fringe contenders like Max Fried, Pablo Lopez, Walker Buehler, Zack Wheeler, Carlos Rodon and Zac Gallen all hovering in the +1000 to +2000 range. 
"I'm not selling any Corbin Burnes stock just yet; he is still tied for the second choice at 4/1 with Sandy Alcantara only behind Joe Musgrove," added Degnon. "Burnes did look shaky in his last start against the Padres but that's a good offense and he still has the capability of giving 6+ innings and double-digit K's on any given night."
For those that have been following "Let's Bet It," you know I placed a unit on Gallen at +2200 a couple of weeks ago and will likely add to my portfolio at some point this summer. When I do, you all will be the first to know. 
Biggest Surprise: New York Mets
No team has seen a bigger odds shift than the Mets since the season has begun. On April 1st, they were +225 to win the NL East at PointsBet, just 2 months later, they moved all the way to -425. That's a 50% boost in their implied odds from 30.8% to 80.9%. To put that in perspective, only the Astros currently have better odds to win their division at -800 (88.89%), but they started the season as the odds-on favorite at -135 (57.45%), which still is only a 31% boost. 
"They're factoring in Scherzer and deGrom coming back, and you really can't do that based on years past, and that team does tend to have these jinxes," my source added. 
"I absolutely think the market assumes deGrom and Scherzer will both return this year and make a difference and you could definitely argue that would make them overvalued if neither do, plus it's the Mets," added Degnon. "I do think Buck Showalter makes a difference in a league where analytics are taking over. You still need a guy every once in a while to manage with a feel for the game and not just rely 100% on a binder."
I believe this massive odds shift represents a sell-high opportunity on Mets futures if you bought in early. If you haven't bet them yet, you missed the boat and should stay away. 
Overall betting strategy: Avoid the bullpens
If you've been following my MLB picks this season, it's obvious that I avoid the bullpens at all costs. I haven't bet a full game money line since opening day and I haven't bet any full game totals at all this entire season. My focus will continue to be on the starting pitchers, as I believe it's a more controllable handicap than having to rely on volatile bullpens and managers utilizing those bullpens properly. 
"The bullpen arms in general are having a hard time getting outs," my source added. "Maybe it's because they didn't pitch much in the spring due to the shortened spring training. It seems like every team can't close games out except for Milwaukee basically."
You can expect more walk props and a continued focus on the NRFI/YRFI market as the season reaches the dog days of summer. 
This week's Back to the Futures portfolio: 
Astros to win the AL Pennant +400 (1u at Bet365)
Pickswise is the home of free sports picks, news and best bets. Check out our expert NFL Picks, NBA Picks, MLB Picks and NHL Picks pages for our latest game picks.