Jared Smith's "Early Birds": NFL Week 18 opening lines and getting ahead of the National Championship market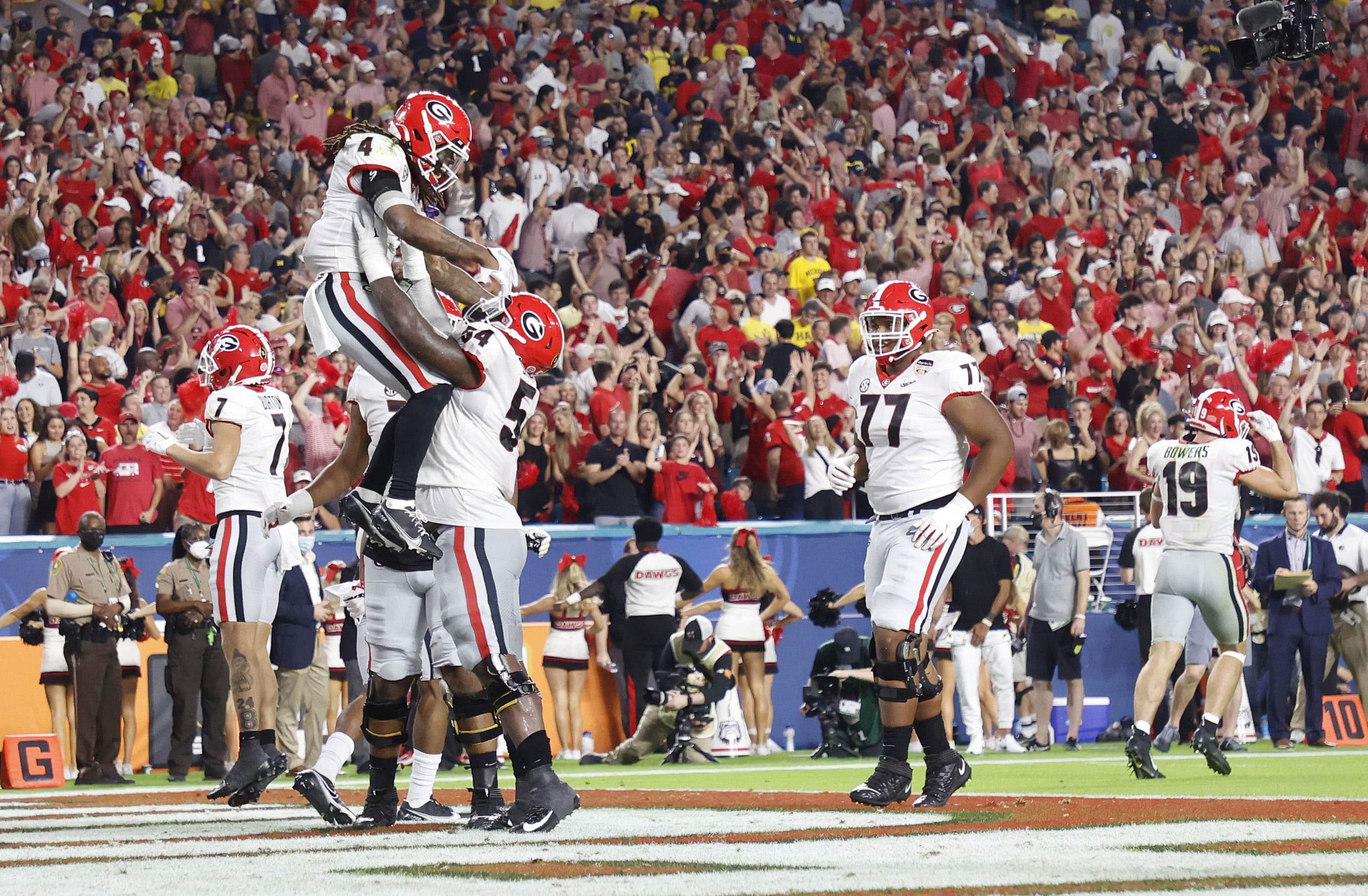 We've reached the climax of the NFL season, and there's a lot still to be decided in the final week. The coveted first-round bye is up for grabs in the AFC, with the Titans needing a win over the Texans to hold off the Chiefs. There are also two division titles (AFC East, NFC West) and three wild card spots (2 in AFC, 1 in NFC) still on the table.
"I don't think I can think of a season that has had more implications in the last week off the top of my head," said WynnBET Senior Trader Motoi Pearson. "From the booking perspective, you'd like to be aware of what the implications are of each game before putting a side or total out. It's a little challenging to evaluate throughout the week if you don't know who might sit, especially with the health and safety protocol issues in the mix. You must be paying attention. But, it's the NFL and the numbers in this market this late in the season are tough to beat."
One thing I will be paying very close attention to this week is contract incentives. This was a very profitable angle last season as veteran players make one last money grab for bonuses in their contracts.
#NFL Week 17 can be more about stats than wins in some cases. This analysis highlights 4 players who have a lot more than just pride on the line today, and money for them could also mean money for you 💰

Promise this is worth your time ⤵️ pic.twitter.com/KCxQQRPiLK

— Jared Smith (@jaredleesmith) January 3, 2021
I have already identified several angles where players are approaching these bonuses, and will be dropping them in a special column later this week once prop numbers become available.
As discussed in last week's column, betting early in the NFL is a risky venture these days, plus this week you also have to be wary of teams benching key players to avoid risking injury before the playoffs. That being said, I have already locked in an early play for the National Championship game next Monday.
Georgia Bulldogs vs Alabama Crimson Tide
Georgia -2.5 (-115)
*Bet Saturday at BetMGM, would play up to -3 (-105)
Unfortunately, all of the 2.5s completely dried up over the weekend as some notable bets on Georgia flooded the market after Friday's impressive win over Michigan.
"We opened Georgia -2.5 which was quickly jumped on by sharp players pushing the line out to UGA -3," said PointsBet Trading Analyst Michael Korn.
WynnBET saw similar price action, quickly moving to Georgia -3 after taking some sharp money at the opening line of -2.5. Pearson added he expects Alabama money line "to be a popular pick."
The public might like Bama in this spot, but I'm siding with the sharps on this one. I think the Tide did what they had to against an overmatched Cincinnati team, and they won't be able to push the Bulldogs around in the trenches like they did to the Bearcats.
Alabama will also be without John Metchie this time. The star wideout had 6 catches for 97 yards and a score in the first half of the SEC title game before leaving with a knee injury. That loss cannot be understated, as Bama's prolific passing attack with Bryce Young was the reason they looked so dominant the first time around. I'm not saying Young can't still have success, but not having to prepare for Metchie will make the game plan easier for the Georgia defense.
Meanwhile, on the other side, Stetson Bennett played arguably his best game of the season against a very strong Michigan defense, and I expect him to have similar success against a banged-up Bama secondary down to their third and fourth-string corners.
If the market does push this back down beneath the key number of 3, I wouldn't expect it to be there for long, as the sharp money has made it clear they favor the Bulldogs in this spot. So, if you like Georgia, be patient and wait for a potential dip, as there is very little chance this moves to 3.5. If you like Bama, 3 is likely the best number you're going to see barring any significant injuries or Covid issues. I would still consider playing this at -3 -105 and will likely be adding to my Georgia position on Monday if I don't get a dip at 2.5.
NFL Week 18 opening lines
*Odds via FanDuel Sportsbook
Saturday 4:30pm ET
Chiefs (-10) at Broncos | Total: 44

Saturday 8:15 pm ET
Cowboys (-3) at Eagles | Total: 41.5
Sunday 1pm ET
Packers (-2.5) at Lions | Total: 43.5
Bears (+3) at Vikings | Total: 44.5
Colts (-15.5) at Jaguars | Total: 44
Titans (-10.5) at Texans | Total: 43
Washington (-6.5) at Giants | Total: 38.5
Steelers (+4.5) at Ravens | Total: 42
Bengals (+3) at Browns | Total: 44
Sunday 4:25pm ET
Patriots (-6) at Dolphins | Total: 40
Jets (+16.5) at Bills | Total: 45.5
Panthers (+8) at Bucs | Total: 42.5
Saints (-4.5) at Falcons | Total: 40.5
Seahawks (+6.5) at Cardinals | Total: 48
49ers (+5.5) at Rams | Total: 44.5
Sunday 8:20pm ET
Chargers (-3) at Raiders | Total: 48.5
This Week's Early Bird Bets
Georgia -2.5 (-115) (1u at BetMGM)
Pickswise is the home of NFL Picks. Check out our latest playoff picks and round-by-round analysis as well as our free Super Bowl predictions.