Jim Root's March Madness Final Four best bets: Remy Martin ready to sparkle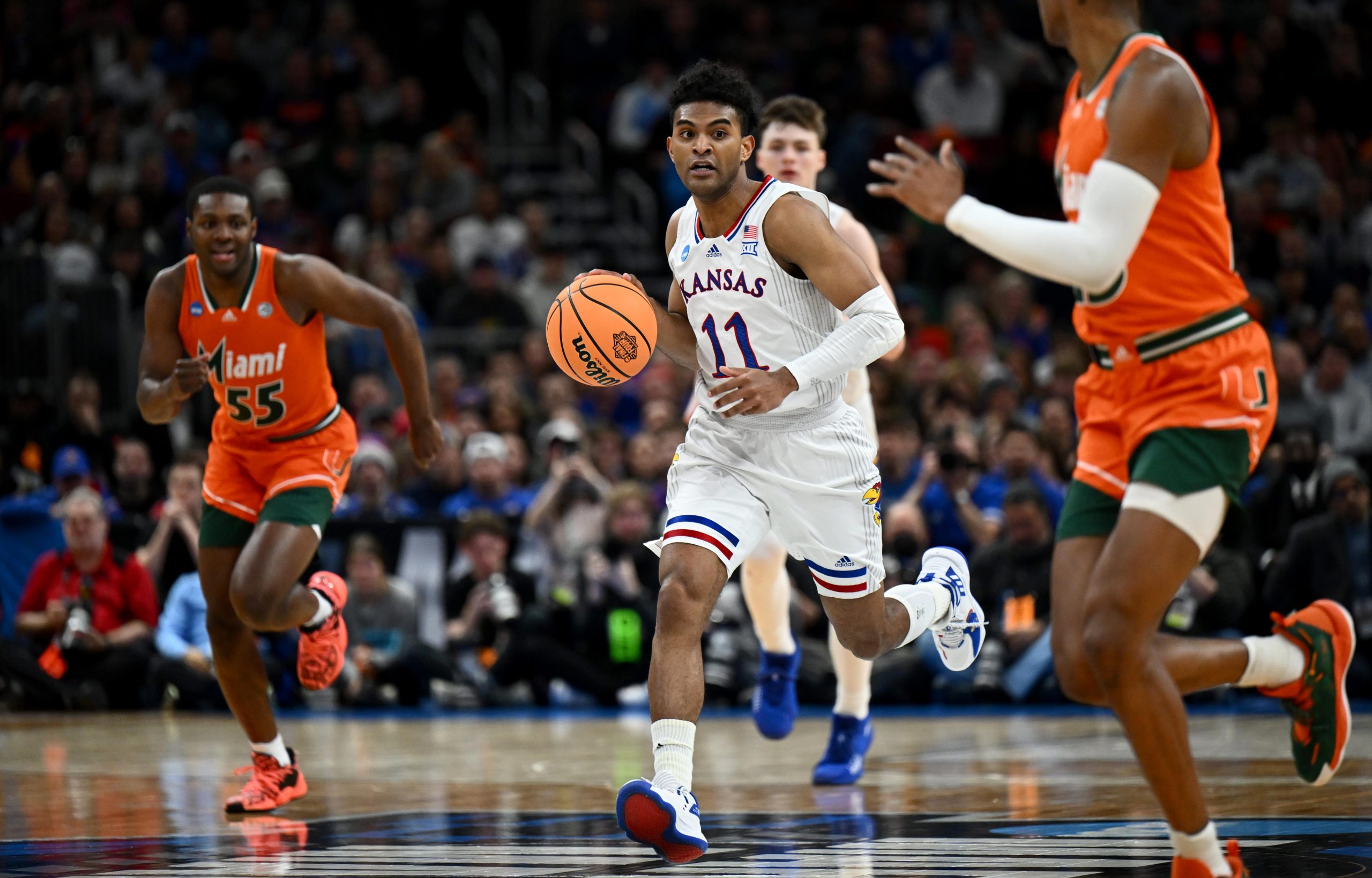 Villanova vs Kansas first half Under 62
Villanova vs Kansas full game Under 133
Somehow, a game between the storied Kansas Jayhawks and Villanova, the winner of 2 of the last 5 national titles, is the Final Four undercard. And let me tell you – I do think it is the UNDER card (I'm sorry for that pun). 
Villanova has been an under machine in the postseason. In 7 tournament games (3 Big East, 4 NCAA), only the Delaware blowout went over the full game total. The Wildcats have leaned strongly into their half-court, execution-based identity, forcing foes into the mud with them while keeping them out of transition.
That is exacerbated by the loss of Justin Moore. The Wildcats' already-thin rotation is now down to 5 players (plus any scrap minutes Chris Arcidiacono and Bryan Antoine can provide). Fatigue and foul trouble loom large, increasing the value of a grinding pace for a team that is already inclined to play that way. 
Villanova's fastest postseason games were 64 possessions against St. John's, which was the Red Storm's slowest game since February 5, and 62 possessions against Michigan, which was the Wolverines' slowest game since February 12. They have a clear ability to control the tempo, and they have a glaring incentive to do so in this game, as well. Their switchable defense also increases their ability to defend in transition – the Wildcats will guard whoever is near them, rather than scrambling to get to the 'right' matchups.  
For their part, the Jayhawks have been sharp defensively lately. In each of their past 2 games, they held their opponent below 20 points in a half, 17 in the first half against Providence, 15 in the second half against Miami.
Additionally, this is the first game in a football stadium for both of these teams. That can affect shooting backgrounds and sight lines. My handicap is way, way more about the tempo of the game and Moore's absence, but this could be a cherry on top for some. I would bet these down to 60.5 for the first half and 131 for the full game.
Remy Martin over 12.5 points (+110) for Kansas against Villanova
Kansas' Remy Martin has been surging lately, capturing the Most Outstanding Player award in the Midwest region while averaging 16.8 points per game. He is playing more minutes recently, as well, averaging 25.3 per game in the tournament (26.7 mpg in 3 competitive games). Bill Self knows how important Martin's outburst has been, even noting as much during Tuesday's media availability:
Asked if Remy Martin's run reminds him of Malik Newman's in 2018, Self said not quite. He noted that Malik was the best guard in America for a 3-week stretch then. But he also said Remy's value has carried equal importance to Malik's back then. #KUbball

— Matt Tait (@mctait) March 29, 2022
Against Villanova, Kansas will desperately need Martin's dynamic scoring ability. As mentioned above, Villanova's defense is supremely switchable. The Wildcats dare teams to attack 1-on-1 matchups, even if that means big man Eric Dixon has to corral a quick guard. Houston's perimeter players struggled to do that consistently, and indeed, most college teams lack the 1v1 prowess to do so. 
Not every college team has Martin, though. He's a dazzling creator with a full repertoire of isolation moves, whether it be step-back jumpers or wrong-footed floaters. He can beat Dixon or Jermaine Samuels in these forced isolation settings. 
Considering the tear he has been on and the way this matchup sets up, I think Martin's scoring props are a terrific value. I would bet this to over 13.5 at -110.
Read our full previews of both Final Four games
Duke -2 in first half over North Carolina
By now, you have heard all of the table-setting: this is the first time these archrivals have met in the NCAA Tournament, it's Coach K's final season etc. Who is going to win, though?
Both Duke and North Carolina are clearly playing high-level basketball – it's hard to make the Final Four without doing so. North Carolina actually ranks #1 in BartTorvik.com's rankings since March 1, indicating just how much of a fireball the Tar Heels have become. 
I still think Duke's best is better than anyone else's, though, and the Blue Devils have been reaching that peak more consistently of late. They arguably have 5 1st-round NBA Draft picks on their roster, and all of them had that ability on full display against Arkansas.
Paolo Banchero's mid-post bully-ball sparked Duke's second-half surge in the Elite Eight, and he has a strength edge against either Brady Manek or Leaky Black. AJ Griffin is a sublime shot-maker against any opponent. Mark Williams has been Duke's paint warden, and though he faces a tough task against Armando Bacot, he has held up against stiff competition before. Power guards Trevor Keels and Wendell Moore should get into the paint against the UNC defense. 
The one primary rotation piece who is likely not a first-round pick? Point guard Jeremy Roach, whose recent play has helped unlock the Blue Devils' sky-high ceiling. His shot-making late against Texas Tech sealed that win, and he hit a massive triple down the stretch of the Michigan State victory as well. He re-entered the starting lineup for the NCAA Tournament, and he has been brilliant throughout the Blue Devils' run. 
So why the first half, rather than -4 for the full game?
Even in the game Duke lost to UNC at Cameron Indoor Stadium, the Blue Devils were excellent in the first half. At one point, they went on a 14-0 spurt, and they led by 8 before a Tar Heel final minute flurry cut it to 2. I think the Blue Devils will come out with their hair on fire after the embarrassing second half in Durham. 
This bet also dispenses with any late-game free-throw shenanigans or possible backdoors. 
This line should not move much, but -2.5 is ok with me as well. 
Make sure you head to our March Madness hub for more NCAA Tournament picks, best bets and analysis!
Want even more March Madness Picks? Be sure to check our March Madness Predictions each day, along with our best March Madness Parlays.