Jim Root's March Madness Round of 32 best bets: Spartans spear Blue Devils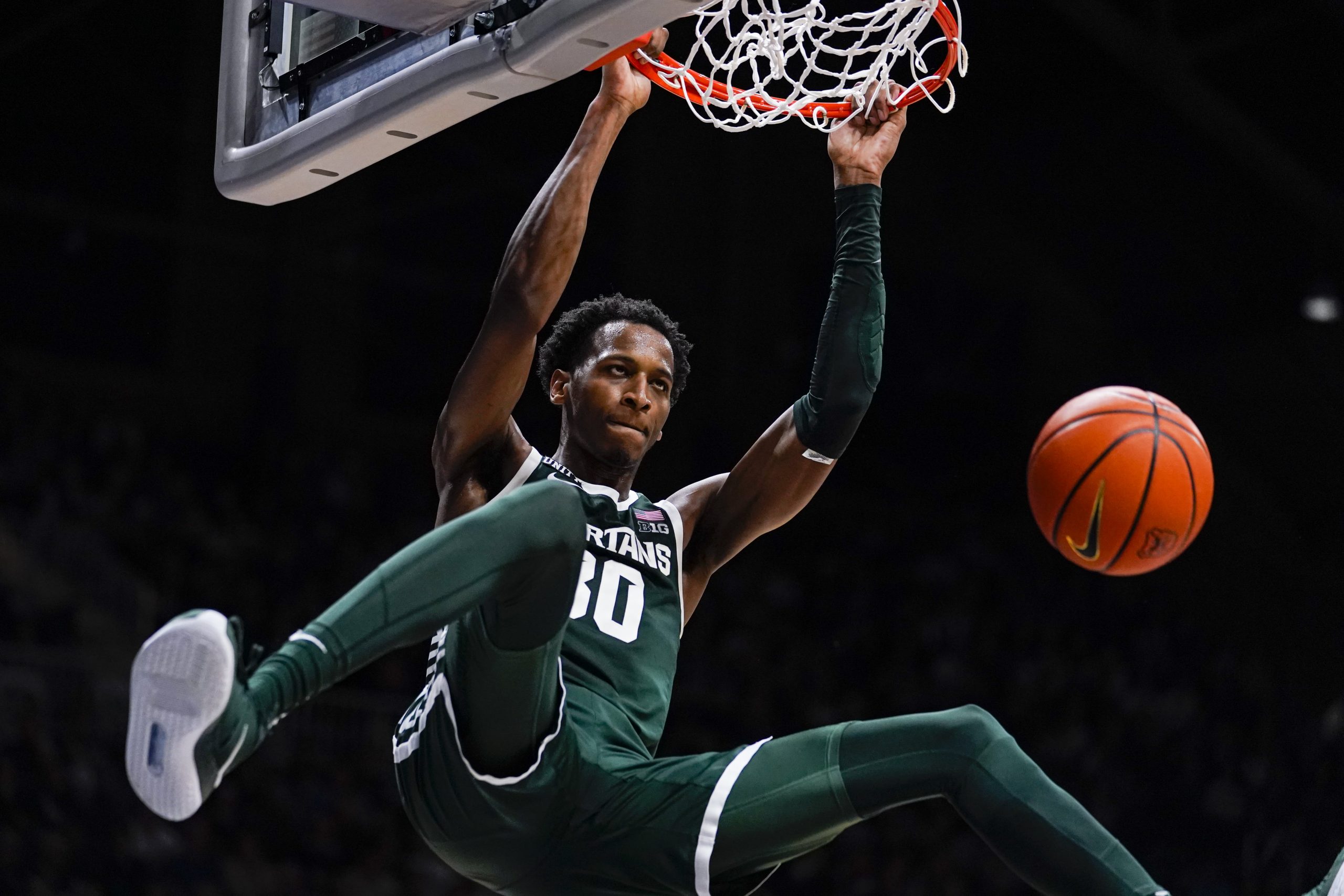 Saint Mary's +3 over UCLA (-110)
Line available at FanDuel Sportsbook at time of publishing. Playable on the money line too.
These two teams had decidedly different paths to reach this game. The Gaels took Indiana to the woodshed, demolishing the storied program by a staggering 29 points. UCLA, on the other hand, epitomized the "survive and advance" axion against a game Akron squad.
That's a small factor here. Saint Mary's did not have to grind out a difficult victory, giving them a slight mental and emotional edge heading into a second game in 48 hours. 
The more important factor, though, is the Gaels' coaching and overall discipline. With a short turnaround and very little prep time, teams will fall back on their overall principles. Few teams have a higher standard than this Saint Mary's team.
The Gaels are loaded with veterans, boasting 4 seniors and 2 juniors among their top 6 rotation players. They rarely take poor shots, and their defensive rotations are as crisp as any team in the sport. With that as a baseline, I trust Saint Mary's more than a talented but erratic UCLA squad. 
One concern is that Saint Mary's thrives on forcing foes into difficult jump shots. With Johnny Juzang, Jaime Jaquez and Jules Bernard, UCLA is one of the best "tough shot-making" teams in the country. Bennett knows this, though, and will funnel the ball to the Bruins' other offensive options. 
If UCLA is scalding hot, this bet is in trouble. But I believe Saint Mary's is a (much, much) better version of Akron, who frustrated the Bruins into a brutish slugfest. I like +3 quite a bit, but I also think the Gaels win outright, so taking the money line is a perfectly reasonable approach as well.
Be sure to check out our full game preview for UCLA Bruins vs Saint Mary's Gaels
Saint Peter's vs Murray State Under 130 (-110)
Line available at FanDuel Sportsbook at time of publishing. Playable down to 128.
No offensive performance in the first round was more stunning than Saint Peter's. The Peacocks thrashed Kentucky to the tune of 1.13 points per possession in pulling off a wild upset.
Watching the game, it felt like the Peacocks were abnormally hot, and Shot Quality agreed. An objective analysis of that game scored it as a 22-point loss for Saint Peter's. Again – that's an outlier. We have to look at this game through the lens of the entire season.
To put it simply, Saint Peter's was a poor offensive team for most of the year. The Peacocks rank 243rd nationally in KenPom's adjusted offensive efficiency. They sit at 259th in effective field goal percentage and 317th in turnover rate. Scoring enough to keep up with another outstanding foe for a second straight game will be a chore.  
To hang around, they will need to force Murray State into a half-court game. The Racers have been susceptible to being slowed down. Teams like Morehead State, Austin Peay and Tennessee State successfully limited possessions against the far more talented Racers. 
I am not certain whether Saint Peter's can score enough to keep up with Murray State, even in a slow game. But I do think the 15-seed upstart can force the game to a crawl, though, meaning the under has value. I would take it down to 128.
Be sure to check out our full game preview for Saint Peter's Peacocks vs Murray State Racers
Michigan State +7 over Duke (-110)
Line available at FanDuel Sportsbook at time of publishing. Playable to +6.
Michigan State has not been on top of its game recently. Per Shot Quality's data, the Spartans "lost" 14 of their final 15 games, based on the quality of shots each team took. 
But basketball is not played on paper, and the Spartans have won 5 of their last 8, including an incredibly impressive victory over a lethal Davidson squad on Friday.
Duke, on the other hand, was somewhat less impressive against Cal State Fullerton. The Blue Devils narrowly missed covering, but the lack of defensive intensity and awareness from the end of the regular season persisted. 
Over its last 5 games, Duke has allowed the following points per possession tallies: 1.25, 1.14, 1.13, 1.24, and 0.94. While that final number may seem like a positive, it was against a Big West foe. The eye test tells me Duke's defensive problems remain.
Michigan State is by no means an offensive juggernaut, but they have copious shooting (37.4% from 3-point range, 22nd nationally) and run solid action. Duke has not corralled a comparable offense in early a month. 
As is standard in my best bets, a word of caution to close out. Mike Krzyzewski has owned Tom Izzo for years: over 15 meetings, Duke is 12-3 overall. Notably, though, Izzo and Michigan State toppled a mega-talented Blue Devil squad in the 2019 NCAA Tournament to reach the Final Four.
I would bet this one down to +6 – lines are sharp at this point in the season.
Be sure to check out our full game preview for 
Notre Dame +7.5 over Texas Tech (-110)
Line available at FanDuel Sportsbook at time of publishing. Playable to +7.
You hear it every season: a play-in winner always wins in the Round of 64. Of course, you hear it because it's true: a First Four team has made the second round in 10 of the last 11 seasons. This year, that is Notre Dame.
The Fighting Irish have been incredibly impressive through two tournament games. They dominated the paint against a (theoretically) more physical Rutgers team, then smacked Alabama less than 48 hours later after traveling across three time zones. Paul Atkinson has been a huge reason why. The former Columbia center has racked up 19.5 ppg and 7.5 rpg in the two NCAA Tournament games, and he gives the Irish a fighting chance in the paint against Texas Tech's phenomenal defense.
Notre Dame's shooters have also been cooking. Cormac Ryan had a career-high 29 points against Alabama, and stretch big Nate Laszewski is 9-for-12 from the field this week. 
Fading Texas Tech is a scary proposition right now. The Red Raiders were an inferno against Montana State, jumping out to a 32-9 lead and never looking back. They shot 12-for-20 (60%) from beyond the three-point line.  That game stands out as more of an aberration than a rule, though. Texas Tech's offense has been a bugaboo for most of the season, and Notre Dame will not be so easily steamrolled early in the game.
Fatigue is a concern for the Irish, but not enough to push me away from taking +7.5 in what should be a half-court game. I would also take +7 if that's what is available.
Make sure you head to our March Madness hub for tons more NCAA Tournament picks, best bets and parlays!
Want even more March Madness Picks? Be sure to check our March Madness Predictions each day, along with our best March Madness Parlays.