March Madness Elite Eight: Which underdog is most likely to reach the Final Four?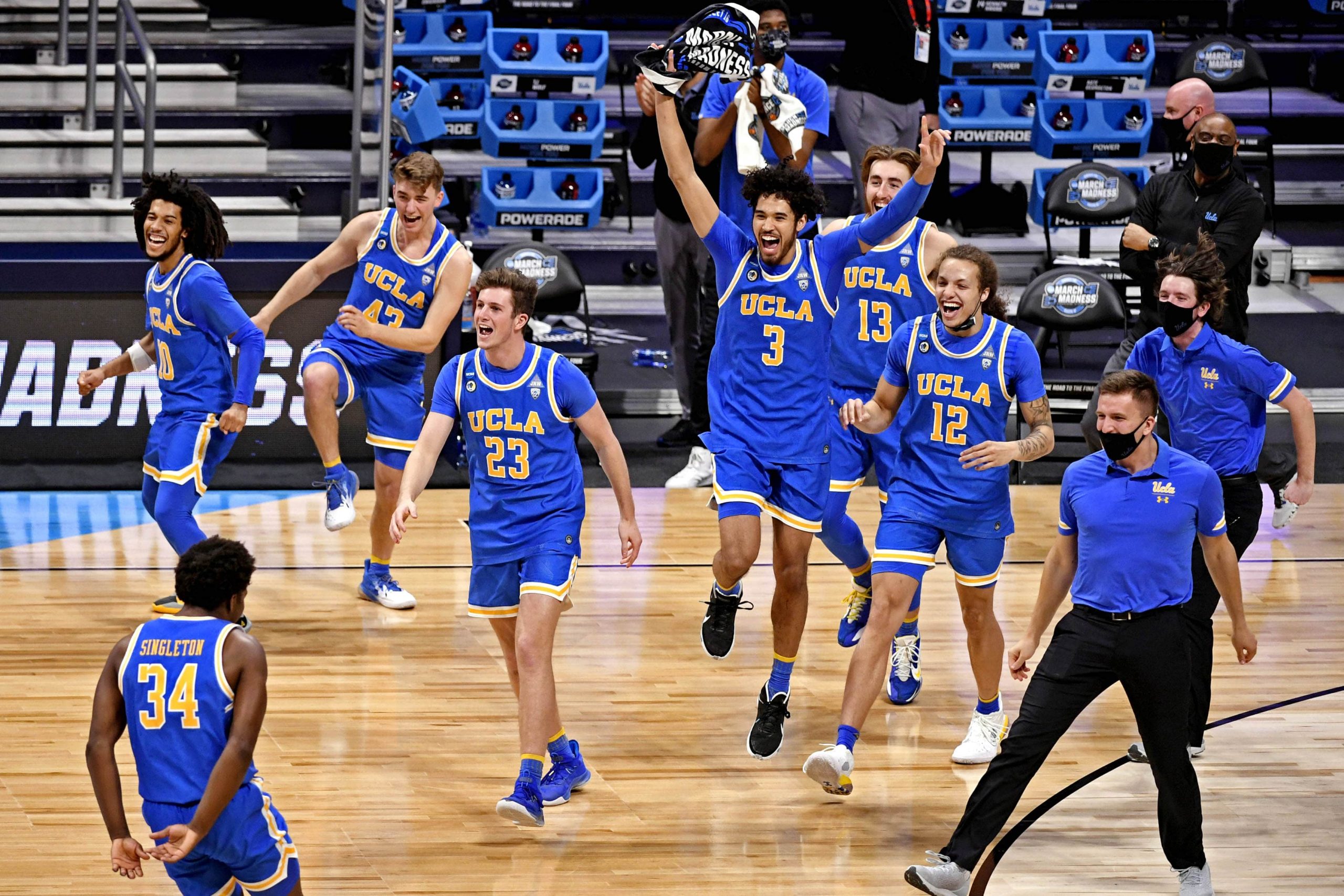 We're down to eight teams still vying for the National Championship, and we have a mix of Davids and Goliaths. Three number one seeds (Gonzaga, Baylor, and Michigan) find themselves still alive, as well as two-seed Houston and three-seed Arkansas. The Davids aren't just high seeds, they're teams that barely made the NCAA Tournament at all. Oregon State won three games in three days in the Pac-12 Tournament to earn their bid, and UCLA was in the First Four. There's also USC, who is really neither a David nor Goliath, in my opinion.
To be completely honest, I think all the favorites are very likely to advance to the Final Four, but we've already seen quite a bit of Madness this March. I'm going to rank the underdogs from most to least likely to pull off an upset and earn a trip to the Final Four.
As always, make sure you check out our picks on the side and total for each of the Elite Eight games.
Most likely: UCLA Bruins
UCLA has won four games already in the tournament, as they were a member of the First Four as mentioned above. It seems like a long time ago, but it was just 11 days ago that the Bruins trailed Michigan State by double digits at halftime, before coming back to win the game in overtime. In this particular matchup against Michigan, the projected low number of possessions is the first reason that I've selected UCLA as the most likely to pull off an upset.
UCLA plays at the 337th-fastest tempo in the country, which reduces the number of possessions that Michigan will have to pull away from them. The other reason is the play of UCLA's guards and wings. Michigan is obviously still without Isaiah Livers, and it has not mattered thus far. However, in this game, his absence might be felt. UCLA has been getting outstanding play from their wing players, Johnny Juzang, Jaime Jaquez, David Singleton, and Jules Bernard. Michigan is justifiably a seven-point favorite, but UCLA has the 12th ranked offense in the country, which gives them a puncher's chance to win this game.
USC Trojans
The only reason USC is not rated the most likely by me is the fact that they are playing Gonzaga. Gonzaga is obviously the best team in the country, but USC has some matchup advantages that could make this game very interesting. USC's interior defense is elite, as the Trojans rank 24th in fewest shots allowed and eighth in field goal percentage allowed at the rim. They'll be facing a massive challenge against Gonzaga's offense that ranks first in the country in field goal percentage at the rim, but the Mobley brothers have the size to make it challenging for Gonzaga. USC is the best underdog left in the field, but unfortunately, they face the team that seems destined for a perfect season.
EVAN MOBLEY WITH THE EXCLAMATION POINT FOR USC 🔨🔨🔨

(via @marchmadness)pic.twitter.com/K2qtUTXJrT

— SportsCenter (@SportsCenter) March 29, 2021
Arkansas Razorbacks
Arkansas is a talented team and has shown the ability to come back from double-digit deficits in each of their three games so far. They can't afford to do that against Baylor though, as Baylor will likely deliver an early knockout punch. The issue with Arkansas has been their shot selection, as the Razorbacks have been taking way too many mid-range jump shots. These shots are highly inefficient, which explains why they're prone to being very hot or cold.
The one positive that Arkansas has is that they have typically started to attack the rim in the second half once they are losing. If Arkansas can do that for the entire game instead, they might be able to keep the game close enough to have a chance to win at the end. It seems unlikely, but Arkansas does have the talent to give Baylor a scare.
Be sure to check out our full game preview for Arkansas Razorbacks vs. Baylor Bears.
Least likely: Oregon State Beavers
Oregon State is the team that is least likely to pull off an upset in my opinion, as they have benefitted from some extreme three-point shooting luck in this tournament. The Beavers are shooting 38.9 percent from three in their first three games, while their opponents are making just 23.1 percent of their threes. Houston has ranked inside the top-70 in three-point percentage defense each of the last six years, so I expect some three-point regression from Oregon State. Houston should also be able to gather several offensive rebounds, as the Cougars rank second nationally in offensive rebounding rate. It's hard to pull off an upset if you give up second-chance opportunities to the opponent. I can't see Oregon State winning this game.
Be sure to check out our full game preview for Oregon State Beavers vs. Houston Cougars.
Pickswise is the home of March Madness Predictions. Check out all of our March Madness Picks, including daily March Madness Parlays throughout the NCAA Men's Basketball Tournament.