March Madness futures focus entering the Final Four: Kansas crowned kings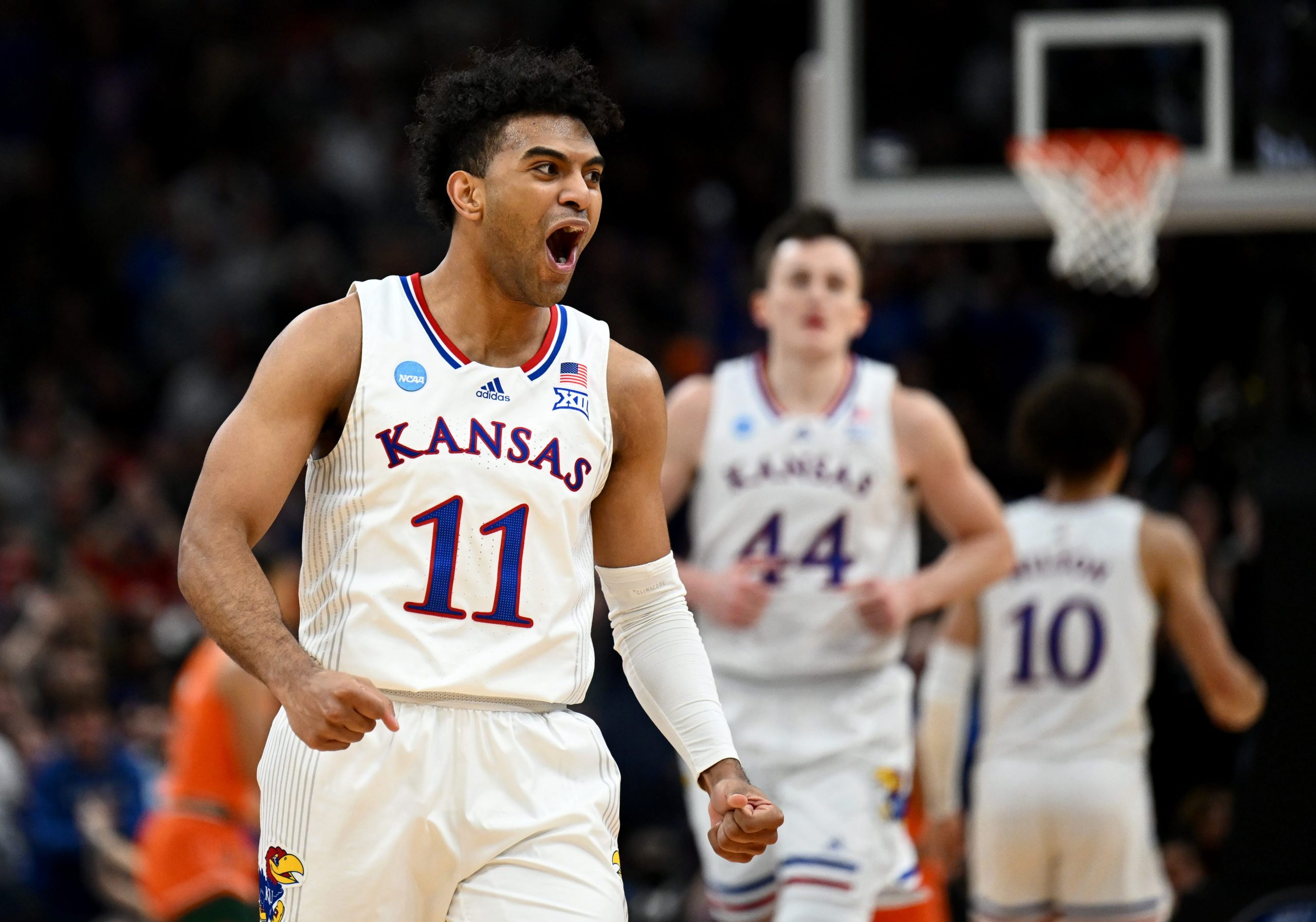 If you told a casual college basketball fan that the Final Four teams are Duke, North Carolina, Villanova and Kansas, they'd likely express almost no surprise. These four teams have combined for 60 Final Fours and 17 National Championships, so seeing them play on Saturday will not come as a huge shock to anyone who only follows college hoops during March Madness. Those of us that are die-hard college basketball fans know that while it's not a huge shock given that all four teams began the year in the top 40 of KenPom's efficiency rankings, it is still at least a tad surprising. Kansas is the only #1 seed among the four and North Carolina was given a #8 seed.
Check out our March Madness hub for NCAA Tournament picks, best bets and parlays!
NCAA Tournament winner odds
Now that we're down to just four teams, the futures prices to win the NCAA Tournament have now dwindled. Let's take a look at the latest odds, courtesy of FanDuel Sportsbook:
Duke +160
Kansas +180
Villanova +450
North Carolina +500
Let's take a quick look at each team to see if any of these numbers present value.
March Madness futures focus: North Carolina Tar Heels
I like to start with the team that would provide the best return, which would be North Carolina. In my opinion, +500 is not a good choice simply because the price is not good enough. North Carolina is +172 on the money line against Duke currently. If they were to beat Duke, the market implies that Kansas would be their most likely opponent in the National Championship game. Given the closeness of the title odds of Duke and Kansas, oddsmakers essentially view Duke as better than Kansas by just a hair. This means that North Carolina's money line price would likely be only slightly below the +172 that we are seeing against Duke.
Perhaps if UNC beats Duke, their power rating would improve, so let's assume that North Carolina's money line price against Kansas is +155. A money line rollover of +172 and then +155 would pay roughly +594, which is obviously superior to the +500 being offered. The only way that the future would generate a higher return is if North Carolina would face Villanova in the championship game, which is the most unlikely scenario. If you like North Carolina to win it all, the money line rollover method would be my recommendation.
March Madness futures focus: Villanova Wildcats +450
Villanova at +450 falls into the same scenario as North Carolina, as their most likely money line rollover return would be roughly in the +584 neighborhood, as they are +158 at FanDuel to beat Kansas, then assuming roughly +165 against Duke. Again, it is likely only a wise choice to take the +450 if we get a North Carolina-Villanova final. From an on-court perspective, Villanova's title aspirations took a major hit recently as well because of Justin Moore's injury on Saturday. Moore tore his Achilles' tendon and will miss the rest of the season. He is the team's second-leading scorer at 14.8 points per game and Villanova does not have a lot of depth to begin with.
Be sure to check out our full game preview for Villanova Wildcats vs Kansas Jayhawks
NCAA Tournament winner best bet: Kansas +180
That leaves us with Duke and Kansas, the two favorites in Saturday's games. The argument could be made for a money line rollover being the better option on these as well, but that brings in two possible risks, the first being the hefty price needed in the semifinal to use this strategy. Duke is -200 and Kansas is -192 in their Final Four games, so if there was an upset, you'd be out more than one unit. The second risk with the money line rollover is if the other favorite was to get upset. For example, Duke is -200 against North Carolina and if Villanova would beat Kansas, Duke would be around -200 again in the Championship game. Not ideal.
Among the two, I am going to recommend Kansas at +180 as the better option. The Jayhawks obviously have slightly better odds, but I also think they are a tiny bit safer in their semifinal game. As mentioned above, Villanova will be without Justin Moore. I still expect them to turn in a great effort against Kansas, but ultimately I think Moore's loss will prove too difficult to overcome.
On the other side of the bracket, Duke is rightfully the favorite, but North Carolina is a dangerous opponent. Not only did the Tar Heels spoil Coach K's last game in Cameron Indoor Stadium, but they've been excellent for the entire month. Per BartTorvik's efficiency rankings, North Carolina ranks as the number one team in efficiency since the start of March. The Tar Heels have been good offensively for much of the year, but their defense has come on strong lately, ranking sixth in efficiency since March 1. I'm picking Duke to win the game, but North Carolina scares me more than Villanova does. Kansas at +180 would be my choice in the futures market.
Pickswise is the home of March Madness Predictions. Check out all of our March Madness Picks, including daily March Madness Parlays throughout the NCAA Tournament.