March Madness Second Round: Best Underdog Picks for Day One of the NCAA Men's Basketball Tournament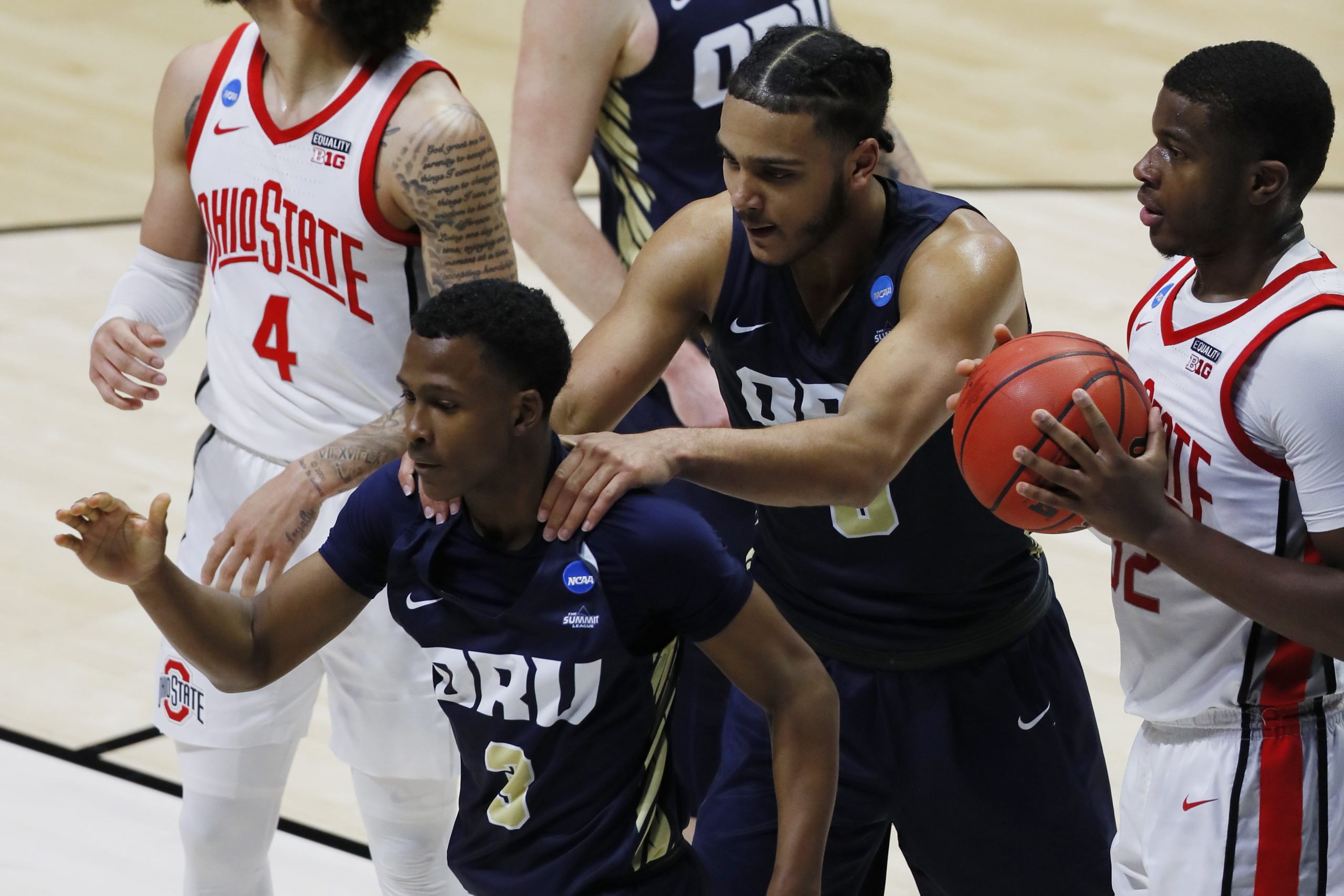 The first couple days of March Madness are in the books, and we saw plenty of upsets. There have already been some Cinderella teams to capture our hearts, and the underdogs aren't done barking yet. These following three teams all helped bring the madness on day one of the NCAA Tournament. All three won outright as underdogs in their first-round matchups, can they do it again?
Without further ado let's dive in, but don't forget to check out our picks on the side and total for every game first.
Oral Roberts
It's hard to sleep on Oral Roberts now that they knocked off Ohio State, but they remain an underdog to target in their second-round game against Florida. As mentioned in the Oral Roberts breakdown in the day one underdogs article, Oral Roberts has an elite pick and roll attack. The Golden Eagles rank 24th in the percentage of time they run pick and roll, and ninth in points per possession in pick and roll settings. Ohio State expectedly struggled to defend it, as the Buckeyes had struggled with pick and roll defense all season.
Now Oral Roberts faces Florida, another team whose defensive pick and roll numbers aren't great. The Gators rank in just the 38th percentile in pick and roll defense, so we could see Max Abmas and Kevin Obanor light up the scoreboard again. On the other end, Oral Roberts held the fourth most efficient offense in the country to just 0.92 points per possession. If Oral Roberts is able to sustain that level of defense against Florida, we could see this 15 seed reach the Sweet 16.
North Texas
North Texas knocked off Purdue in overtime in the first round, and Purdue was fortunate to force OT, as North Texas controlled the game from start to finish. In fact, Purdue's largest lead was 3-0, on the opening basket of the game. North Texas now faces Villanova which will be another challenge, but one that the Mean Green are capable of handling. Villanova plays a similar tempo as Purdue, which means North Texas is not going to be forced to speed up. This will be another low possession game, which gives less opportunities for the favorite to extend a big lead. This game will likely come down to the three- point line. North Texas ranks 25th in three-point percentage on offense, which could be key against a Villanova defense that ranks 279th in limiting three-point attempts. On the other end, Villanova ranks 30th in three-point attempt rate, but North Texas ranks 90th in defending the arc. Look for a nail-biter late in the game, where North Texas will have a shot to win.
The family of North Texas' head coach hitting the windmill and the ice in the veins celebration is A+ stuff pic.twitter.com/9gNymzAY0p

— Barstool Sports (@barstoolsports) March 20, 2021
Wisconsin
Much maligned for how they finished the season, Wisconsin may be back to the level many thought they would be at for the entire season. Wisconsin destroyed North Carolina by a score of 85-62, and now look like a team that could knock off the number one seed Baylor Bears. Wisconsin matches up pretty well with Baylor. On offense, Wisconsin almost never turns the ball over, ranking third in the country in offensive turnover percentage. This is crucial against Baylor, as the Bears rank third in defensive turnover percentage.
If Wisconsin can handle the pressure, they have a chance to score somewhat consistently on offense. On the other end, Wisconsin ranks 72nd in defensive rebounding rate. Good but not great, and it was a concern against North Carolina, who led the country in offensive rebounding rate. North Carolina did grab 12 offensive rebounds, but obviously it was not enough to hurt Wisconsin's chances of winning the game. If they can do a decent job against Baylor's fourth-ranked offensive rebounding rate, we could see Wisconsin move on.
Want even more March Madness Picks? Be sure to check our March Madness Predictions each day, along with our best March Madness Parlays