March Madness Sweet 16 Day 1 mega parlay (+1260 odds): Gonzaga and Arkansas in a shootout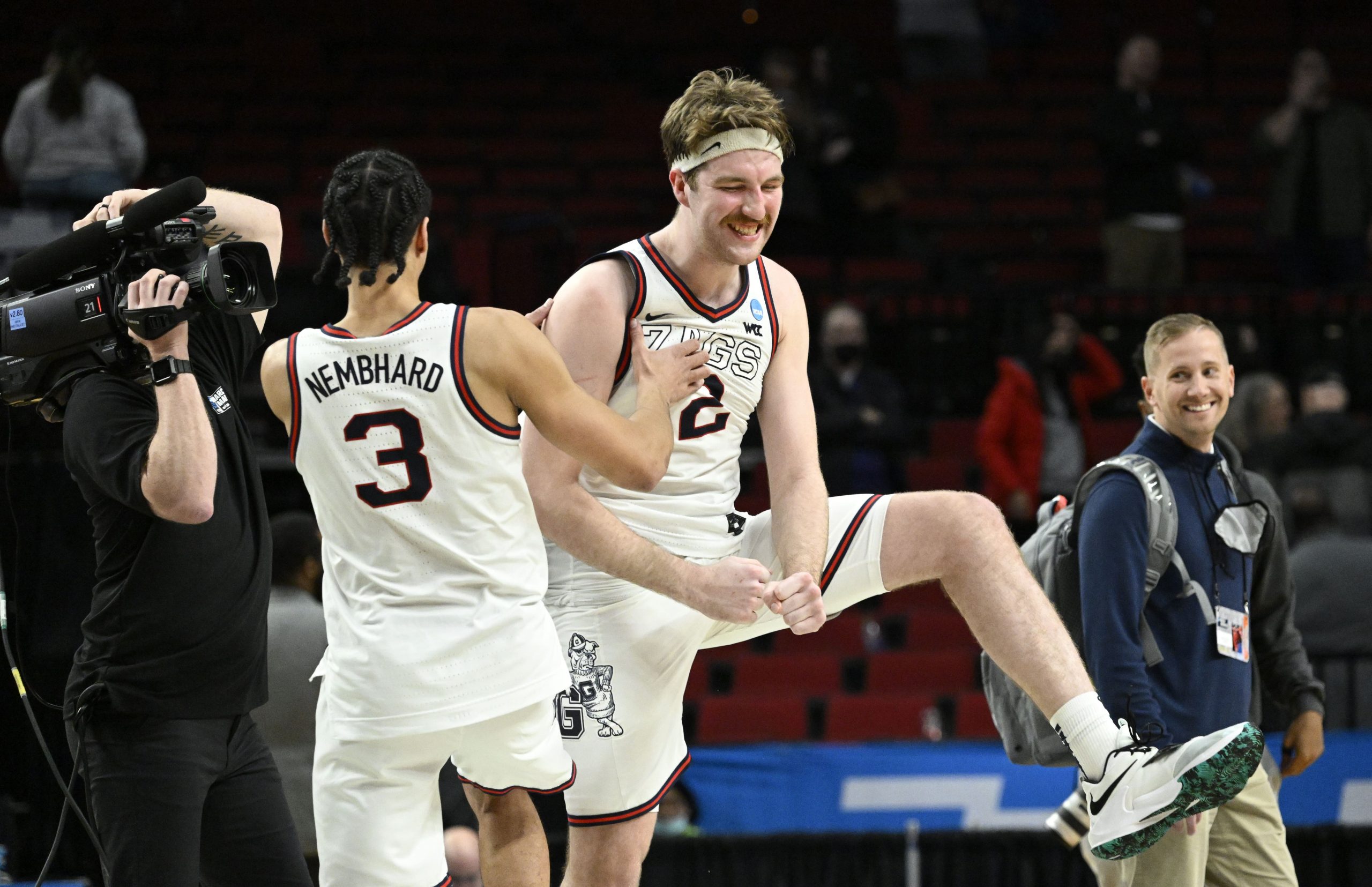 March Madness and the NCAA Tournament continues on Thursday with the start of the Sweet 16, and I've got a mega parlay for the action. With just 4 games to choose from our options are limited, but we've still created a parlay that would be a great payout. It would also give you a rooting interest in every game, assuming the first two legs hit. All 4 of Thursday's games are broken down below with a recommended bet in each to make up the mega parlay. Odds are courtesy of FanDuel Sportsbook.
Head over to our March Madness hub for NCAA Tournament picks, best bets and parlays!
Gonzaga vs Arkansas Over 155 (-110)
Villanova -5 (-110)
Texas Tech ML (-118)
Houston ML (+102)
Parlay odds: +1260
Gonzaga vs Arkansas Over 155 (-110)
The pace of this game should create plenty of possessions to help the game go over. Gonzaga ranks 2nd in the country in KenPom's average offensive possession length, while Arkansas ranks 45th. We should see a possession count in the mid-to-high 70s, which would be great for a total that is this high. Taking an over with Gonzaga is comforting, as the Bulldogs rank as the nation's best offense according to KenPom. We just saw them score 82 points in just 68 possessions against a Memphis squad that ranks 31st in adjusted defensive efficiency. While the Arkansas defense is also very good, this will likely be a higher-possession game that could possibly help Gonzaga approach 90 points.
The Razorbacks' offense is not nearly as good as Gonzaga's, but we can rest assured knowing they will be willing to play at Gonzaga's tempo. Arkansas ranks 40th in field goal attempts in transition according to Hoop-Math data, which is measured by shots taken in the first 10 seconds of a possession. From purely a number standpoint, we might be getting a slight discount after the game between Arkansas and New Mexico State finished with just 101 points. There were still 72 possessions in that contest, so if that happens again and we get a better shooting day from the Razorbacks, the over will have a great shot to cash.
Be sure to check out our full game preview for Arkansas Razorbacks vs Gonzaga Bulldogs
Villanova -5 (-110) over Michigan
Thanks to some matchup advantages on both ends of the court, Villanova is a good bet against the spread. These offenses are similar in that they each run pick-and-roll at a top-60 rate in the country and rank in at least the 85th percentile when running it, per Synergy. However, not only are the Wildcats better at running pick-and-roll, but they're also significantly better defending it. According to Synergy data, Villanova ranks in the 83rd percentile in pick-and-roll defense, while Michigan ranks in just the 29th percentile.
Michigan beat Tennessee in their second-round game to get to the Sweet 16, but they were a bit lucky considering the Volunteers connected on just 2 of their 18 three-point attempts. A handful of these were wide open, but Tennessee simply had an off-shooting night. Villanova has the three-point shooting to potentially expose some of Michigan's defensive lapses, as the Wildcats rank 51st nationally in three-point percentage. If Villanova can knock down threes at a higher percentage than Tennessee did, they're likely to get the win and cover the spread.
Be sure to check out our full game preview for Michigan Wolverines vs Villanova Wildcats
Texas Tech ML (-118) over Duke
By now it is well-documented that Texas Tech's defense is the best in the country according to KenPom's adjusted defensive efficiency. They'll be up against an elite offense in Duke, but the schematic matchup makes Texas Tech the wise choice. The Red Raiders' defense is fantastic at preventing shots near the basket. Per Hoop-Math, they allow the 4th-lowest shot attempt rate and rank 12th in field goal percentage defense at the rim.
To score against Texas Tech, you must be able to make three-pointers. Duke does rank in the top-30 in three-point percentage this season, but it's not their game plan to shoot a lot of them. Per Hoop-Math, Duke ranks 61st in shots attempted at the rim, and they only took 13 of their 56 shots from beyond the arc in their previous game. The Blue Devils could also be without their best three-point shooter AJ Griffin, who left last game due to injury. He is questionable at the time of writing. Expect the Texas Tech defense to frustrate a young Duke team, and for the Red Raiders to score just enough points to win the game.
Be sure to check out our full game preview for Texas Tech Red Raiders vs Duke Blue Devils
Houston ML (+102) over Arizona
Houston presents some matchup problems for Arizona, making the Cougars a good bet at plus-money. The first edge for Houston could be how they dictate the tempo that the game is played at. Arizona plays at one of the fastest tempos in the country, ranking 4th in KenPom's average offensive possession length, but Houston is the complete opposite. The Cougars rank 322nd in average offensive possession length, so they will try to keep this game played in the half-court. This could negate the strength that is Arizona's potent transition offense.
Houston also has a huge edge on the offensive glass, as they rank 3rd nationally in offensive rebounding rate. TCU hung around against Arizona they were able to grab 20 offensive rebounds. If Houston can repeat this, Arizona could be in trouble.
Houston's defense is also great at forcing turnovers, which has been a problem for Arizona all year. The Wildcats rank just 165th in offensive turnover rate, while Houston ranks 29th nationally in defensive turnover rate. Expect to see Houston finish the game with higher shot attempts than Arizona because of the extra possessions they can create via turnovers and offensive rebounds. If they make enough of them, we could see Houston in the Elite Eight for the second-straight year.
Be sure to check out our full game preview for Houston Cougars vs Arizona Wildcats
Pickswise is the home of March Madness Predictions. Check out all of our March Madness Picks, including daily March Madness Parlays throughout the NCAA Tournament.