Masters outright betting after Day 1: Rose vaults to favorite status
If you drank every time the phrase "firm and fast" was uttered during coverage of the Masters on Thursday, you would not have made it through the afternoon. That's how Augusta National was playing on Day 1 of the year's first major, and both commentators and players alike were making sure everyone watching knew it. Scores predictably suffered as a result—unless your name is Justin Rose. The 40-year-old fired an awesome 7-under 65 after going a shocking 9-under on his last 11 holes. With that, Rose holds a four-shot leading heading into Friday and has become the odds-on favorite to win the green jackets.
Let's take an in-depth look at where the outright odds stand following 18 holes of action.
Justin Rose (+400)
Rose wasn't in any kind of good form prior to arriving in Augusta, but he has always been a force in this tournament. The Englishman has placed in the top 10 five times, including a solo runner-up performance in 2017. Amazingly, he has now been the first-round leader of the Masters four times. He has never finished it off, but there is no reason why he can't do so this week.
Jordan Spieth (+800)
Spieth took the circuitous route to a 1-under 71, which is nothing out the ordinary for him. The 2015 champion triple-bogeyed the ninth hole but recovered to shoot a 2-under 34 on the back nine. Much unlike Rose, Spieth's strong start is no surprise. After all, his 2021 resurrection is highlighted by a victory just last week in Texas.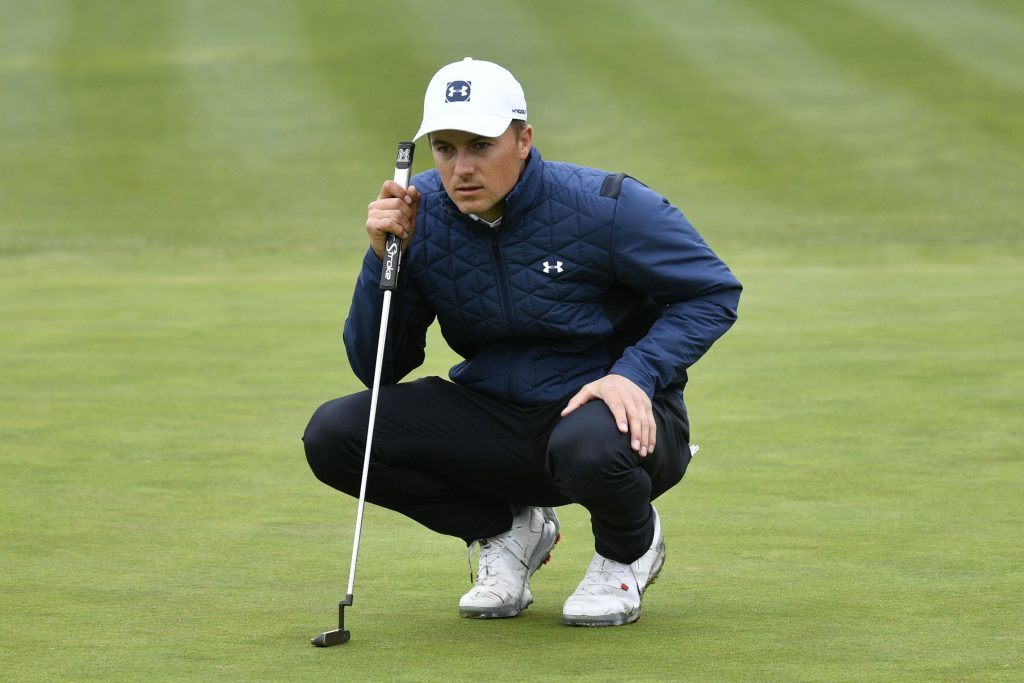 Jon Rahm (+1200)
Rahm is also in fine position after grinding to an even-par 72 on Thursday. The 26-year-old Spaniard was in doubt to play because his wife was due to give birth right around now, but once the baby arrived last week Rahm's spot among the top favorites was secured. Nothing has changed following a workmanlike opening round.
Patrick Reed (+1200)
Reed briefly had the lead when he birdied 16 and 17 to hit 3-under before his bogey on 18 coincided with Rose's surge. Still, the 2018 winner is in great shape—tied for fourth with three other players, including Webb Simpson. Reed already has one victory this season (Torrey Pines) and no one would be surprised if he adds a second.
Hideki Matsuyama (+1200)
Matsuyama is without question one of the best players never to win a major, but he still doesn't get talked about much. That could change going into the weekend if he plays as well on Friday as he did in his opening round (3-under 69, tied for second with Brian Harman). Matsuyama has six straight made cuts at the Masters, including two top-seven results. Combine past success with current nice position gives him decent value at +1200.
Best Bet: Dustin Johnson (+2000)
I also like Spieth at +800, but the market is overreacting to just a few shots. Johnson is only three back of his fellow American, and as Spieth knows from his triple-bogey you can lose—or gain—three shots on just a single hole. Thus you can argue that Johnson should not be all the way back at +2000.
Yes, being nine strokes behind Rose is a lot; Johnson, though, is capable of going lower than anyone (even lower than Rose did on Thursday!) when he is on top of his game. The defending champion actually played better than his 2-over 74 indicates and he would have come in with a solid even-par score of 72 if he had just made what should have been a routine four on the closing hole. Johnson by no means shot himself out of the tournament and he has good value in this spot.
Pickswise is the home of free expert Golf Picks and Predictions. Our outright PGA expert picks go live every Tuesday, so be sure check out our golf picks, best bets, and analysis for the Masters when those go live. We will also have our 2021 Masters 3-ball picks and our best golf prop bets for each round of the 2021 Masters.