MLB World Series predictions: Three long-shots worth betting on
The return of Major League Baseball is rapidly approaching, and the time to get in your futures bets is dwindling. Due to the ongoing COVID-19 pandemic, it's going to be a season unlike any other. Each team will play only 60 regular-season games, increasing variance to unprecedented levels. Truly anything can happen, and with that in mind, it makes sense to play some long-shots. Today we'll be taking a look at the three best teams with steep odds to win the World Series.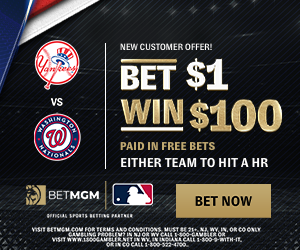 Angels 35/1
The Angels dealt with a slew of injuries last year, but there are plenty of reasons for optimism entering the 2020 campaign. After Shohei Ohtani was unable to pitch all of last year, he'll be back on the mound and should be back to his dominant 2018 ways. They made a splash by hiring Joe Maddon to be their new manager, and then made a bigger splash by signing All-Star third baseman Anthony Rendon to a $235 million contract.
With Ohtani, Rendon, and reigning AL MVP Mike Trout in the middle of the order, they've suddenly got a ton of pop in their lineup. They also signed Julio Teheran away from the Braves to bolster the rotation, and this is a team that can't be taken lightly.
Rangers 80/1
Another team I like is also from the AL West. You can get the Rangers at +8000 at Draftkings, and there's value there. Texas was a pleasant surprise last year as they easily beat expectations, outpacing their win total by a solid seven wins. They've got a ton of offensive potential, and arguably the league's best power hitter in Joey Gallo, who missed over half of last season due to injury.
Gallo is one of the favorites to lead the league in home runs, while Rougned Odor and Danny Santana both had at least 28 last year. Their rotation isn't nearly as bad as you might think, and their offseason trade for former Indians ace Corey Kluber gives them a very solid unit. If Mike Minor and Lance Lynn can pitch like they did last year, the sky is the limit for this team.
Rockies 150/1
If you're looking for an extreme long-shot, the Rockies are the way to go. They were a huge disappointment last season, but in 2018 they made the playoffs and were one of the league's better teams. They've got two surefire MVP candidates in their infield alone with Nolan Arenado and Trevor Story, and if their rotation can just be anything other than a disaster they've got a lot of upside.
Jon Gray was mostly excellent last year, and if any of the young guys like German Marquez, Antonio Senzatela, or Kyle Freeland can figure it out again behind him, they'll be in very good shape. Freeland had a 2.85 ERA two seasons ago, so I think his down 2019 was just a temporary aberration. If he can get back to his 2018 form, this team is going to make some noise, and a World Series run certainly isn't inconceivable.
For daily MLB predictions for the upcoming season make sure you bookmark our MLB picks homepage to help you win!