NASCAR power rankings: Hamlin soars, Busch falls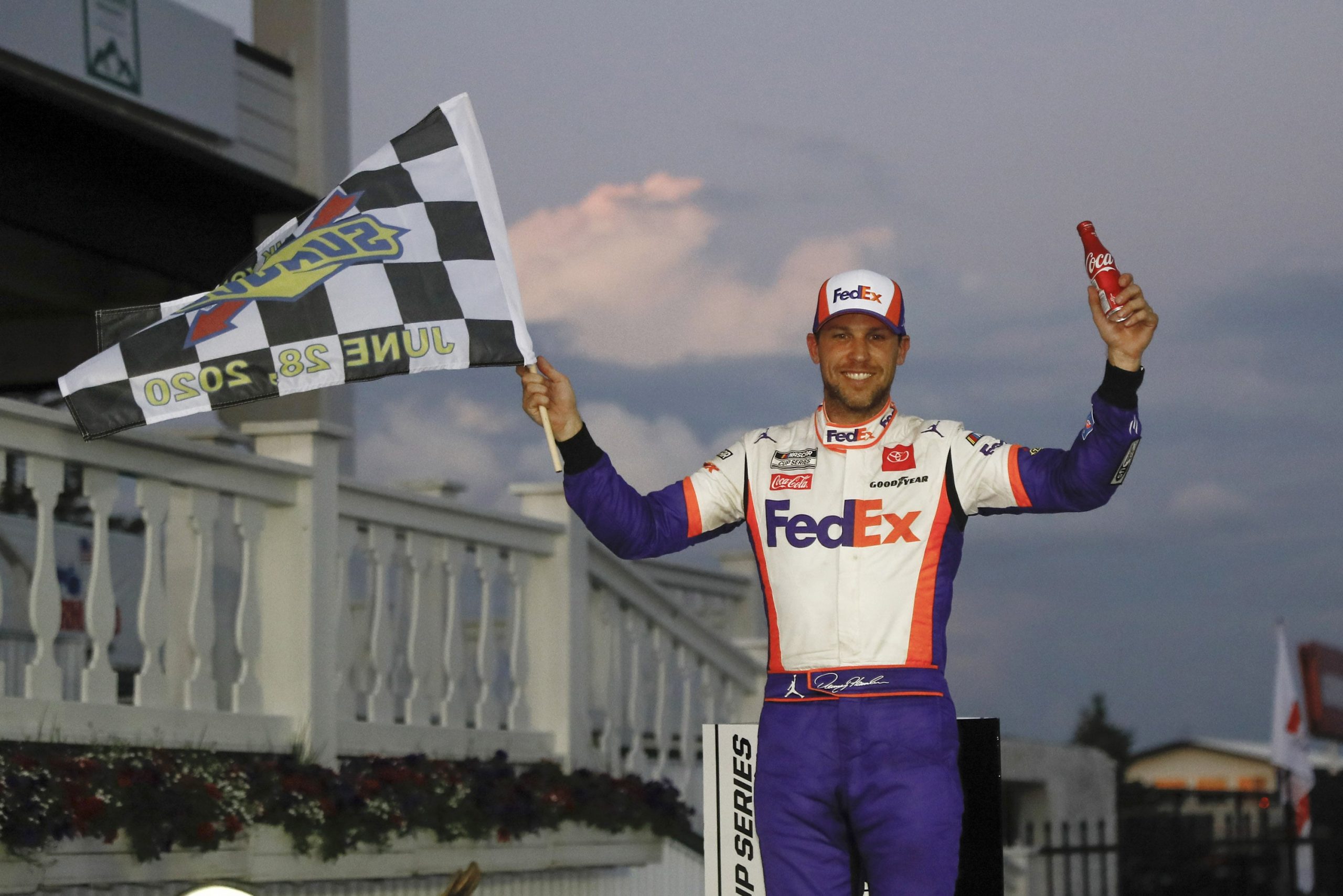 The 2020 NASCAR season has seen plenty of bumpy patches, but with it now in full swing, the best drivers are beginning to present themselves. Now with the season nearing the half-way point, the drivers will test their skills as they visit the Indianapolis Motor Speedway. Following a first-time-ever doubleheader event at Pocono Raceway, some drivers have everything going right, while others look lost.
Let's get into the first NASCAR Power Rankings of the Summer.
1. Denny Hamlin
Few drivers have looked as strong as Denny Hamlin this season. His four victories including the Daytona 500 lead all drivers in 2020. Still seeking his first Championship, he looks well set on accomplishing that feat at this point. He has the top spot, but Kevin Harvick is hot on his heels. The Brickyard hasn't been Hamlin's best track.
2. Kevin Harvick
It was a very strong pair of races at Pocono for Harvick, as he won on Saturday before a runner-up finish in Sunday's event. Everything is looking up with three wins in the bag, and a trip to Indy could prove well, where he is a two-time winner.
3. Brad Keselowski
Keselowski picked up a stage two win on Sunday, only to pit late and wound up with an 11th-place finish. BK took home a win in the 2018 running of the Brickyard 400. Team Penske has looked strong each and every week.
4. Chase Elliott
Chase Elliott has a lot to be happy about thus far in 2020. After a bad day on Saturday, he finished the weekend on a high note with a strong fourth-place finish. His win at Charlotte is nice, but can he add to the Hendrick Motorsports legacy at Indianapolis.
5th and 6th belong to Ryan Blaney and Joey Logano
Blaney had a lot of confidence following his Talladega win, but after two finishes outside the top 10 at Pocono, and a run-in with Kyle Busch, he has to watch. He and teammate Logano both had a bad weekend. They hold their spots for now with their wins this season.
7. Martin Truex Jr.
The now 40-year old has a tight lock on this spot, with a win at Martinsville, and a pair of top 10's at Pocono. To bad Indy is one of his worst tracks.
8. Alex Bowman
Bowman was able to rebound from a 27th-place finish on Saturday with a 9th-place finish on Sunday. He will need a good start to Sunday's Brickyard 400, as he has really struggled at Indianapolis.
9. Aric Almirola
Almirola extended his top-five streak with a pair of top-five finishes at Pocono. That included leading the most laps in Saturday's race along with his first stage win of the season.
10. Clint Bowyer
Bowyer added a pair of top 10s at Pocono, and heads to Indianapolis where he has an average finish of 13.5.
11. Kyle Busch
Kyle Busch has had a season to almost forget thus far. The defending series champion hasn't found victory lane yet, and Sunday was taken out with arguably the best car in the field. He has two wins at Indy.
12. Kurt Busch
Kurt led the first 35 laps of Sunday's Pocono 350 including the stage one win but wound up with a 13th-place finish. He's lost a little ground with only one top 10 in the last four races.
13. William Byron
Byron has yet to win in his Cup career, but he is getting better and better. Coming off another top 10, Byron heads to Indianapolis where he won a race in the Xfinity Series. Don't forget he drives the car number that won this event five times.
14. Jimmie Johnson
It wasn't the weekend Jimmie Johnson was looking for, but with four wins at the Brickyard in his historic career, can he tie former teammate and car owner Jeff Gordon with number five?
15. Matt DiBenedetto
The Wood Brothers driver looks to have hit a new gear with help from that Team Penske power. A sixth-place finish on Sunday didn't hurt his cause. MattyD is trending up.
16. Erik Jones
Nothing like rebounding from a hard-crash with a top-five finish. Especially when it was on the same track. Could a new deal with JGR be on the horizon?
Best of the Rest
Ricky Stenhouse Jr jumps Tyler Reddick and Chris Buescher with his consistency at Pocono. Reddick looks like the top contender for rookie of the year, but with back-to-back 30th or worse finishes at Pocono, he takes a step back. Ryan Newman is back in the mix, with a pair of strong finishes at Pocono. Indy is home for Newman, and with three top 10 finishes in a row at the track along with a victory in 2013, watch out.
This weekend NASCAR heads to the Indianapolis Motor Speedway for the annual Brickyard 400, don't forget to check our free NASCAR picks for betting analysis on the race.