NASCAR Toyota/Save-Mart 350 Betting Preview: Kyle Larson Primed For Victory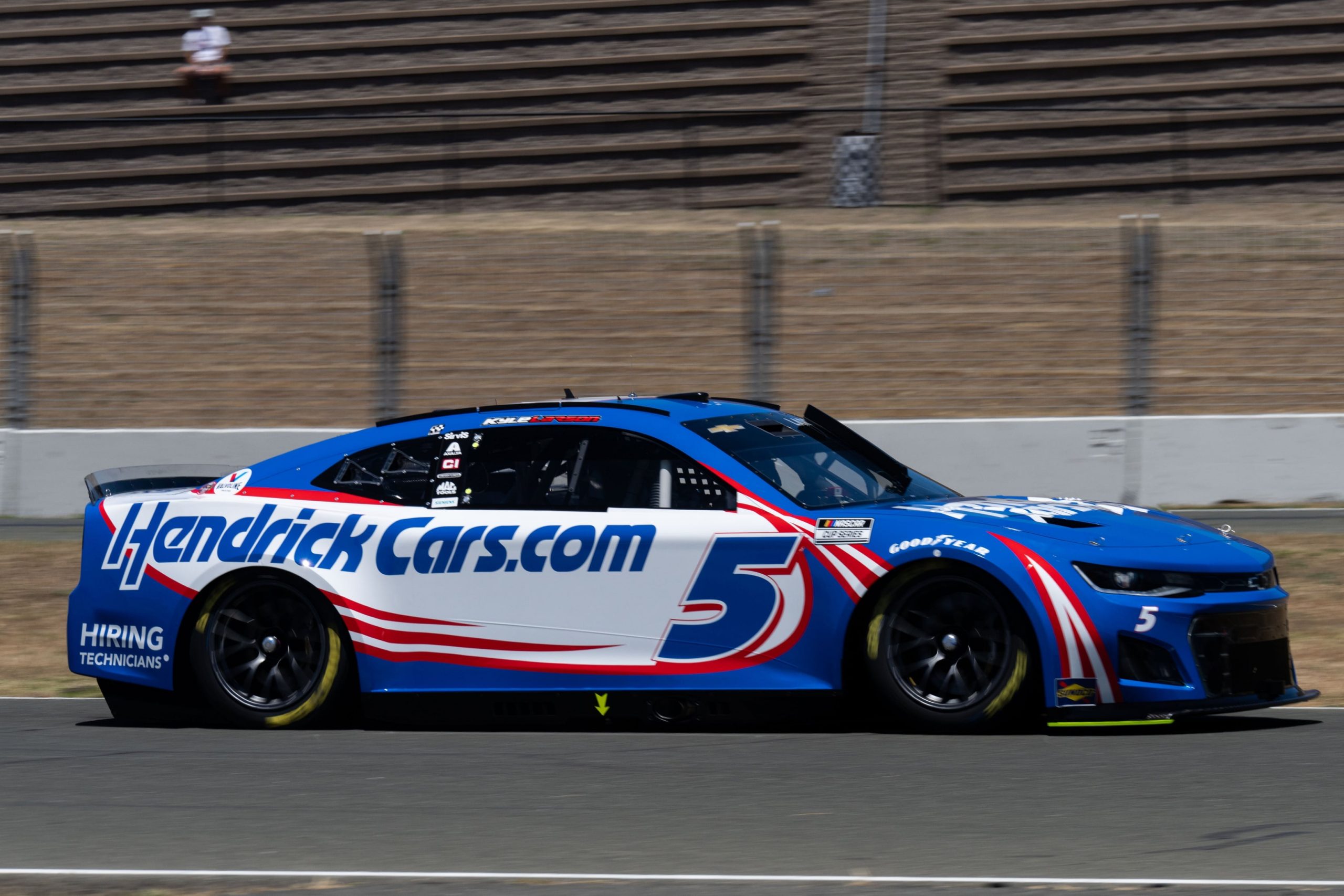 For the second time this year, the NASCAR Cup Series is going road racing, this time at Sonoma Raceway. The Toyota/Save-Mart 350 gets underway on Sunday for 110 laps around the 2.17-mile circuit. 
Sonoma Betting Strategy
Sonoma Raceway, in all its layouts and names, have been on the NASCAR Cup Series schedule since 1989. In all that time it has produced a good mix of all kinds of racing. Whether it be a dominating showing by one driver, like last year, or a barn burner of a finish like five years ago between Tony Stewart and Denny Hamlin. It's a layout that has produced a lot of close, tight, strategic racing in most of the races. It's also a road course in which drivers can move up through the field with good passing and good pit strategy. Even drivers starting in the back half of the field have been threats to win, certainly to get top-10s. 
All odds are from DraftKings Sportsbook at the time of publishing.
Toyota/Save-Mart 350 Winners
Kyle Larson +400
Larson is on the pole. He was on the pole last year and won in dominating fashion. He's back on the pole this year and did so with a dominating run in practice and qualifying. Larson's only three road race wins of his career came last year, in this same equipment. If we want to split bets among the co-favorites, Chase Elliott at +400 as well is also in a great spot. He's starting P2 and arguably had better race pace in practice. Elliott is the active leader in road race wins with seven. Larson and Elliott started P1 and P2 respectively last year and finished P1 and P2 respectively.
Kyle Busch +1200
Busch has the best average finish in the last five races at Sonoma in the field. He also has the one of the best average finishes over the last 10 road races as well. He didn't exactly have the best qualifying as he'll start P12. That being said though, that's well within striking distance to win here. He had top-four practice speeds over the single-lap and five-lap average. He's too much of a threat to ignore him simply because he's starting outside the top-10.
A.J. Allmendinger +1600
Allmendinger nearly won the first Cup Series race on a road course this year at COTA. That is until he was bumped, strongly, out of the way in one of the final corners of the race. The Dinger, as he's known, won a road race in Portland in Xfinity last weekend after starting dead last, then went and finished top-10 at Gateway in the Cup series the next day — having never raced the track. I say that to point out that him not racing the Toyota/Save-Mart 350 in four years isn't that big of an issue. He had very good practice speed and was close to landing in the top-10 in qualifying.
Michael McDowell +7500
Here's the long shot for the week. McDowell has a long history of open-wheel racing and actually taught drivers how to drive on these style of tracks, prior to coming to NASCAR. He's in the midst of this best season in terms of top-10s as well. The speed is clearly in the 34-car as he qualified P4 and that's high enough that if he gets a good start he could hold in the top-five for a while. He'll need breaks to win given the speed of Elliott and Larson in front of him, but clearly if we're betting a guy like this we know he'll need breaks.
Prop Bets For Sonoma
Kyle Busch Top Toyota +200
We already stated that Busch has the best average finish in the last five Sonoma races and one of the best in the last 10 road races — regardless of manufacturer. Add to that how he ran at practice and bam! You've got a 2-to-1 return for top Toyota being a good bet.
Chase Elliott Top Chevy +200
Elliott is listed as a co-favorite with Kyle Larson, and is listed as a co-favorite for Top Chevy as well. So why are we splitting hairs on Elliott's side? Well, he had the better race pace in average speeds at practice for one. For another, Larson has been on the pole here a few times before, and prior to last year's Toyota/Save-Mart 350, he didn't finish as the top Chevy. That's why we're going in Elliott's favor on this one.
Ryan Blaney Top Ford +350
Blaney was the top Ford finisher at COTA earlier this year. He's also been consistently the fastest Ford on the track all year. That includes at practice on Saturday where he ran inside the top-10 in short-run and long-run speeds. Blaney's 11.8 average finish in the last 10 road races is also the best amongst the Ford contingent. Getting a 3.5x return on the consistently fast Blaney is nice.
Daniel Suarez Top-Five Finish +150
Look there's no denying this is a risk, a small one, but a risk nonetheless. He's yet to finish top-five at Sonoma but he does have two top-fives in the last 10 road races. That doesn't include him leading the entirety of the opening stage of COTA earlier this year before a pit stop went awry. He's shown top-five speed at practice this week and is starting inside the top-10. Suarez has a history of road racing and if all goes his way, Suarez should be in the conversation late for a top-five.
At Pickswise we offer free NASCAR Picks for today's race including analysis and NASCAR betting advice from expert NASCAR handicappers.