NFL DFS Thursday Night Football showdown lineup advice: Rams vs Seahawks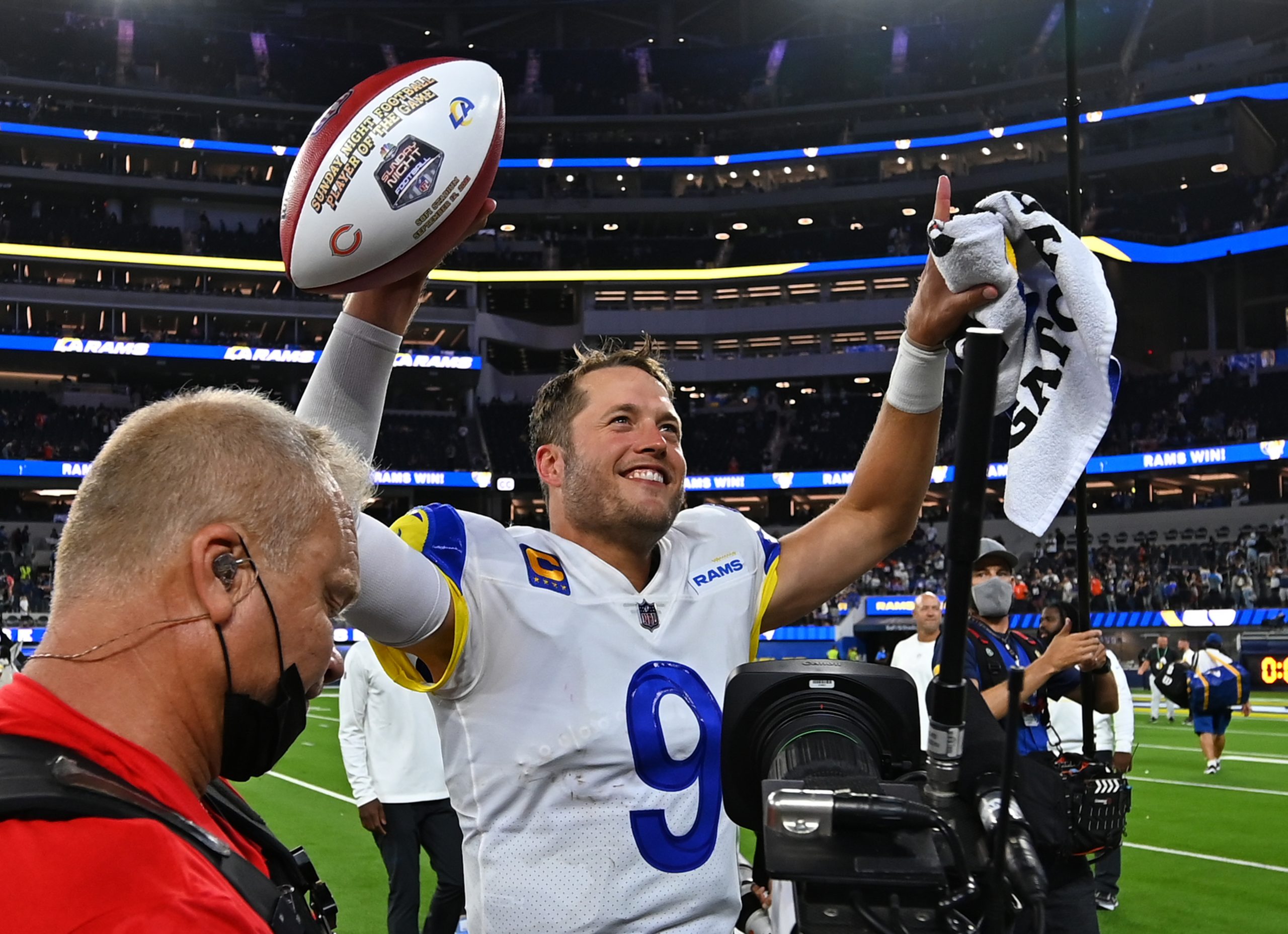 If you are looking to dip your toes into the single-game NFL showdown slates for daily fantasy sports, tonight's game between the Rams and Seahawks offers you some great opportunities. Both teams have strong offensive weapons and are led by two of the top gunslingers in the NFL. Matthew Stafford is incredibly happy with his move from Detroit to Los Angeles and Russell Wilson continues to be the Seahawks' top playmaker in Pete Carroll's offense. What makes this game work best for a showdown slate is that it is loaded with marquee talent; players who see the majority of touches in their respective schemes which tends to limit some of those random touchdowns we often see.
Be sure to check out our full game preview for Los Angeles Rams vs Seattle Seahawks
Captain/MVP
Matthew Stafford, QB, Rams
Have you ever seen a guy happier to not be playing for Detroit? Stafford is averaging 304 passing yards per game with 11 touchdowns to just 2 interceptions on the year. The Seahawks are giving up 292.5 passing yards per game (fifth-most in the NFL) and have allowed 8 touchdowns through the air, so while he's getting some support from his backfield, the 54 over/under indicates a shootout brewing.
Russell Wilson, QB, Seahawks
If it's a shootout you want, Wilson won't be backing down anytime soon. This new west-coast passing scheme has turned him into one of the most accurate passers (72.5% completion rate) in the league and he's been carving it up with his efficiency. With the Rams pass-rush and Jalen Ramsey likely blanketing his top wideout in DK Metcalf, you can probably expect Wilson to scramble a little more to give his other receivers a better chance to shake coverage. That usually means more rushing yards and possibly even another rushing touchdown.
Cooper Kupp, WR, Rams
It's no secret that he's Stafford's new best friend and if you doubted that, just look at the double-digit targets in every game so far. With the yardage the Seahawks are giving up through the air and the way Kupp moves between the slot and the outside, Seattle is going to have its difficulties containing him. He's a little more expensive in the top spot, but how do you argue against it given the volume and results?
Don't forget to read our same game parlay for Rams vs Seahawks (+1528 odds!)
Other Picks
Tyler Lockett, WR, Seahawks
With Metcalf being shadowed by Ramsey, things should open up more for Lockett who has seen tremendous success when the top cover-corner is preoccupied with someone else. He'll move between the slot and the outside and has a plus matchup against both David Long and Darious Williams in coverage so look for him to build on an already strong resume this season that has 2 100-yard efforts and 3 touchdowns.
Robert Woods, WR, Rams
While the rest of the DFS world looks to Kupp, using Woods just might be the move you want to make this week. His matchup in coverage against Sidney Jones is incredibly favorable as the Seahawks rank 30th in DVOA against the opposition's No. 2 receiver and they are allowing an average of 76.4 yards per game. Woods is still averaging close to 6 targets per game and found his way into the end zone last week.
Darrell Henderson, RB, Rams
He's returning from a rib injury and is ready to get back to work against a defense that is allowing the most rushing yards per game (152.0) this season and 3 rushing touchdowns on the year. Even more enticing is the knowledge that the Seahawks rank 28th in DVOA against running back pass-plays and are allowing an average of 72.9 yards per game to them. 
Dart Throw
Freddie Swain, WR, Seahawks
As far as dart-throws go, Swain could be a really strong play tonight. Metcalf will be shadowed by Ramsey and once Lockett catches a few balls, you can expect the Rams to drift some safety coverage his way as well. That will free up Swain in the slot where he will be covered by David Long, arguably the Rams' worst cover corner. Not only do the Rams rank 26th against slot receivers, but they're allowing touchdowns to them almost weekly.
Find out our best touchdown scorer bets for TNF, including a 1st TD scorer pick at 10/1!
For a more in-depth breakdown and showdown analysis, be sure to check out DFSAlarm.com for all of your daily fantasy sports needs.