NHL Carolina Hurricanes vs New York Rangers same game parlay (+700 odds): Chris Kreider to get things started in New York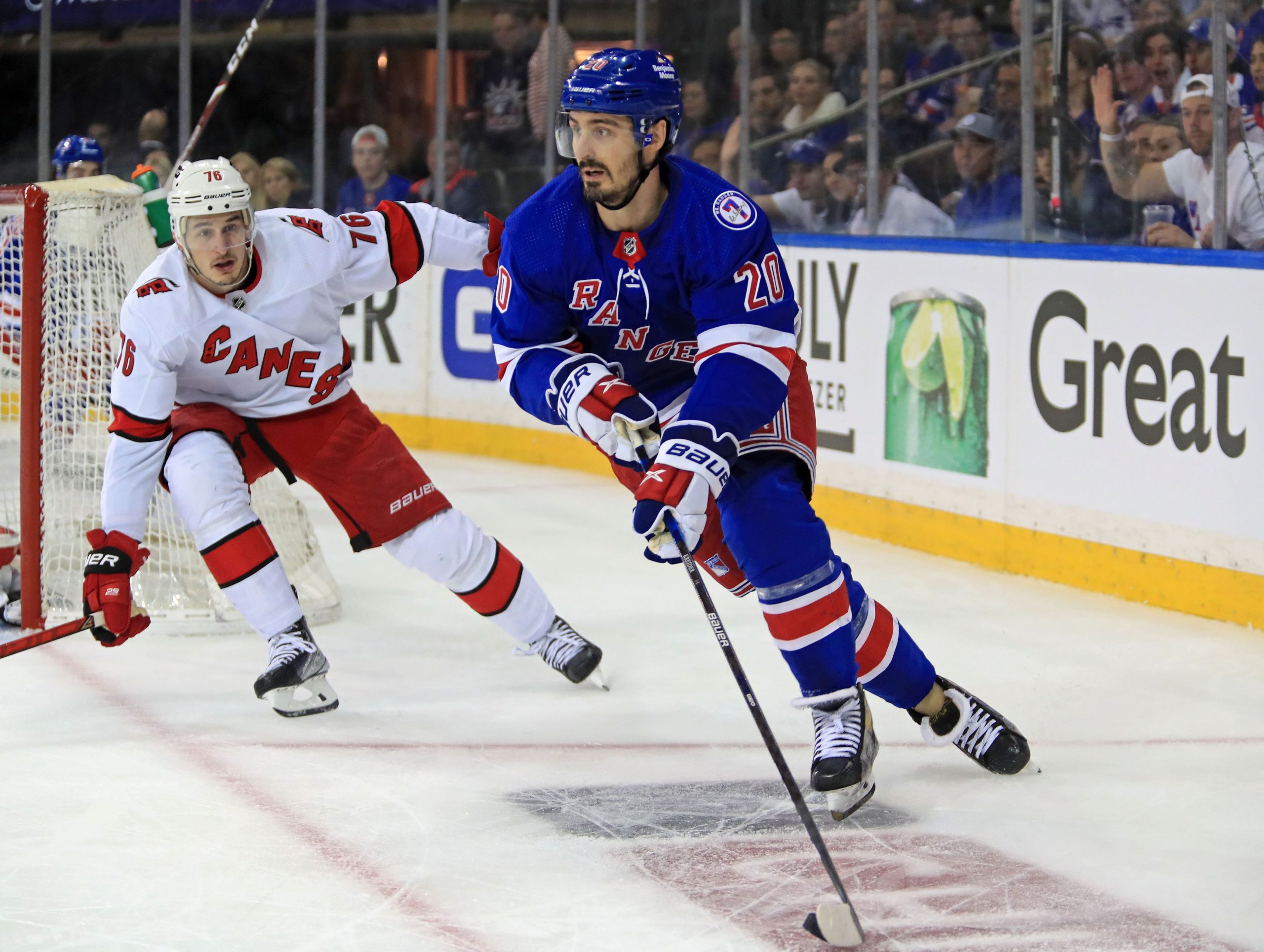 The Eastern Conference semifinals have been just as close as anticipated. With each team having one their home games, the series now heads back to New York for Game 6. The Hurricanes have a chance to close out the series, while the Rangers will be out to fend off elimination. Let's take a deeper dive at how Saturday's matchup in Madison Square Garden should play out. Along with this same game parlay, be sure to check out all of our NHL analysis.
New York Rangers ML (-115)
NY Rangers 1st goalscorer – Chris Kreider (+425)
Parlay odds: +700
Let's take a closer look at each leg of our same game parlay.
New York Rangers ML (-115)
After seeing the 5 games of this series play out, there's no reason to believe the trend of the home team winning should end in Game 6. The Rangers dominated Game 4, which was the last time these teams met in New York. They're heading back to Madison Square Garden, and there are even positives for the Rangers to take away from the loss in Game 5. One of those would be ending their power play drought.
Mika Zibanejad scored their first power play goal of the series, and now has a goal in 3 straight games. New York has even looked good on the road, despite the losses. They were in the lead for almost the entirety of Game 1, and nearly took a 2-1 lead in Game 5 if not for a disallowed goal. Along with Zibanejad, Adam Fox has also stepped up in a big way, recording an assist in each of the last 3 games. It would be a disservice to the MVP candidate to not mention Igor Shesterkin's dominance at home. The Hurricanes combined for 75 shots in New York in Games 3 and 4, and Shesterkin allowed just 2 goals. Just as both teams did in the first round, expect this series to get pushed to a Game 7.
Be sure to check out our full game preview for Carolina Hurricanes vs New York Rangers
NY Rangers 1st goalscorer – Chris Kreider (+425)
After seeing teammate Zibanejad score a goal in each of the last 3 games, it's time for Chris Kreider to show off his goal-scoring ability. It's not as if he hasn't been producing either. He recorded a goal in Game 3, the Rangers' first home game of the series. Kreider has 6 goals in the postseason, after ending the season with 52 goals, the 3rd-most in the league. He's also continued to be consistent with taking his chances. In both home games in this series, he recorded 4 shots on goal. The Hurricanes have made it a point to now mark Zibanejad with their top defenseman, Jordan Staal. That should open things up for Kreider to lead the way in keeping his team's season alive.
What is a Same Game Parlay?
Check out our guide on what is a same game parlay and where can I bet it?
Pickswise is the home of free NHL Picks and NHL Predictions. Check back for our daily NHL Best Bets, including our favorite NHL Prop Bets.