NHL Conn Smythe Trophy analysis and best bet: Can MacKinnon make his mark?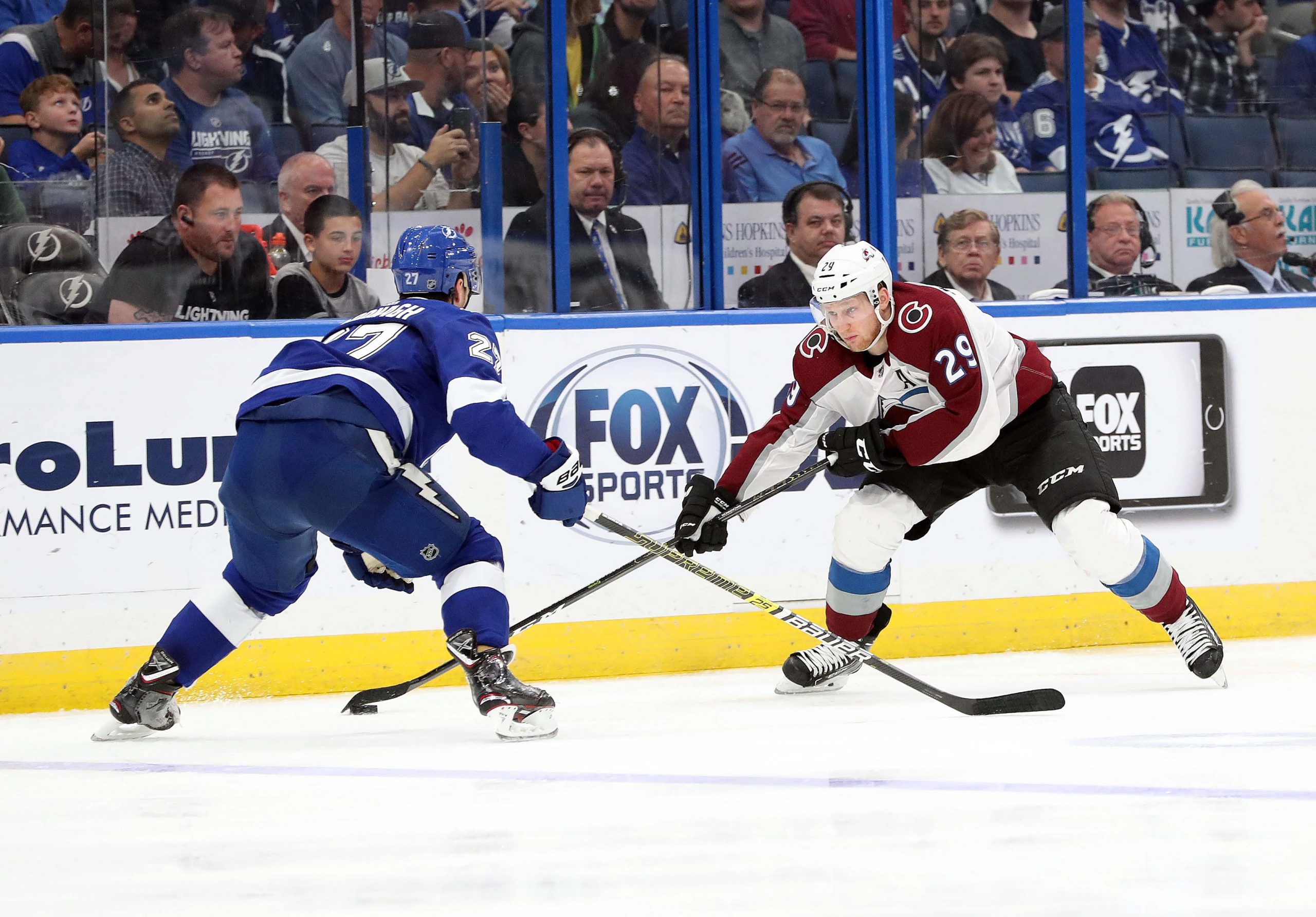 It's finally here. While the NBA Finals is nearing its end, the Stanley Cup Final is just beginning. With that comes a very similar award to the NBA Finals MVP, but also a slightly different one. Rather than awarding an MVP for just the Final, the Conn Smythe Trophy is a team's MVP for the entirety of the Stanley Cup playoffs. While there is the slight distinction, it has always been awarded to a player in the Final. With this year's set to be one of the best series in quite some time, let's break down a best bet along with a longshot.
Stanley Cup Final best bet: Nathan MacKinnon (COL) +210
Line available at DraftKings Sportsbook at time of publishing.
First and foremost, the Conn Smythe Trophy winner has come from the winning team in all but 5 years. With the Avalanche as the favorite to win the Cup, it's logical to target one of their skaters. While there is no guarantee they will win it, it has been looking like their year. They've lost just 2 games throughout these playoffs to get to this point. One primary contributor to their dominance has been all-world skater Nathan MacKinnon. His name alone is also an important factor in this best bet. When it comes to predicting awards, one also needs to understand that it is the voters being handicapped as well.
MacKinnon simply being himself should lend towards voters choosing him if the Avalanche hoist the Cup. After all, MacKinnon is frequently in discussions with Connor McDavid as the best skater in the world. Not only will voters feel as though he is due, but he's also been incredible throughout this postseason. Despite Colorado needing just 14 games to get to this point, MacKinnon still has the most shots of any skater with 82, 15 more than anyone else. MacKinnon applies significant pressure on opposing goaltenders with shots, and he's been efficient with 11 goals. That's the 2nd-most this postseason, behind only Evander Kane, who the Avs eliminated in the last round. MacKinnon's always seemed to miss out on records and awards due to injury, but he is finally healthy and playing in the Stanley Cup Final. It would only be fitting for the superstar to cap off the season with the Conn Smythe Trophy.
Be sure to check out our series preview for the Tampa Bay Lightning vs Colorado Avalanche
Stanley Cup Final longshot bet: Steven Stamkos (TB) +1500
Line available at DraftKings Sportsbook at time of publishing.
With the Lightning having won the last 2 Stanley Cups, they've also had the last 2 Conn Smythe Trophy winners. Last season was goaltender Andrei Vasilevskiy and the year prior was defenseman Victor Hedman. With Nikita Kucherov having a Hart Trophy for the league's regular season MVP in 2019, it feels as though Stamkos is the odd man out. While that may be true in terms of hardware, that certainly isn't the case in terms of his play. The future hall-of-famer has been an all-star for Tampa for over a decade, and is still playing at an elite level. He's already had a 60-goal season in his career, and even finished with over 100 points this season.
What really matters is the fact that he's transitioned that success into the playoffs. He has just 3 points less than MacKinnon, and just 2 goals less. If the Lightning do the unimaginable and win their 3rd straight Stanley Cup, Stamkos will have to play a major role. He's already done so recently, as his 2 goals in the series-clinching game against the Rangers are what put Tampa in this position. The fact that his performance was so recent heading into this series will also be in the minds of the voters. Stamkos' success has been even more impressive given that Brayden Point has been injured this postseason. Point had the most goals in the playoffs last year, which put even more pressure on Stamkos to perform. He's demonstrated that he thrives under the pressure, and has the experience to lead the Lightning even when down in a series.
Pickswise is the home of free NHL Picks and NHL Predictions. Check back for our daily NHL Best Bets, including our favorite NHL Prop Bets.