NHL Thursday three-game mega parlay (+1136 odds): Avalanche bid to bounce back against Canadiens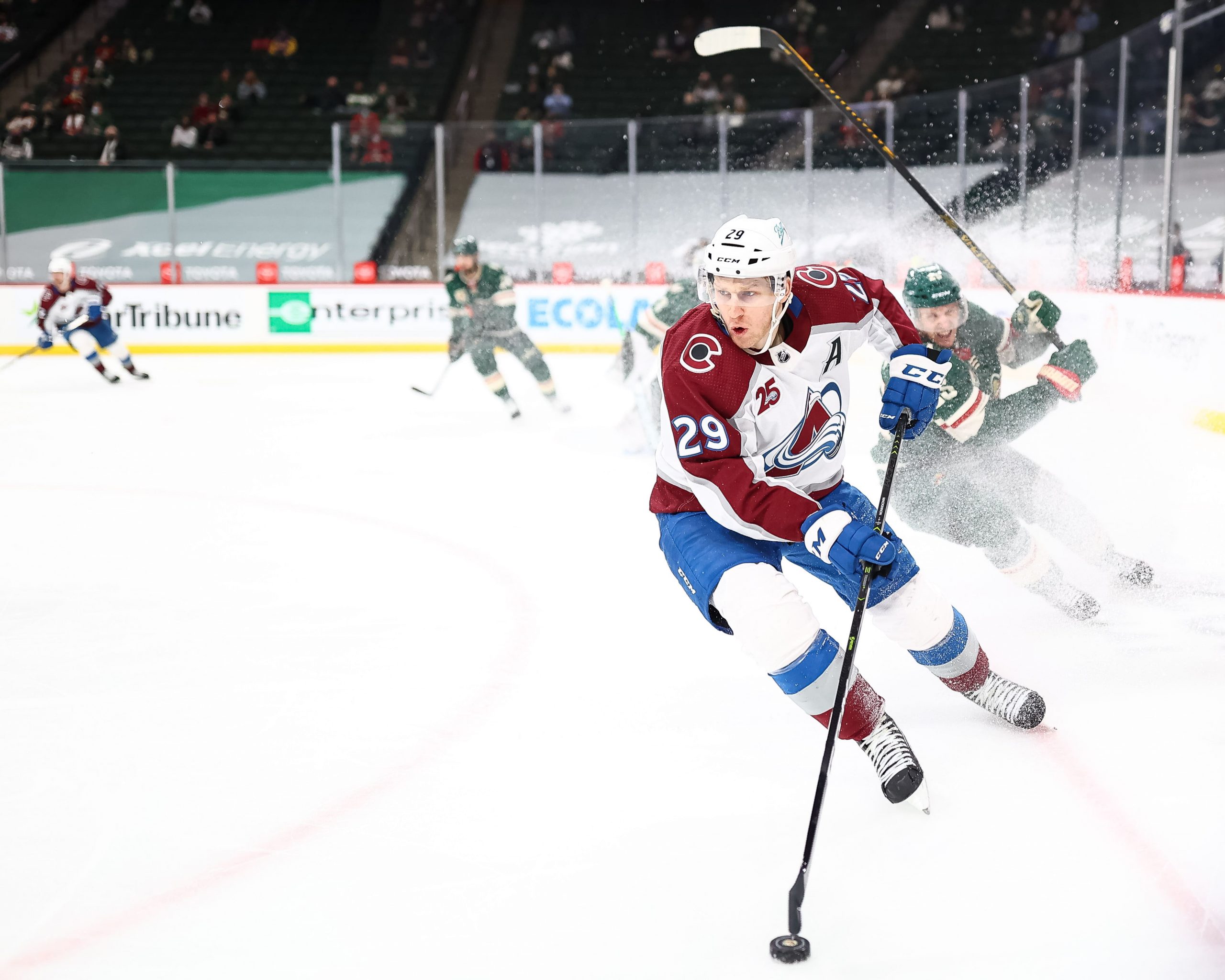 There are 10 games this evening in the NHL. We're looking to parlay three of the games that will hopefully pay big. This parlay is just over an 11/1 payout for you. But before we dive in, be sure to check out all of our picks and previews for every game tonight.  You can also follow Pickswise on Twitter for plenty of daily betting content.
This parlay is paying out just under a 14/1 odds on FanDuel Sportsbook.
Avalanche -1.5 over the Canadiens (+130)
Capitals -1.5 over the Blackhawks (+120)
Wild -1.5 over the Devils (+125)
Parlay odds +1136
Let's break down each of the legs one by one.
Colorado Avalanche -1.5 over the Montreal Canadiens (+130)
The Avalanche were absolutely embarrassed last night against the Maple Leafs. One of the easiest bets in hockey is a bounce back after such a big loss, especially when it's a great team like the Avalanche. Before their loss last night, the Avs were rolling with an 8-1-1 record in their last 10 games. A large part of the reason they lost last night was they started backup goaltender Jonas Johansson who allowed eight goals on 41 shots.
cStarting goaltender, Darcy Kuemper is ruled as a game-time decision right now with an apparent upper-body injury, if he's unable to play, the Avalanche have recalled starting goaltender for their AHL affiliate, Justus Annunem. Annunem is posting a respectable 2.62 GAA on an AHL team that isn't doing very well. But who's in the net should not matter for the Avs tonight, they're looking for revenge after an embarrassment last night. MacKinnon's return to play last night was spoiled after missing eight games, expect a full team effort tonight and Colorado to rally for a win.
The Canadiens are looking like one of the worst teams in Canada right now. After cleaning house in the front office, they proceeded to lose to the Vancouver Canucks who have been struggling all season to find their identity. The Habs look like they're chasing that first overall pick and a win tonight could be out of the question. Take the Avs on the puck line tonight, they need a bounce-back if they want to be considered a legitimate threat to the league.
Be sure to check out our full game preview for the Colorado Avalanche vs Montreal Canadiens
Washington Capitals -1.5 over the Chicago Blackhawks (+120)
The Capitals will be upset with themselves after they blew a 4-1 lead on Tuesday to the Florida Panthers on Tuesday night. The Panthers are one of the best teams in the league, and after a mental lapse, the Capitals blew what should have been an easy win. They're going to be coming out hot for this game and unfortunately for the Blackhawks, they're right in the crosshairs. Before that 4-1 lead collapse, the Capitals looked like everything was clicking for them. They've had excellent goaltending, great depth scoring but most importantly, Alex Ovechkin is playing on another planet right now.
Ovi has totaled 37 points in 22 games. He has 18 assists, which already ties his assist total from last season, and he has 19 goals, nearly a goal per game. He's off to the best start to his career and he'll be hunting down a victory tonight for his team.
The Blackhawks are admittedly looking better after their horrific start to the season, but they still aren't a great team. They have a 2-7-1 road record while the Capitals have a 7-1-3 home record. This is a mismatch of talents and the Capitals are looking like Stanley Cup competitors. It's tough to imagine Chicago wins this game, it's more likely the Caps cover the spread. Take Washington on the puck line tonight, they need to rebound after a tough collapse Tuesday night.
Be sure to check out our full game preview for the Chicago Blackhawks vs. Washington Capitals
Minnesota Wild -1.5 over the New Jersey Devils (+125)
Surprisingly, the Minnesota Wild are currently at the top of the Central Division and are leading by a comfortable four points. They are a very solid team and have all of the attributes of a winning culture right now. They play with speed and skill, but most importantly, they play tough. Every player on their roster can throw a hit and put the puck in the back of the net. They are currently on a four game winning streak and have outscored their opponents 19-7 in that stretch. They've had incredible offense and even better defense. Expect that to continue tonight.
It's been a great start to the season for Minnesota and there should be no reason for them to slow down, especially when considering their opponent tonight. The Devils are a respectable young team, but they don't match up well against the Wild. Their roster isn't built for the physical style of hockey the Wild play. The Devils play more of a run and gun style, which can expose them for a lot of chances against. Statistically, they're middle of the pack in a lot of categories including goals for per game with 2.95, goals against per game with 2.89, and shots for and against with 32.2 and 31,4 respectably. The best way to describe the Devils is average. Average can still get them to the playoffs, but average might not be enough to win the game tonight.
The Wild are scoring the fourth-most goals per game this season and have the fifth-best shooting percentage. If they have a good night on the offensive end of the ice, the pucks should fall for them and they should walk away covering the spread. Take Minnesota on the puck line tonight.
Be sure to check out our full game preview for the New Jersey Devils vs. Minnesota Wild 
Pickswise is the home of free NHL Picks and NHL Predictions. Check back for our daily NHL Best Bets, including our favorite NHL Prop Bets.