NHL Sunday mega parlay (+1124 odds): A 3-game slate full of offense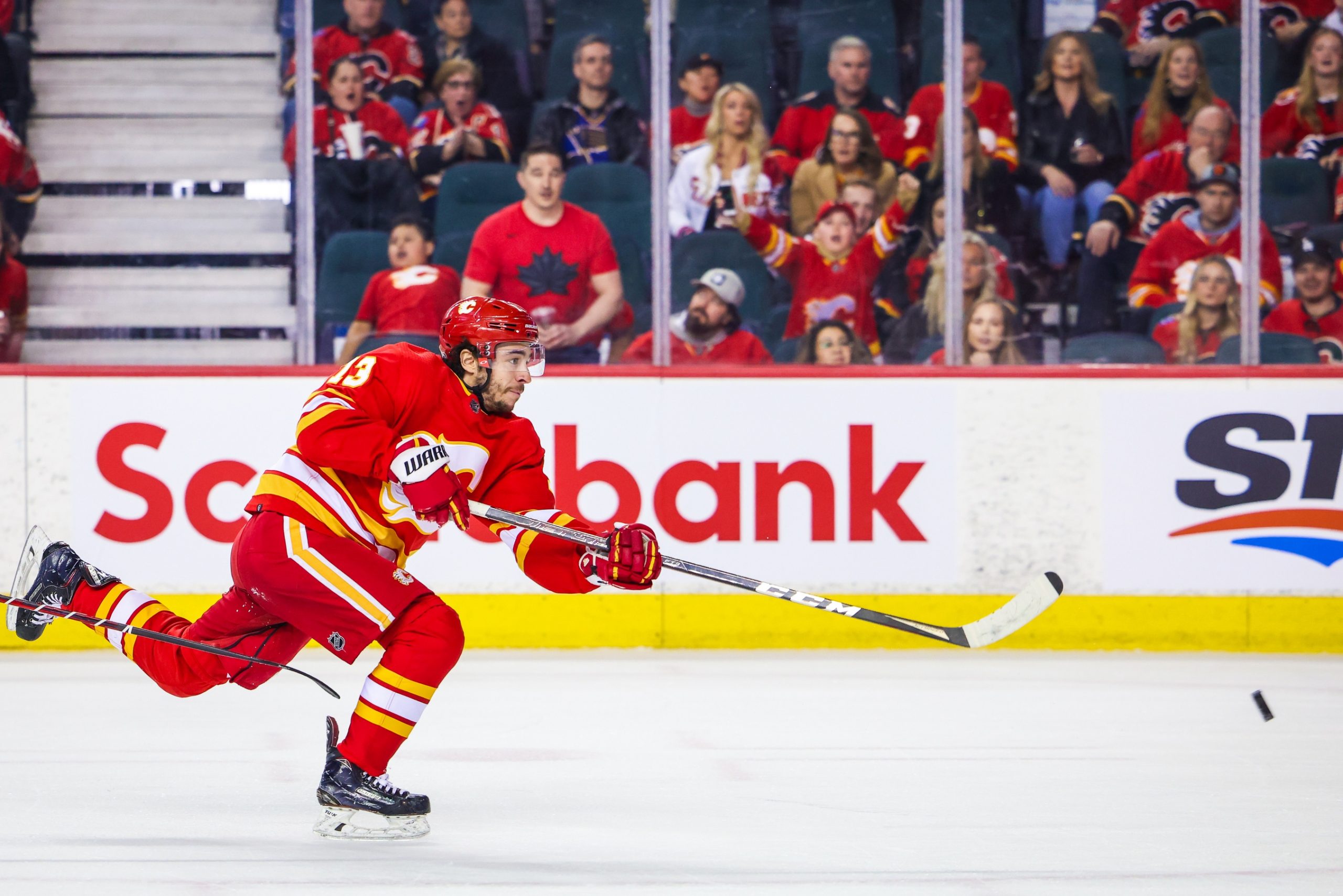 On Sunday we get our first 3-game NHL slate in over a week as the Lightning and Panthers will play on back-to-back days. These games will keep you busy from lunchtime until bedtime. What better way to spend a Sunday? Tampa Bay and Carolina fans can watch with a lower heart rate as their teams enter Sunday with a 2-0 series lead. Meanwhile, the Battle of Alberta has heated up with Game 2 bringing 80 shots and 11 penalties, both more than Game 1. This should be a long day of great playoff hockey!
If you are looking to have action and combine some picks from these games, check out these parlay picks that have +1124 odds on DraftKings Sportsbook at the time of publishing.
Florida Panthers vs Tampa Bay Lightning over 6.5 (-105)
Carolina Hurricanes vs New York Rangers over 5.5 (+120)
Calgary Flames -1.5 (+185) vs Edmonton Oilers
Parlay odds: +1124
Florida Panthers vs Tampa Bay Lightning over 6.5 (-105)
If there is anything these teams did well in the regular season, it was produce offensively. They have both shown strong offensive performances and weak defense and goaltending performances in these playoffs. Among their 8 games thus far, the Panthers have scored 4+ goals in 3 games and allowed 4+ goals 3 times. Florida scored the most goals in the NHL during the regular season. During the playoffs, they have shown flashes of that same form of strong offense while also showing flashes of allowing goals in bulk.
The Lightning have also been feast or famine in these playoffs. Tampa has scored 4+ goals in 4 games and allowed 4+ goals in 3. Both the Lightning and Panthers have allowed exactly 3 goals in 5 games. There is too much offensive firepower matched up against average at best goal prevention for each team to be held to just a goal or two in this game as they become better acquainted. These teams are successful when they score as opposed to containing the opposition. They should both lean on their superstars and depth to try to win a high-scoring game 3.
Be sure to check out today's NHL player props
Carolina Hurricanes vs New York Rangers over 5.5 (+120)
As strong as the Hurricanes are in goal prevention, that team strength has been absent in their 3 road games in the playoffs. Carolina went 0-3 in Boston being outscored 14-6 with an average game total of 6.67 in those games. Conversely, home cooking has been good for the Rangers. They have scored 17 goals in their 4 home games in the playoffs. Those games averaged a total of 7.25 total goals at Madison Square Garden. Even with a couple of low-scoring games to start this series, the Rangers' averages per game are 3.22 goals scored and 3.67 goals against for a game total of 6.89. The Rangers being back home and the Hurricanes going back on the road looks like a good recipe for a higher total.
Although Carolina's primary strength is goal prevention, they are no slouch offensively as they finished 9th in the NHL in scoring during the regular season. They scored 5 goals in 3 of their games against Boston, a team which was just behind the Rangers in goal prevention in the NHL rankings. The Hurricanes are more than capable in keeping up in an offensive heavy game should the Rangers control play and start scoring in bunches. The Garden has seen high totals in these playoffs and this game sets up to be yet another.
Be sure to check out our full game preview for Carolina Hurricanes vs New York Rangers
Calgary Flames -1.5 (+185) vs Edmonton Oilers
In Calgary's 5 wins in these playoffs, they have a +10 goal differential which comes out to an average win by 2 goals. The same reigned true during the regular season when the Flames beat the Oilers. Calgary's 2 wins over Edmonton were by a combined 6 goals. When the Flames win, there is a good chance they will win big. Even in their 5-3 loss in Game 2, Calgary matched Edmonton with 40 shots, controlled face-offs, and outhit the Oilers. The Flames played well and were a couple of bounces away of scoring in bulk themselves. They just need to clean up some mistakes.
In Edmonton's Game 2 win, they had a power-play goal and shorthanded goal. The Flames took 6 penalties to Edmonton's 5 and but were let down by their special teams. They finished the regular season with better power play and penalty kill percentage, as well as goals scored 5 on 5 and goals allowed 5 on 5. The Flames are deeper than the Oilers, they generally execute their team strengths better, and are well-coached. They can bounce back in Game 3 and look to win big yet again.
Be sure to check out our full game preview for Calgary Flames vs Edmonton Oilers
Pickswise is the home of free NHL Picks and NHL Predictions. Check back for our daily NHL Best Bets, including our favorite NHL Prop Bets.