NHL Tampa Bay Lightning vs New York Rangers same game parlay (+370 odds) 6/3: Nikita Kucherov helps the Lightning storm forward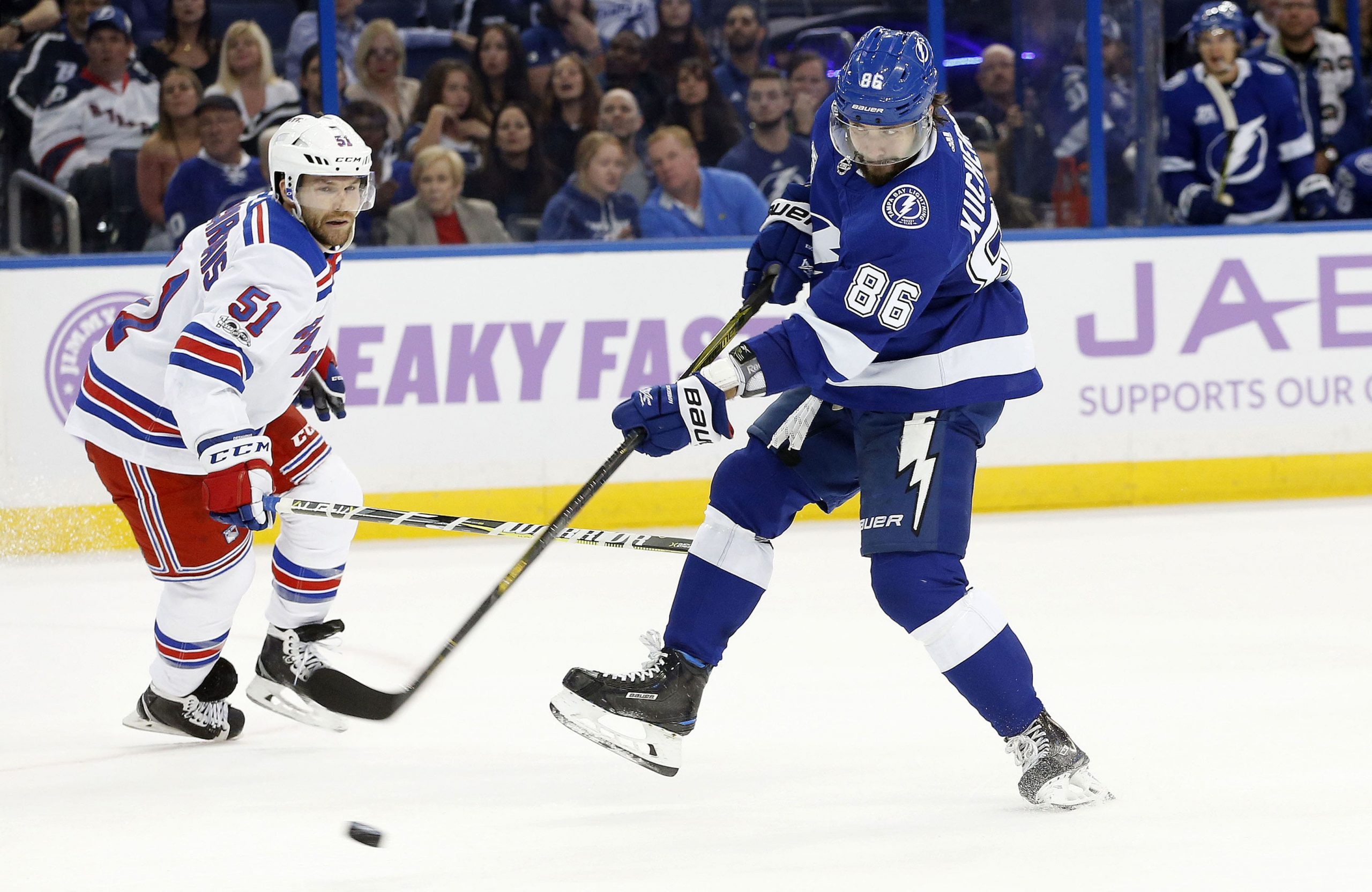 After going the full 7 games in each of the first 2 rounds, the Rangers proved that rest is overrated. A mere 2 days after knocking out the Hurricanes, New York took down a different type of storm. The Lightning had 9 days off and sparked the debate about rust over rest. Regardless, both teams are now on even footing, so let's see how we can capitalize on Friday night's Game 2. Along with this same game parlay, be sure to check out all of our NHL analysis.
Lightning ML (-130)
Under 2.5 1st period goals (-425)
Nikita Kucherov over 0.5 goals (+180)
Let's take a closer look at each leg of our same game parlay.
Tampa Bay Lightning ML (-130) over New York Rangers
The Lightning were shocked in Game 1 of the series, which will have been an unfamiliar feeling for them. However, they are very familiar with recovering from those losses. They have now won 18 straight postseason games following a loss. That is the longest such streak in the history of the NHL, MLB, and NBA. That may make them a trendy pick for Game 2, but it does not take away from their greatness.
Game 1 of this series truly seemed like a situation where one team came in rolling from a Game 7 win, with the other having not played a game for over a week. Skaters and goaltenders alike enjoy rest, but 9 days off proved to be a bit excessive. There should be no doubt that Tampa can bounce back, as they have proven to do so often. Steven Stamkos was still brilliant, recording both a goal and an assist off of his 6 shots on goal. A lot can be said for the Lightning keeping goaltender Andrei Vasilevskiy in the game. It's clear that they knew the time off was too much, and wanted to allow him to get fully into game mode for the remainder of the series. Expect Tampa to extend their ridiculous streak to 19 games.
Be sure to check out our full game preview for the Tampa Bay Lightning vs New York Rangers
Under 2.5 1st period goals (-425)
Just as Vasilevskiy was kept in the game to have him in prime form for the rest of the series, that should also prove to get him off to a better start. He should not be expected to allow a Rangers goal just 71 seconds into the game. Even with that blunder, likely caused by rust, Game 1's 1st period still stayed under this total as well. It's clear oddsmakers are not being prisoners of the moment either. The 1st period is still set for 1.5 goals, which can of course be used for a riskier leg. These are still the 2 best goaltenders in the world, and now both should be in their usual form. Vasilevskiy still kept New York goalless the rest of the 1st period after the early score, and should perform even better in Game 2.
Nikita Kucherov over 0.5 goals (+180)
Game 2 should start off at a slower pace, but there is still plenty of time for Nikita Kucherov to show off his goalscoring ability. The former MVP didn't find the back of the net in Game 1, but he proved he will continue to take his chances. With 7 shots on goal in Game 1, nothing different should be expected on Friday night. Now that the Lightning are back in the flow of the series, their skaters should be much crisper on the ice. That includes Stamkos continuing his hot start, and Victor Hedman getting involved. With those 2 skaters to assist him, Kucherov should be in for a great game before the series heads to Tampa.
Don't miss out on our best player prop for tonight's Lightning vs Rangers Game 2
What is a Same Game Parlay?
Check out our guide on what is a same game parlay and where can I bet it?
Pickswise is the home of free NHL Picks and NHL Predictions. Check back for our daily NHL Best Bets, including our favorite NHL Prop Bets.