NHL Thursday four-team mega parlay (+1789 odds): Top teams seeking home-ice advantage for playoffs
We've got six games on deck for Thursday in the NHL, and we've put together a four-leg parlay that has a payout of over 17/1. With the regular season coming to a close, the top teams are looking to solidify home ice advantage for the first round of the playoffs.
Before we get to the mega parlay, be sure to check out our picks for the side and total on every NHL game tonight.
Our experts have been killing it this season, so don't miss out on their picks for all six of tonight's games.
Here's our four-team parlay for Thursday:
Toronto Maple Leafs -1.5 (+133)
Boston Bruins -1.5 (+128)
Pittsburgh Penguins -1.5 (-150)
Edmonton Oilers -1.5 (+102)
Parlay odds: +1789
For this parlay, we've got four favorites on the puck line. Let's take a closer look at each of them.
Toronto Maple Leafs -1.5 (+133)
This matchup is a potential preview for the first round of the playoffs, and both teams know it. Toronto would much rather play the Habs in the first round compared to the other two options of Winnipeg and Edmonton, and they'll be angry with themselves after they let the Canadiens grab two points in the standings the other night (Montreal and Winnipeg are now battling for the third and fourth spot in the North). This will be a tail-end of a back-to-back for Montreal — additionally, they'll be playing on the road. This will also be their sixth game in nine days. Their condensed schedule puts them at a serious disadvantage.
Jack Campbell is expected to start for the Leafs, he's 15-2-2 with a 2.12 GAA and .925 SVP. He'll give Toronto an excellent chance to win this one. Auston Matthews has six goals in his last six games, John Tavares is scoring over a point per game in his last 12 contests, and Mitch Marner is fourth in league scoring. Toronto has offensive weapons that the Habs simply don't. The Leafs have won five of eight meetings against Montreal; they're a proven better team.
Be sure to check out our full game preview for Montreal Canadiens vs. Toronto Maple Leafs.
Boston Bruins -1.5 (+128)
This is the tail-end of a back-to-back for the New York Rangers. They've just recently been eliminated from the playoffs and lost their best player for the rest of the season; the Boston Bruins might show more fight. They still have a chance to climb the East division standings. With only four games left, the East division is the tightest race in the NHL and it's anyone's to win. The Bruins have one of the most experienced rosters in the league, coming down the stretch that could come in handy. Head to head against the Rangers, the Bruins have won four of six meetings. Their defensive game has been on point when they play NYR. The Rangers are only averaging 2.16 goals per game, and the Bruins are averaging 95.8% on the penalty kill and a .924 SVP in their head-to-head games.
The Rangers are going to be tired on this back-to-back. Their best player, Artemi Panarin, has been ruled out for the rest of the season, and being eliminated from the playoffs can only weigh them down even more. Boston has the best faceoff percentage in the league with 55.4% while the Rangers have the worst faceoff percentage in the league with 44.6%. If Boston controls the pace of play, they should win this one with ease.
Be sure to check out our full-game preview for New York Rangers vs. Boston Bruins.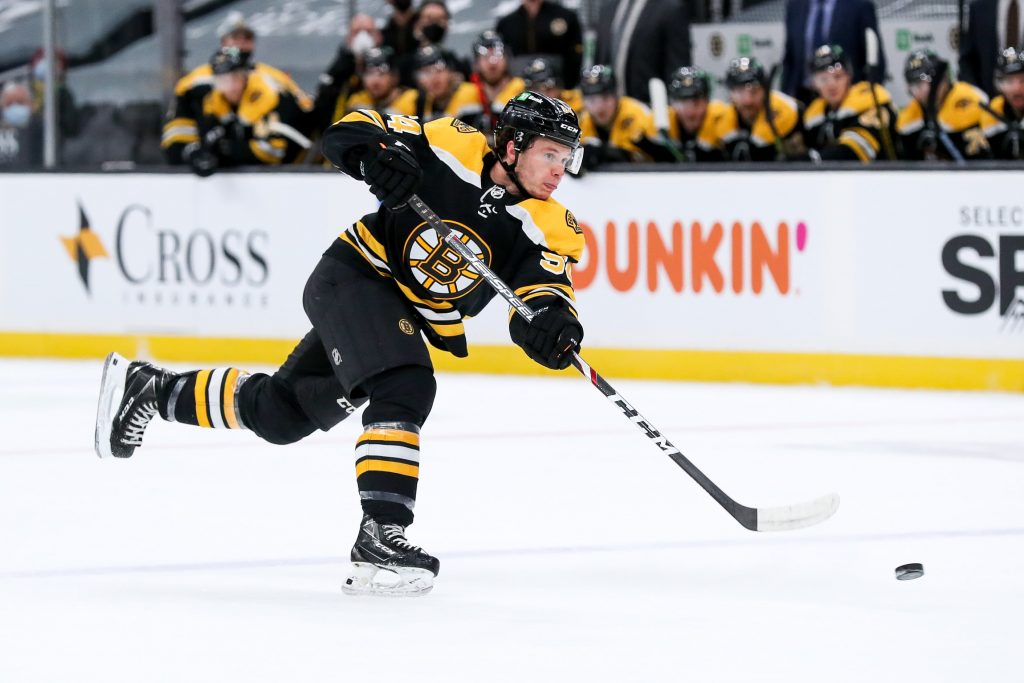 Pittsburgh Penguins -1.5 (-150)
The Pittsburgh Penguins are currently in the top spot of their division. With only two games remaining for them, these games become even more important as they try and secure home ice advantage. They'll be looking to finish the season strong and they lucked out with who their opponents are. The Buffalo Sabres have been the worst team in the league for the entire season, and the Pens have exploited that. Pittsburgh has won five of six games against the Sabres, outscoring them 22-10. Statistically, they're putting up their best numbers against one single opponent — 29.4% on the powerplay, 87.5% on the penalty kill, averaging 35.2 shots per game, only allowing 28.3 shots per game, and averaging a .941 SVP.
Sidney Crosby has eight points in six games against Buffalo. With the return of Evgeni Malkin to their lineup, Pittsburgh's top six forwards should dominate this game. They have a 20-4-2 home record while the Sabres have a poor 7-16-3 road record. The Penguins are scoring the third-most goals with 3.41 per game, while Buffalo is scoring the third-fewest with 2.41 per game. This is a major mismatch, so expect Pittsburgh to continue their dominant play against the Sabres as they look to maintain the top spot in the East.
Edmonton Oilers -1.5 (+102)
The Vancouver Canucks have now lost six games in a row, while the Edmonton Oilers have won their last three games. In seven meetings this season, Edmonton has beaten Vancouver five times, including their last two games. The Oilers covered the spread in both games, winning 5-3 on Monday and 4-1 on Tuesday. Mike Smith is expected to get the start for Edmonton and he's been unreal this season. He's posting a 19-6-2 record with a 2.25 GAA and .925 SVP with three shutouts. He's 3-0-0 against the Canucks this season with a 1.34 GAA and .957 SVP. The Oilers are on an absolute roll, winning nine of their last 12 games.
With playoffs just around the corner, the Oilers have a chance to either chase down the number one spot or secure home ice advantage with the number-two seed. Connor McDavid is chasing down the 100 point mark this season, expect him to have a big game here. He has 93 points in 51 games, he's contributed to 55.6% of his teams' total points, which is the second most in NHL history (if he maintains it). He has 14 points in seven games against Vancouver this season and 41 points in 28 games in his career head to head's against them.
Be sure to check out our full game preview for Vancouver Canucks vs. Edmonton Oilers.
Pickswise is the home of free NHL Picks and Predictions. Check back for our daily NHL Best Bets, including our favorite NHL Prop Bets.