NHL Thursday mega parlay (+1006 odds): Rangers looking for a big road win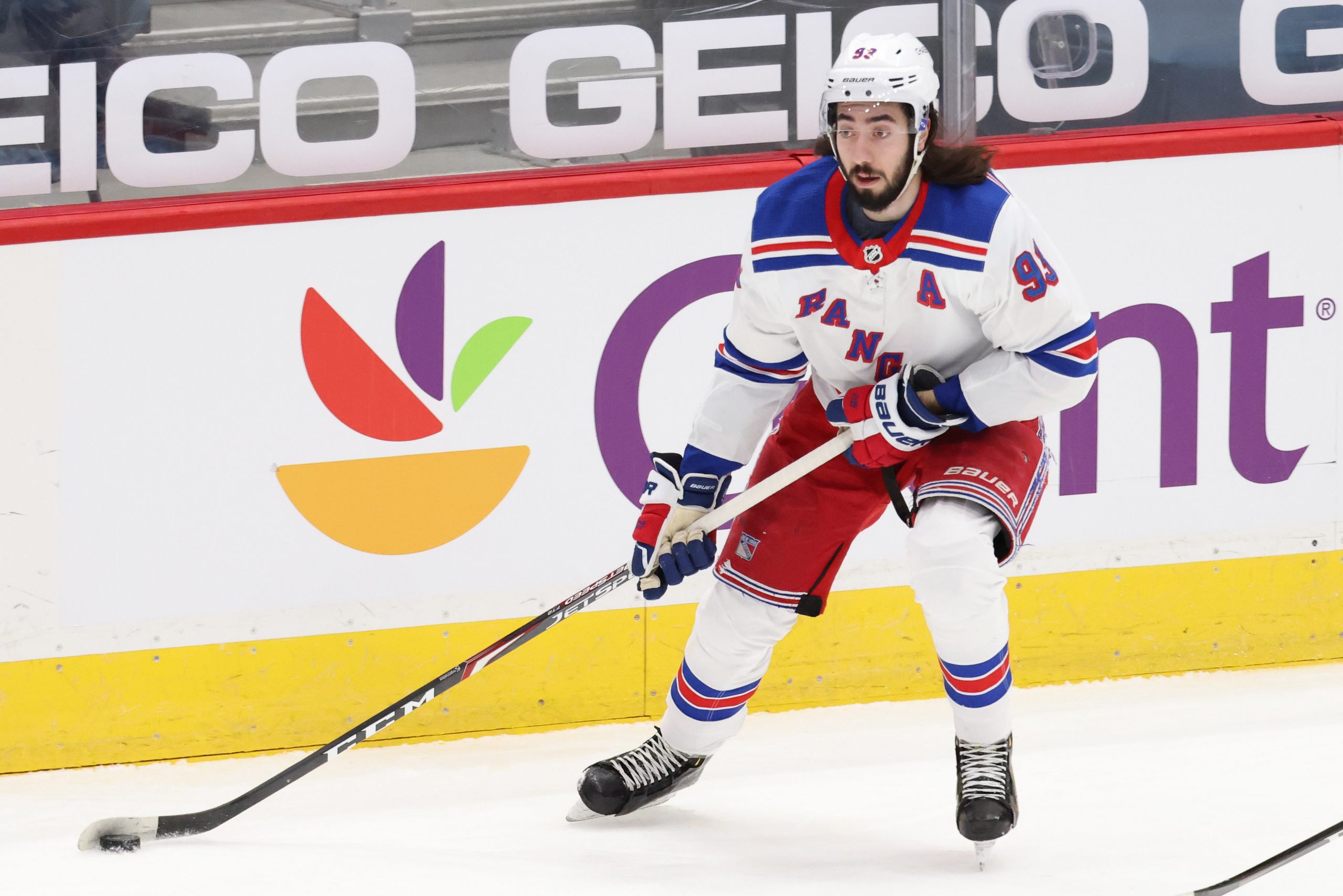 Thursday night brings us a jam-packed slate of 11 NHL games. That means we have more than enough to work with when putting together today's mega parlay. We hit a mega parlay at +776 odds last Sunday, so we are looking to stay hot. Along with this parlay, don't forget to check out our full game previews for all 11 games on tonight's slate. Let's take a look at today's picks:
Rangers ML (+126)
Blackhawks -1.5 (+152)
Jets vs Avalanche over 6.5 (-106)
New York Rangers ML (+128) over Vegas Golden Knights
Despite not having Artemi Panarin in the lineup the last few games, the New York Rangers have won 3 games in a row. The offense hasn't missed a beat as they have scored 4 goals in each of those 3 games. Ryan Strome, Mika Zibanejad, Chris Kreider and Alexis Lafreniere have stepped up in Panarin's absence, and Igor Shesterkin continues to be a reliable force between the pipes. Shesterkin is a Vezina candidate as the league's top goaltender as he is 15-4-2 with a strong .936 save percentage and 2.09 GAA. After reeling off 5 consecutive wins, the Vegas Golden Knights are 2-2-1 in their last 5 games. They are coming off back-to-back losses, and are dealing with some injuries in net. Robin Lehner was not available for Tuesday's game with a lower-body injury, and backup Laurent Brossoit was out for undisclosed reasons. Both of them are listed as day-to-day, and it's possible that neither will be available. Given that uncertainty, consider backing Shesterkin and the Rangers on the road.
Be sure to check out our full game preview for New York Rangers vs Vegas Golden Knights
Chicago Blackhawks -1.5 (+152) over Arizona Coyotes
While these teams are next to each other at the bottom of the division standings, they are far away from each other when it comes to talent. The Blackhawks have a 12-point lead over the Coyotes and have star players in Patrick Kane, Seth Jones, and Alex DeBrincat. This may be a tougher task for the Coyotes than the standings suggest. The Coyotes have managed to string together some wins, but they are still one of the worst teams in the league. After 7 straight games against top-ranked teams, the Blackhawks will be ready to roll in a very winnable game. That will likely will drive the Blackhawks to end their 5-game losing streak and get back in the win column with a convincing performance.
Be sure to check out our full game preview for Chicago Blackhawks vs Arizona Coyotes
Jets vs Avalanche over 6.5 (-106)
This matchup between the Winnipeg Jets and Colorado Avalanche could be a high-scoring affair. The Winnipeg offense has looked good since returning from the league's brief hiatus, winning both games and scoring at least 3 goals in each game. The Avalanche have also won both games since the break, scoring 4 goals in both games. The Avs are scoring a league-high 4.21 goals per game. In Colorado's last 10 games, the over has gone 6-2-2 with them scoring fewer than 4 goals only twice. They have been known to give up goals as well, allowing 18 in their last 5 games. The Jets play at a quick pace, and they have quietly become an over team as well. In their last 5 games, the over in Jets' games has gone 4-1, while they have allowed and scored 16 goals in that stretch. Look for both offenses to thrive in this one.
Be sure to check out our full game preview for Winnipeg Jets vs Colorado Avalanche