NHL Thursday mega parlay (+1092 odds): Panthers get back on track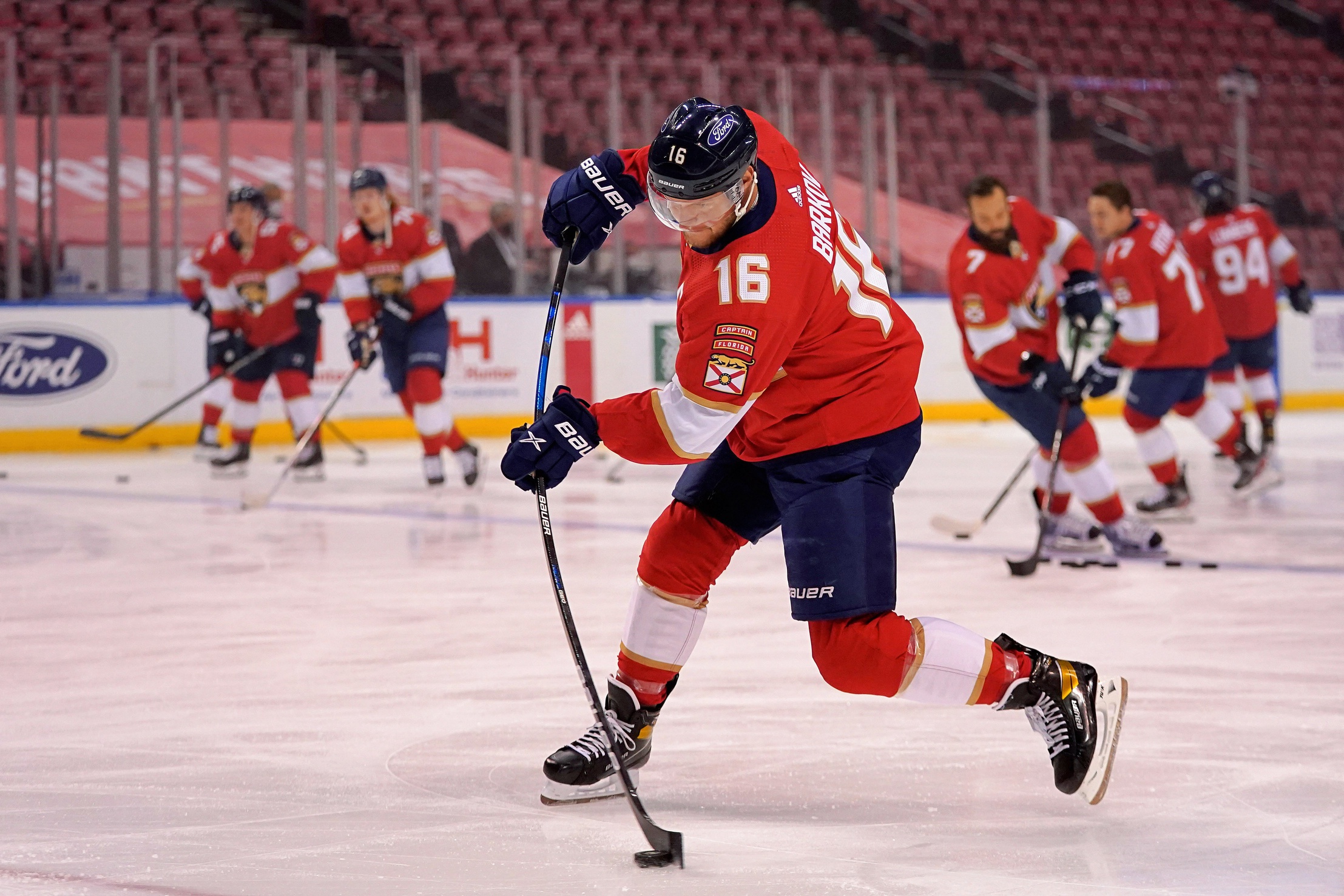 Following a small slate of 3 NHL games on Wednesday, Thursday brings us a bigger slate of 10 games. The action gets started at 7:00 p.m. ET while the final game of the evening gets going 10:00 p.m. ET. It is sure to be an eventful night in the hockey world, and we are spicing things up with a 3-leg mega parlay at +1092 odds. Along with this parlay, don't forget to check out our full game previews for all 10 matchups. You can also follow Pickswise and myself on Twitter for plenty of betting content covering all sports.
Panthers -1.5 (+140)
Red Wings ML (+148)
Canucks/Sharks under 5.5 (-108)
Florida Panthers -1.5 (+140) over Los Angeles Kings
The Florida Panthers have dropped 2 games in a row and they should be more than ready to bounce back against a middling Los Angeles Kings team. The Panthers are tied for second in the NHL in points and will be playing with a little chip on their shoulder. Since returning from injury, Aleksander Barkov has kept up his over a point per game pace. That supplements Jonathan Huberdeau's 32 points in 28 games, Aaron Ekblad's 24 points in 28 games, and Sergei Bobrovsky's 12-2-2 record with a .920 save percentage. Florida's big guns should take the reins and control this game.
The Panthers have better special team numbers in terms of NHL rankings if this game gets chippy. They also have a better goal differential, better shot differential, and better hits differential than the Kings. Overall, the Panthers are an all-around deeper and better team than the Kings. Pair that with a little extra motivation after back-to-back losses and this seems to be a bad matchup for the Kings. Take the Panthers -1.5.
Be sure to check out our full game preview for Los Angeles Kings vs Florida Panthers.
Detroit Red Wings ML (+158) over Carolina Hurricanes
The Detroit Red Wings have been a streaky team so far this season. Over the last month, Detroit has lost 4 games in a row, won 5 in a row, and lost 3 in a row. They were able to snap that 3-game losing streak with a 2-1 win over the Islanders on Tuesday. They will look to carry the momentum from that win into this road matchup against the Carolina Hurricanes. This will be a tough matchup for the visitors, but Carolina is playing a bit shorthanded. The Canes have placed at least 6 players in COVID protocols, including captain Jordan Staal and star forward Andrei Svechnikov.
One storyline worth following in this game is the play of Detroit goaltender Alex Nedeljkovic. The 25-year-old netminder was one of the best rookies in all of hockey with Carolina last season, and this will be his first return to PNC Arena since being traded to Detroit in the offseason. Needless to say, he should be playing with a ton of motivation. Perhaps he can lead the Wings to an upset.
Be sure to check out our full game preview for Detroit Red Wings vs Carolina Hurricanes.
Canucks/Sharks under 5.5 (-108)
We are going to see a pair of great goaltenders in this game. James Reimer and Thatcher Demko are both are playing stellar hockey as of late and have been very solid in their own ways up to this point of the season. Reimer is sporting a .936 save percentage to go along with a 1.99 GAA while Demko is posting a .917 save percentage with a 2.66 GAA. Demko has been even better over the last week. He has posted a strong .962 save percentage with a stellar 1.20 GAA in his last 4 starts. He appears to be playing with some confidence right now. These hot goalies are going to make it tough to score much for either offense, as these teams rank in the bottom of the league in goal scoring as it is. This could be a low-scoring affair.
Be sure to check out our full game preview for Vancouver Canucks vs San Jose Sharks.