Pickswise March Madness Handicapper Contest Update: MeganMakinMoney top of the leaderboard at Sweet 16 Stage
The first five gamedays of March Madness and the NCAA Tourament have been and gone, and right now it's MeganMakinMoney who is in the driver's seat for our special $10,000 Capper Contest.
For those unfamiliar with the contest, we at Pickswise invited some of college basketball's biggest experts to put their credentials on the line and go head-to-head in a winner-takes-all battle for $10,000. And after the First Four, First Round, and Second Round, it is Megan — FanDuel Sportsbook's representative in the contest — who is the current leader on 11 points.
However, there is no room to get comfortable, as ex-Detroit Mercy player and king of the upset Rashad Phillips is hot on her tail with 10 points. Phillips, who is one of the most respected player analysts in all o college basketball, proved why he is known as "Yoda" after successfully predicting Oral Roberts to beat Ohio State, Ohio to beat Virginia, and, most notably, Abilene Christian to beat Texas.
Tied on 10 points with Phillips is the esteemed college basketball betting expert BetsByBob, who actually has a better win-loss record than Phillips but has had fewer winning locks (in this contest, a lock win is worth two points, and a regular bet win is worth one point). Given Bob's regular-season success in betting on the NCAAB (he is up 81.07 units), he will no doubt like his chances of claiming top spot by the end of the tournament.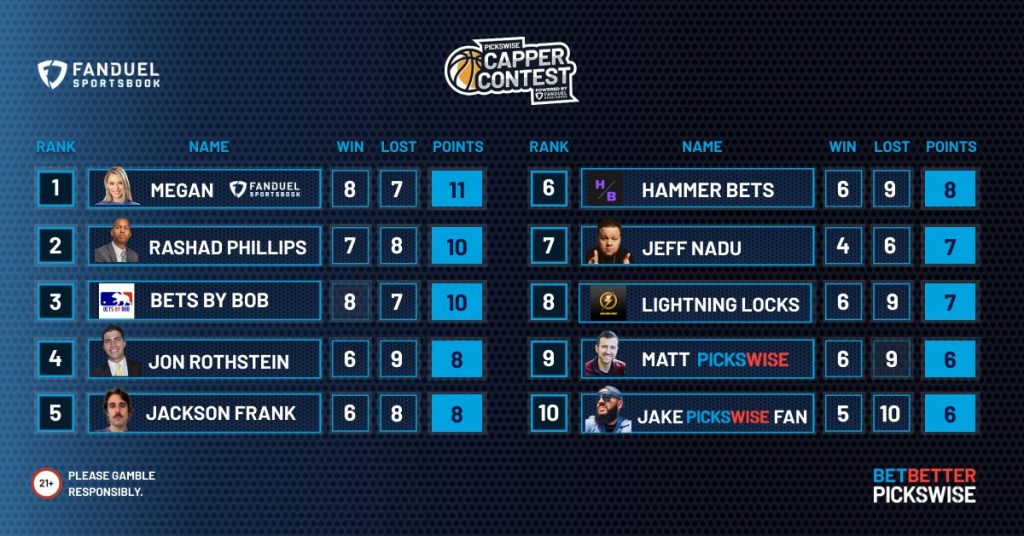 Chasing pack keeping things close
While Megan, Rashad, and Bob occupy the top three spots in the Capper Contest, it is still very much a wide-open battle with just two points separating fourth place from last. CBS analyst Jon Rothstein is a perfect example o how close this contest is — he was bottom of the pile on Monday morning, and was tied fourth just 24 hours later.
However, the man who appears to be finding form at the right time is Jackson Frank. He got off to a horrific start, having been 0-5 and then 1-6 after the first few days of the contest. However, he soon found his bearings in the second round and has since improved to a solid 6-8 record. If that kind of recent success continues, he could yet scoop the $10,000.
Hot Twitter tipster Hammer Bets is also sat on the eight-point mark, while our Hoops Betting Hour host Jeff Nadu isn't far behind on seven points alongside Lightning Locks.
Our own Pickswise college basketball expert Matt Marquart is struggling back on six points, but interestingly he actually boasts an 8-4 ATS record in his game previews for us during this tournament. Make sure you check out his best bets for the Sweet 16.
Pickswise fan Jacob, who won his entry into this contest for a shot at $10,000, is also on six points. But with seven more days of hot hoops action still to look forward to, the mega-money is still up for grabs for everyone!
Pickswise is the home of March Madness Predictions. Check out all of our March Madness Picks, including daily March Madness Parlays throughout the NCAA Tournament.