Pickswise's 2021 March Madness Handicapper Contest: Saturday Sweet 16 Expert Picks and Predictions
The NCAA Tournament is well underway, and the fun continues on Saturday with the kickoff of the Sweet 16. Following four jam-packed days of first weekend action, we have four more games to salivate over and our expert judges are here to give you their locks of the day and best bets for the Pickswise $10,000 Capper Contest! With the likes of Megan Nunez, Jeff Nadu, and Bets By Bob all participating, make sure you find out who the best bettors around are backing before placing your own bets.
Also involved in the contest are top college basketball insider Jon Rothstein, and ex-player and talent expert Rashad Phillips. Make sure you also check out Jon's picks here.
Incredibly, Rashad was able to successfully predict ALL THREE upsets of Abilene Christian to beat Texas, Oral Roberts to beat Ohio State, and Ohio to beat Virginia. Rashad then followed that up by once again picking Oral Roberts to get the job done, this time against Florida. Read all of Rashad's picks for today's games here.
Here at Pickswise, we specialize in providing free expert picks and predictions, and you can find all of our picks on the side and total for every game throughout March Madness.
Lock of the Day: Baylor -6.5
I hate to go against great coaching, especially when that coach has an entire week to prepare, however there's no way that I'm going to fade Baylor now. Baylor has been one of the best teams in the NCAA this year and to me it would be literal madness for this Villanova team, who lost their best player and haven't really been tested in the tournament thus far, to pull the upset. The Bears are just deeper and more talented in every single area and it looks like they're only gaining momentum heading into this match up. I can see Jay Wright and the Wildcats hanging around for a bit but the dominance of Baylor basketball will pull away and cover in the end.
Be sure to check out our full game preview for Villanova Wildcats vs. Baylor Bears.
Additional Bet #1: Oregon State +6.5
This is a crazy game to comprehend let alone handicap. Cameron Krutwig was insane in his last showing at Illinois and the rest of the Ramblers followed suit. I do think playing 1-seed instate rival Illinois was an extra motivating factor and I don't see them sustaining the same type of game play here with an Oregon State team who has covered their last eight games all as underdogs by at least 5.5 points. This line seems a little hefty for the Beavers and I feel as if they can cover the number. 
Additional Bet #2: Oral Roberts +11
This one is a little scary as these teams have already seen each other in the regular season. The first meeting oral Roberts got a jump on Arkansas and was up 10 at half. The Razorbacks rallied and came back to win by 10 due to a huge second-half. These two teams will know exactly how to play one another and I am going to go ahead and back the Golden eagles as they have been the hungriest dog in this tournament and are catching double digits in the Sweet 16 spot they never expected to be in. 
NO. 15 ORAL ROBERTS IS GOING TO THE SWEET 16 AFTER UPSETTING NO. 7 FLORIDA 😱 pic.twitter.com/wHvMIVLRMR

— Bleacher Report (@BleacherReport) March 22, 2021
Lock of the Day:
Oregon State vs. Loyola Chicago under 125.5
This game screams first to 60 wins. It reminds me of a game straight out of the MVC, something Loyola will welcome. This team was the best team in the country all year from a defensive standpoint. They are magnificent to watch and hold the best defensive efficiency in America. Oregon State is going to struggle to score and likes to play slow as it is. Neither team shoots many threes and both want to play slow, with both ranking in the 300s nationally in tempo. Loyola on offense will have to shoot over the long Oregon State zone and have the ability to try and put a body on big Cameron Krutwig. Loyola will find a way to win this game just because overall defensively they are just too tough. This game though screams 60-53 or something.
The public is hammering the over in this spot. Check out our report on where all the public money is going for the Sweet 16. 
Additional Bet #1: Arkansas -11
For some reason the books still don't believe in Oral Roberts. They were undervalued in the Round of 64 as 16 point 'dogs and won the game. They were 9-point 'dogs against Florida, and won that game outright. What more do they need to do right? I know we can point to the game back in the non conference when these two teams met and Arkansas won by 11, but let's remember Oral was up 10 at the half and led by 5 with 12 min left. This team continues to check all the boxes on when you want to back an underdog. They make 3's, hit their fouls shots and don't turn it over.
This game will feature a high uptempo pace and it should be fun. At the end of the day, Oral Roberts still struggles mightily defensively and will have some issues here I think. So I'm leaning towards Oral Roberts regardless of defense right? No. I look at the second half of the first game where adjustments were made and not only was Max Abmas non-existent but they didn't allow Kevin Obanor to thrive in the pick and pop situations. Arkansas is playing some of their best basketball of the season and with their familiarity with Oral Roberts and a week to prepare I think they finally knock out the Cinderella Golden Eagles and do it by 15+. Keep in mind, they won by 11 in that first game and were just 4-24 from 3. Game screams 85-69-ish.
Be sure to check out our full game preview for Oral Roberts vs. Arkansas Razorbacks.
Additional Bet #2:
Baylor -6.5
This game really screams double digit win for the Bears. The appearance in the Sweet 16 for Nova is honorable after losing Collin Gillespie but they lucked out getting North Texas over Purdue in the 2nd round. Baylor has big guards that will own the backup and smaller guards Nova will throw out and Baylor can also handle guarding Jeremiah Robinson-Earl who has picked up the slack with Gillespie out. Baylor is number one in America from the 3pt line and this Nova team has struggled all year against it. Nova is leveling up here, Baylor wins 78-67 ish.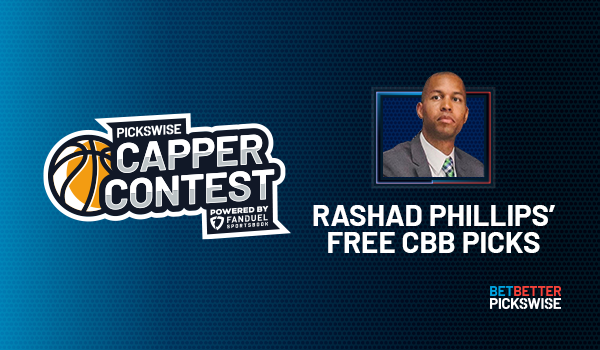 The king of March Madness upsets, Rashad Phillips, is back with his best picks for day one of the Sweet 16. Read his predictions here.
Lock of the Day: Baylor -6.5

My lock of the day is Baylor -6.5 against Villanova. While the Wildcats have done quite well to snag two wins without their best player, Collin Gillespie, Baylor represents a significant step up from Winthrop and North Texas. Gillespie's absence will be felt quite prominently against Davion Mitchell's ball pressure on the perimeter. I'm not sure Chris Arcidiacono, making his fourth career start, is up to the task. Baylor has largely been a top-two team in the country all season and a short-handed Villanova team is in for a tough one. The Bears should win this one comfortably and cover the 6.5-point spread.
Additional Bet #1: Oral Roberts vs. Arkansas under 159.5
These two teams faced off early in the year and combined for 163 points, but I think Arkansas will win and do so with its defense. Oral Roberts' defense is shaky and Arkansas plays at a quick pace, but 159.5 just seems like a lofty over in a game I expect the better team to win because of defense.
Additional Bet #2: Oregon State vs. Loyola Chicago over 125.5
In a similar vein to the Oral Roberts-Arkansas game, 125.5 is a super-low number. Oregon State's been playing well offensively as of late (17th in offense over its last 10 games) and Loyola executes its scheme well. I don't think these teams will blow 125.5 out of the water, but I like the over here.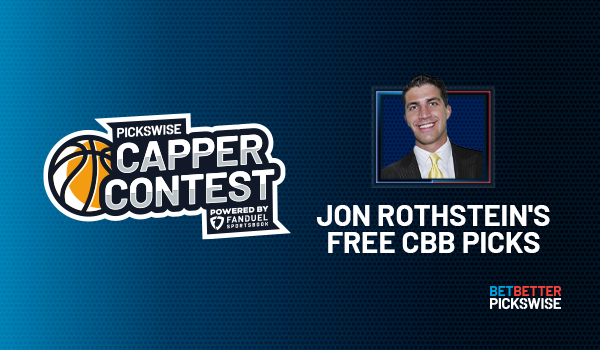 Check out college basketball analyst and insider Jon Rothstein's best picks for Saturday's Sweet 16 action!
Lock of the Day: Houston -6
I like Houston to end Syracuse's run. Much is being made about the struggle against Syracuse's zone, but the Orange have allowed 1.03 and 1.04 PPP against San Diego State and West Virginia, which is right about where ACC opponents (who are familiar w/ the zone) landed in ACC play. West Virginia in particular scored 1.04 PPP against Syracuse, grabbing 19 offensive rebounds in the process. Houston is the second-best offensive rebounding team in the country, so I think they can do much of the same. Per Synergy, Houston ranks in the 70th percentile against zones this year, and while Tulsa, Tulane, etc. may not be Syracuse, they're not Air Force and Eastern Michigan either.
The main reason Syracuse is winning is they are shooting 50% from 3 in the tourney. Buddy Boeheim has been on fire obviously, and maybe he keeps it up. But I'll take my chances on three-point shooting regression with the 3rd best half-court D on a points-per-possession basis in the country.
Additional Bet #1
: Baylor -6.5
This spread is a tad short, in my opinion. Villanova has certainly looked impressive in their first two games, but we still must remember that they played Winthrop and North Texas. Both of those teams are solid opponents, but Baylor is a different beast. Villanova was able to use their bigger guards to post-up the smaller North Texas guards, and they used their length on the perimeter to bother Winthrop's Chandler Vaudrin which completely disrupted the Winthrop offense. In this matchup they face a Baylor team that has elite on-ball defenders. Baylor's third-ranked defensive turnover rate might be able to expose the first signs of weakness for Villanova without Collin Gillespie.
Additional Bet #2: Loyola Chicago -6.5
Oregon State has been on a tear, but this is where their streak ends. Oregon State gave Tennessee and Oklahoma fits with their zone defense, particularly exposing the lack of outside shooting from those teams. Loyola can shoot, as they rank 68th in the country in three-point percentage. This could also be another game with a dominant performance from Cameron Krutwig, as Oregon State ranks just 252nd in field goal percentage defense at the rim. Against Oklahoma State, Oregon State shot 32/35 at the free-throw line. It's going to be difficult to repeat this against Loyola-Chicago, as the Ramblers rank sixth in the country in not allowing free-throw attempts to their opponents.
Jacob Herr (Pickswise contest winner):
Lock of the Day: Baylor -6.5
Additional Bet #1: Houston -6
Additional Bet #2: Loyola Chicago -6.5
Pickswise is the home of March Madness Predictions. Check out all of our March Madness Picks, including daily March Madness Parlays throughout the NCAA Men's Basketball Tournament.