PLL Top Props: Star player props for Premier Lacrosse League Week 7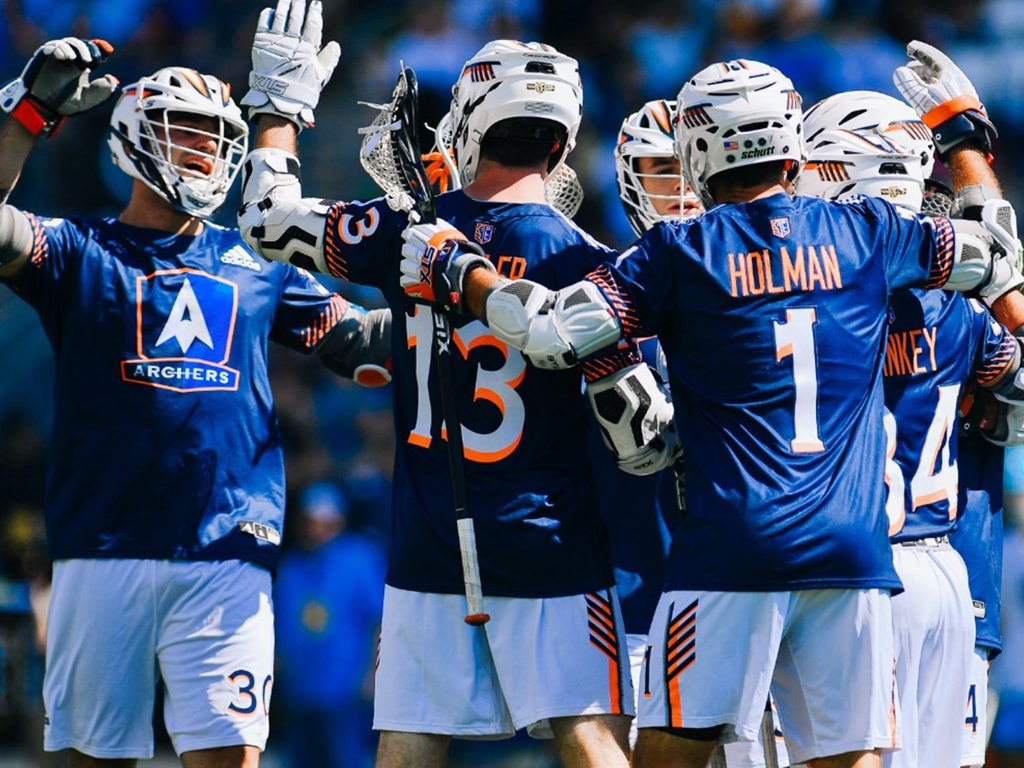 The second half of the Premier Lacrosse League season gets underway this weekend in Fairfield, CT. A few matchups are rematches from the first half of the year, meaning there's an opportunity to look at individual performances in those matchups, along with half a season of data, and spot some trends. There is some injury news that can have a major impact, particularly for players like Grant Ament, Lyle Thompson and Trevor Baptiste. This week there are three player props that feature players in their second game against an opponent, which makes them particularly attractive.
Read our PLL picks for every lacrosse game this weekend
Jules Heningburg over 3.5 points (+130)
The Redwoods were happy to see the first half of the season come to an end. As of now, they sit at the bottom of the PLL standings, with just one win and the league's worst goal differential. They start the second half against Atlas, the current favorite to win the title. In the first meeting between these two teams this year, Atlas won 17-11. Heningburg, however, has been a bright spot for the Redwoods this year, and in that game in particular.
He had five goals in the first outing, attacking from the midfield and creating his own shot well. Heningburg is one of the most accurate shooters in the league, hitting the net a whopping 86% of the time, and shooting 41% on the season. He shoots 41.7% in assisted situations, he shoots 40% in unassisted situations. Heningburg is also, for his career, shooting 63% against Jack Concannon. Going 63% against any pro goalie is remarkable, but against a goalie like Concannon, who is better from closer range — where Heningburg plays — is spectacular.
On top of Heningburg's elite shooting, it's likely the Atlas are without MVP candidate and league-best faceoff specialist Trevor Baptiste. In the last game before the break, Baptiste suffered a leg injury that made him nearly unable to walk. He played through it, still fighting for faceoffs, but the injury appeared significant. He was still not fully mobile, walking with a limp at All-Star Weekend. If he needs another week or two to come back, the Redwoods could have a big day getting extra possessions from the stripe.
It would likely be Jakob Phaup, who is a rookie and has yet to take a faceoff this year, against TD Ierlan. Ierlan was among the league leaders in his rookie year, but is at just 48% through the first five games this year. He's been improving over the last few weeks, putting up his best game of the season against Archers in Week 5. Ierlan has also his regular wings back as John Sexton returned from injury. If Baptiste can go, TD is actually just under 50% against him for his career including a Week 2 matchup last year that saw Ierlan win 62% of draws. Ierlan giving the Redwoods additional possessions means more opportunities for Heningburg to find the back of the net.
Be sure to check out our full game preview for Redwoods vs Atlas
Michael Sowers under 3.5 points (+130)
The Waterdogs put up 14 goals last time out against Chrome, and Sowers missed that game due to injury. When he's healthy, Sowers has proven to be an electric dodger and scorer. His lowest point total this season is three, coming in week one against the Cannons and then again in Week 5 against the Whipsnakes. Chrome presents an interesting matchup. Sowers has six goals on 19 unassisted shots, and only five players in the league have taken more unassisted shots than him. He also is third in the league in assist opportunities, with 22. This all adds up to someone who creates plenty of chances to score on their own, but the under is still attractive in this one.
It's more than likely Sowers is guarded by JT Giles-Harris or Mike Manley, both of whom are excellent in coverage and are playing to a Defensive Player of the Year level. Manley can play a physical, punishing brand of on-ball defense that is exactly the type of play to disrupt Sowers. JTGH is similar, but also boasts elite footwork and lateral quickness, again making him a good matchup for Sowers. In settled situations, the Chrome are currently the second-best defense in the league; surrendering 29 goals this year on 131 settled possessions. Chrome defense is vulnerable in transition, but transition is exactly where the Waterdogs have been poor, as they scored just 6 goals on 26 fast-break opportunities.
In strength-on-strength matchups like this, games become a grind, using full shot clocks to try and create a quality look. Waterdogs can look to their game plan from their first matchup with Chrome, without Sowers, in which they still scored 14 goals, and return to it. This time, they'll have Dillon Ward in net and a more confident Zac Tucci facing off. McArdle, Brown, and Kelly can do plenty of damage, and while Sowers will be involved, the Waterdogs can limit the impact of Manley and JTGH by spreading the wealth when it comes to initiations.
Be sure to check out our full game preview for Chrome vs Waterdogs
Tom Schreiber over 3.5 points (+105)
In the last matchup with the Cannons, Schreiber feasted. Captain America put up seven points — three goals and four assists — on 10 shots while only committing two turnovers. Schreiber is the league leader in assist opportunities with 27, with them being converted 29% of the time. With shooters like Will Manny and Marcus Holman, Manny being the best in the league and Holman in the top five in assisted shooting percentage, it's no surprise Schreiber is as productive an assist man as he is. He's the lethal combination of having the best vision and passing ability from the midfield in the world, and is able to separate from defenders consistently.
Despite the strong SSDM personnel on the Cannons, their poles do not match up well with Schreiber, because nobody does. Cannons defensive possessions end in a goal 32.4% of the time, the second-worst mark in the league. Archers offensive possessions end in a goal 37.2% of the time, the second-best mark in the league.
One possibility for an impact here is the health of Grant Ament. Should the reigning Attackman of the Year be able to go — and it looks like he could get the green light this weekend — it gives the Archers yet another weapon for an already loaded offense. This does not necessarily negatively impact Schreiber's opportunities, however. Ament has always been a pass-first attackman, and this is an offense built on rapid, precise ball movement to beat you rather than just overpowering you with dodgers.
The Archers have 58 one-point goals and four two-pointers, and 39 assists. The dodge is meant to just unsettle the defense, and that's when the real attack begins for Archers. Even if Ament is back, Schreiber's productivity shouldn't see a dip. Archers could put together a repeat performance of their first matchup in this one, and Schreiber should once again rack up the points.
Be sure to check out our full game preview for Archers vs Cannons
Pickswise is the home of PLL Predictions. Check out all of our PLL Picks throughout the Premier Lacrosse League season.