NFL
Back
Rams COO Kevin Demoff states team will not change logo despite criticism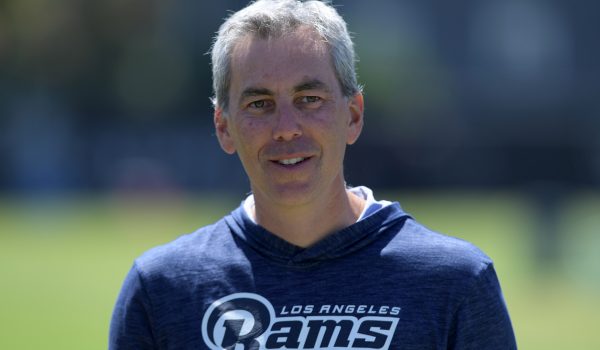 NFL
11:54AM
Mon 6th April 2020

NFL
11:54AM
Mon 6th April 2020
Alex Alarcon
See Bio
Content Manager for Pickswise.com The home of free sports picks and experts best bets.
See Bio
Content Manager for Pickswise.com The home of free sports picks and experts best bets.
The Los Angeles Rams have been the talk of the town for the past month as they have received heavy criticism for their brand new colors and logo which were revealed late last March. Even with the negative feedback from thousands of Rams fans, COO Kevin Demoff is standing is stall and has stated the team will not change the new logo. Despite the new logo, fans should be focused on the potential of the team as they should easily cross over their 2020 win total. Demoff took to twitter over the weekend to address the fans feedback following the Rams Telethon
"While it isn't always the easiest to hear, we value the commentary you have provided on the logo & colors," he said in a statement. "We are excited about the future of our team, our brand & our stadium, but recognize we can always get better through feedback and engagement and appreciate your passion."
Demoff released the statement after the team raised more than $2 million for coronavirus relief efforts which was hosted by the Rams and KABC. Demoff even went the distance and kept his promise and read the meanest tweets about the new Rams logo.
Who has the best QB/WR combo in the NFC West?#RedSea
Murray
Hopkins#GoHawks
Wilson
Lockett#LARams
Goff
Kupp#GoNiners
Garoppolo
Samuel pic.twitter.com/FYCWx0B634

— Pickswise (@Pickswise) March 16, 2020
In a last-ditch effort, Hall of Fame running back Eric Dickerson was among the loudest critics and took to social media to find a better logo to show the Rams, marketing team. Dickerson went on to pick two new logos via fan submissions and a week later had a new update for the football world. He announced the following on Sunday night on Twitter about the logo update.
"I spoke with the Rams front office on behalf of our great fans and former players," he said. "Unfortunately, the front office is set on their new logos. I made my feelings crystal clear… Why change the best logo in the NFL? When I was drafted by the Rams in 1983, my dream came true of playing professional football for the best city and best fans. I couldn't wait to put on my Rams uniform and helmet…the best-looking uniform/helmet in the NFL! I felt connected to the great Rams legends such as Deacon Jones and Jack Youngblood. Thank you for making your voices heard and sticking together. Together we can make a difference. Extremely proud to be your voice"
Last updated: Mon 6th April 2020