Ruoff Mortgage 500 NASCAR betting preview and picks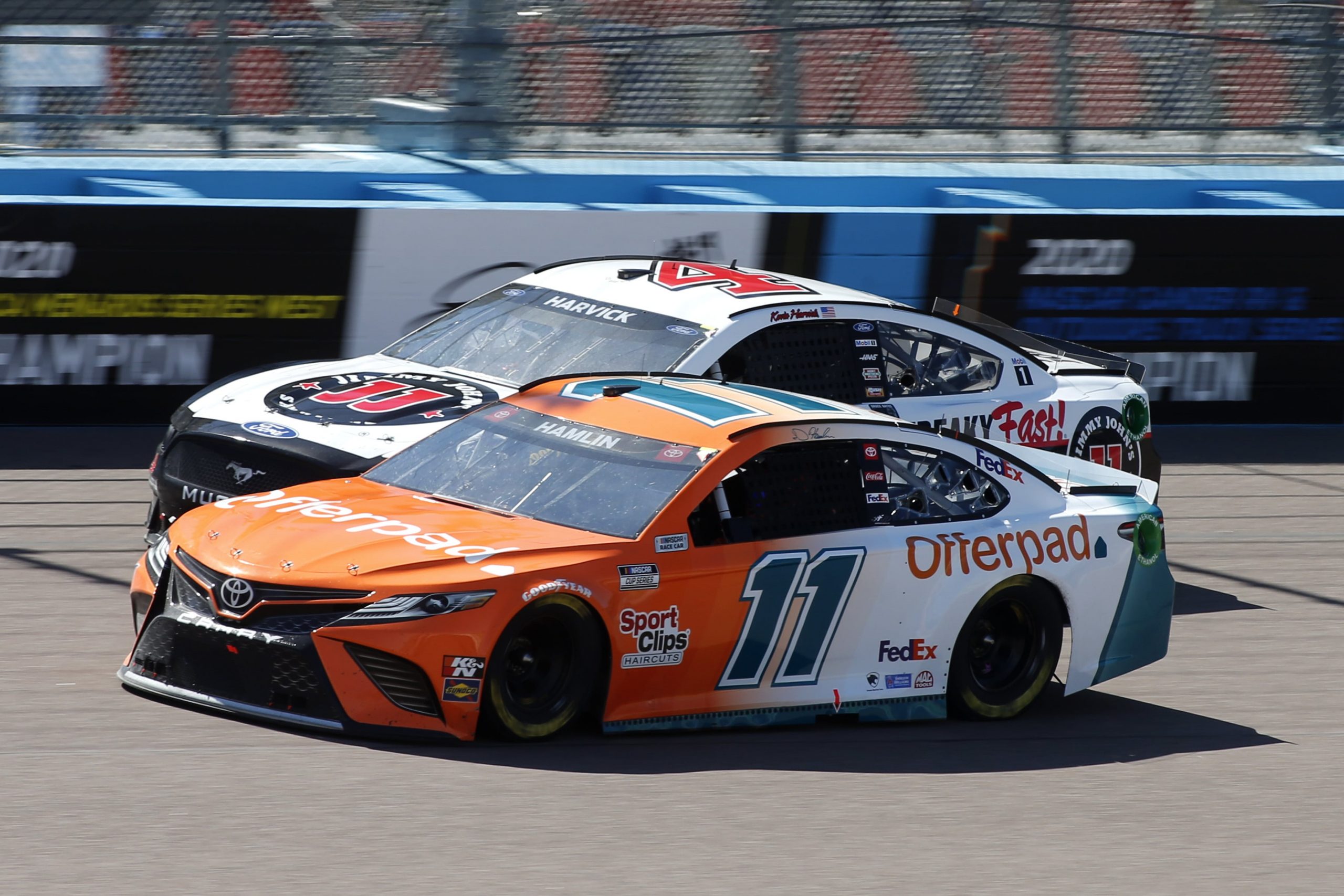 The Ruoff Mortgage 500 represents the fourth race of the NASCAR Cup series season and the fourth different track that has been run on. This time it's Phoenix Raceway. What makes Phoenix a different track than we had the last few weeks? Well, let's talk about that for a minute.
Ruoff Mortgage 500 Track Stats
Phoenix is a 1-mile flat track with a unique feature. The most banking is just 12 degrees of tilt in turns 3 & 4. The unique feature? It's known as a dogleg — just like you'd find on a golf course. Right after the start/finish line, there is a very wide kink in the straightaway that allows for drivers to dive all the way down to the inside wall, basically 8 cars wide. This leads to a ton of fanning out on restarts and a bunch of positions gained, if done right. This is also a track on which a lot of cautions can occur. Just a few years ago, in a similar aero package to what's on the current cars, there were 12 cautions over the course of the 312 laps. With the tire issues we have seen this year and the drivers liking to cut the corners as much as possible, we could see a decent amount of tire failures in the Ruoff Mortgage 500.
If you want more data for the drivers in the field this week, check out the DFS Alarm NASCAR Track Breakdown for the Ruoff Mortgage 500 for FREE.
Editors Note: This piece was updated at 11:45 am ET Sunday morning following practice and qualifying on Saturday.
All odds based on DraftKings Sportsbook at time of publishing
Ruoff Mortgage 500 best outright bets
Theme building for Kyle Larson (+400)
Kyle Larson won at this track last year to take his first Cup title. The car looked good most of the day and came from the back. He also nearly won last week, after winning at Auto Club the week before. See the theme? There's a reason that Larson is the favorite this week given how good the Hendrick cars have been at this track recently and the speed they're showing this year — with all of them being top 10 in Green Flag Speed last week.
Redemption for Kyle Busch (+750) and Denny Hamlin (+800)?
Just like with Larson, we have a theme for these drivers. Kyle Busch was in position to win last week and lost that chance with pit strategy on a caution with 3 laps left. He was salty, to say the least, after the race. Busch would gladly take redemption this week. As for Denny Hamlin and redemption, why does he need it? Well, based on the Green Flag Speed metric he had the fastest car last week at Vegas. He didn't finish the race. Why? He missed a shift and blew his transmission. The look of dejection when he got out of the car is enough to fire him up this week, at a track he's had a very good record at the last few years. JGR usually treats Phoenix as its personal playground.
Late Addition: Byron (+800) Looking Racy
Byron has a solid track history at Phoenix but not one that immediately puts him in the winning category. That was until Saturday. The young driver put up some remarkable speed in the brief practice. The 24-car posted the fastest 10-, 15-, and 20-lap averages before qualifying P3 for the race. His teammates have won each of the last two races and Byron is now looking to complete the Hendrick sweep of the West Coast Swing.
Twin billing At +2500
Once you get outside of 20/1, you can often find a few drivers at the same odds. That's the case with Aric Almirola and Alex Bowman. Almirola is very good at flat tracks like Phoenix and has a good history there. He also won at a comparable track, New Hampshire, at 80-1 last year. Almirola has also finished in the top 6 in every race this year. Bowman is coming off a win at Vegas last week and this is his home track. The first time he raced there in the Cup series, he led more than 190 laps and was on the pole, that car was like this one. Bowman has been getting faster each race and is primed to be a threat for back-to-back wins.
Another rookie longshot at 50/1?
We're not typically in the business of betting long odds on rookies. This is different. Austin Cindric has won here 3 times in Xfinity and nearly won the championship there in November. The #2 car has been fast in all races so far, though the result last week didn't show that. If his track history proves to carry on to the Cup series and his team has the car set up well, it could be a very good day for a rookie to get a second win on the young season.
Best prop bets
Denny Hamlin top Toyota (+280)
Denny Hamlin has more top 5s at this track in the last 8 races than any other Toyota driver with 6. That is also the most in the field regardless of manufacturer. He also had the fastest car last week before the mistake he made shifting.
Kevin Harvick top Ford (+500)
Kevin Harvick has finished in the top 10 at this track in the last 8 races and has long dominated there. Regardless of the set-up of the cars, he's been able to find speed at this track. Let's also not brush aside the fact that he's had good speed in the #4 car this year and speed that's allowed him to move up well through the field. One last thing, his 5.4 average finish in the last 8 races is best in the field regardless of make.
AJ Allmendinger top-10 finish (+140)
AJ Allmendinger is a part-time Cup driver this year but that doesn't change the fact that he has plenty of experience in the series. The last time he ran at this track he finished just outside of the top 10, but that was in a worse car than the one he'll be in Sunday. His driving style fits well and if Daniel Hemric can pull off top-10s in this car, so can Allmendinger.
At Pickswise we offer free NASCAR Picks for today's race including analysis and NASCAR betting advice from expert NASCAR handicappers.