MLB
Back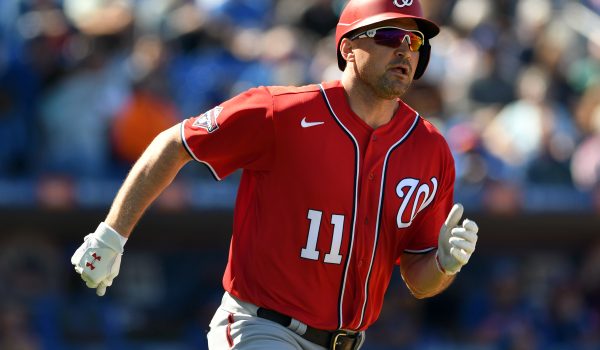 Ryan Zimmerman decides to sit out 2020 MLB season
As MLB inches closer to the start to the 2020 season, several players have already declared that they won't be participating in the upcoming campaign. Most notably, Nationals third baseman Ryan Zimmerman (along with teammate Joe Ross) have decided to sit out the upcoming season:
— Washington Nationals (@Nationals) June 29, 2020
We also learned today that Diamondbacks pitcher Mike Leake has opted out of the 2020 campaign.
While Zimmerman certainly isn't the player he used to be, this will still be a tough blow for a Nationals squad that will be looking to repeat as champions. The 35-year-old has transitioned into more of a platoon player in recent years, but Zimmerman has still been plenty productive. In 52 games last season, Zimmerman compiled six home runs and 27 RBIs, leading to a modest .736 OPS. He also got into 16 postseason games for Washington, and he finished the NLDS with an .857 OPS.
After the Nats won the World Series, they declined Zimmerman's $18M club option. This led some to wonder whether the veteran would hang up his cleats, but the two-time All-Star ended up re-signing with Washington on a one-year, $2M deal. Zimmerman's decision to sit out the 2020 campaign will lead to some similar retirement rumblings, but the veteran made it clear that he hasn't made a decision on his future.
"To be clear, I am not retiring at this time," Zimmerman said in a statement. "I have not decided on my future in baseball past 2020. But this year I'll be staying safe at home and pulling as hard as anyone for our guys to defend their championship."
Zimmerman seemed likely to platoon at first base with Eric Thames, especially with MLB's decision to institute a universal DH. With Zimmerman out of the picture, Asdrubal Cabrera or Michael A. Taylor could see more playing time.
Ross has pitched 335.1 innings for the Nationals since 2015, although his most recent results have been mixed. Over the past three seasons, the 27-year-old has compiled a 5.21 ERA in 43 games (25 starts). In a deep rotation that's headlined by Stephen Strasburg, Max Scherzer, and Patrick Corbin, the Nationals will be ready to overcome Ross's absence.
Leake, 32, was traded to the Diamondbacks last July. He ended up making 10 starts for his new team, going 3-3 with a 4.35 ERA and 1.36 WHIP in 60 innings pitched. Including his 2019 numbers with the Seattle Mariners, Leake ended the season having allowed a league-high 41 home runs.
Fortunately for Arizona, they have enough rotation depth to make up for Leake's absence. Madison Bumgarner, Robbie Ray, Luke Weaver, and Zac Gallen lead the top of the Diamondbacks rotation, while Merrill Kelly, Jon Duplantier, and Taylor Clarke could emerge as alternative options.
Last updated: Mon 29th June 2020