Sunday's NHL mega parlay (+1012 odds): Back the rested Islanders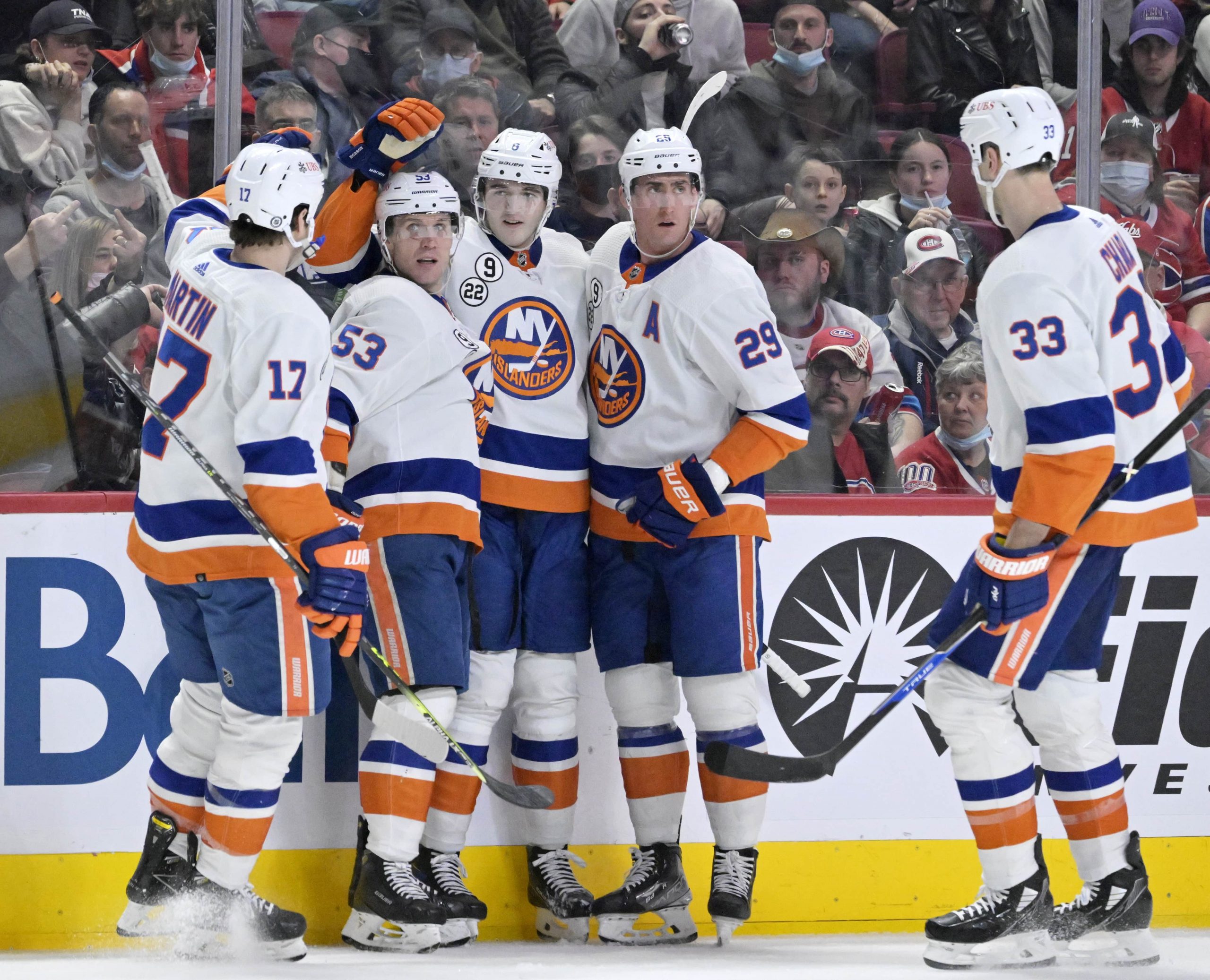 There are 6 games on the NHL schedule for Sunday, but even though it's a smaller slate of games, it doesn't mean the points aren't important.  The marquee game is the St. Louis Blues vs Nashville Predators at 6:00 pm ET as both teams need the points to stay in their current playoff spots. We have gone through all 6 games and have parlayed 3 teams with a potential payout of just over 10/1 at BetMGM Sportsbook. But before we dive in, be sure to check out all of our picks and previews for every game tonight.
Wild -1.5 (-105)
Islanders ML (+165)
Blue Jackets (+115)
Parlay odds: +1012
Let's break down each of the legs:
Minnesota Wild -1.5 vs San Jose Sharks (-105)
The San Jose Sharks wrap a 5-game road trip on Sunday when they play the Minnesota Wild. This game will be both teams' second leg of back-to-back games, and they both lost on Saturday. The Sharks are limping to the finish line of the season. They've lost 9 in a row, averaging only 2.4 goals per game in their last 10, while allowing an average 3.3 goals per game in that stretch.  The Wild have taken points in 5 straight games and are in a battle with the Blues for the 2nd spot in the Central Division, which would give them home ice in the 1st round of the playoffs. The Wild have more motivation for the points, especially after losing 6-5 to the Blues in overtime in their last game. Look for them to dominate this game and take the Wild -1.5 on the puck line.
Be sure to check out our full game preview for the San Jose Sharks vs Minnesota Wild
New York Islanders ML vs Toronto Maple Leafs (+165)
The New York Islanders finish off a 3-game road trip in Toronto on Sunday when they play the Maple Leafs. The Islanders have been playing good hockey, winning 7 of their last 10 games, as they try to build towards next seasons. The Islanders will also be rested for this game, as they last played in a 3-0 win over the Canadiens on Friday. The Maple Leafs are also playing well, with 8 wins in their last 10 games. However, they are playing back-to-back games and for the 3rd time in 4 days.
Offensively, the advantage goes to the Maple Leafs as they rank in the top 3 in all major offensive categories. On the defensive side, though, they are vulnerable, especially recently as they have allowed an average of 3.6 goals per game in their last 10. Look for the Islanders to pull the upset against a tired Maple Leafs team.
Be sure to check out our full game preview for the New York Islanders vs Toronto Maple Leafs
Columbus Blue Jackets ML vs Anaheim Ducks (+115)
The Columbus Blue Jackets continue their 3-game California road trip when they faceoff against the Anaheim Ducks on Sunday. The Blue Jackets are coming off a close loss last night, 2-1 to the Kings, but have been playing decent hockey, as they had 3 wins in their last 4 games prior to last night.  The Ducks, who will be rested for this game, have only 2 wins in their last 18.
The sportsbooks are making the Ducks favorites for this game purely due to the schedule. They rank last in expected goals against in April and have allowed 3.8 goals per game in their last 5. This plays right into the strength of the Blue Jackets, who can score multiple goals in a game at any time. In fact, they have scored 4 or more goals in 3 of their last 5 games. Look for the Blue Jackets' offense to take over the Ducks poor defense and take the Blue Jackets money line.
Be sure to check out our full game preview for the Columbus Blue Jackets vs Anaheim Ducks
Pickswise is the home of free NHL Picks and NHL Predictions. Check back for our daily NHL Best Bets, including our favorite NHL Prop Bets.