Sunday's NHL three-team mega parlay (+1175 odds): Bruins, Penguins meet in East Division matinee
Just four games are on the schedule for today but that doesn't mean there isn't enough value to build another mega parlay. Our hockey expert has identified the best bets of the day and included them below. But be sure to also check out our picks for all four of Saturday's NHL matchups here.
But right now, let's break down our three-team mega parlay:
Boston Bruins (-110)
Buffalo Sabres (+250)
Tampa Bay Lightning -1.5 (-110)
Parlay odds: +1175
Boston Bruins over Pittsburgh Penguins (-110)
The Boston Bruins will look to bounce back after a disappointing performance vs the Buffalo Sabres on Friday night. Prior to the loss the Bruins were a perfect 6-0 with their new additions they acquired at the trade deadline. The addition of Taylor Hall has really boosted the Bruins offensive numbers so far. Hall had a goal and an assist on Friday and now has six points in his seven games with the Bruins. David Krejci has created instant chemistry with Hall and has also benefited, picking up seven points in as many games. The Penguins are coming off another win vs the Devils on Sunday. While Pittsburgh has gone 7-3 in their last ten games none of these games were against teams currently in the playoffs. Having to step up to a cup contender like Boston on the second half of a back-to-back is a tough task for the Penguins. Take the Bruins to get the two points in this one thanks to a strong performance from rookie Jeremey Swayman in goal. Swayman has an impressive 1.65 GAA, a 943 SV% and a shutout in his six starts so far.
Be sure to check out our full game preview for Boston Bruins vs. Pittsburgh Penguins.
Buffalo Sabres over New York Rangers (+250)
The Buffalo Sabres will look to carry over their momentum after they upset the red-hot Bruins 6-4 on Friday night. In the Sabres last six games they have notable wins over the Bruins, Penguins and Capitals. The Sabres have also played very well vs the Rangers this year. In the six games these teams have played this year five of them have been one goal games with the other game being a 2-goal game due to an empty net goal. The Sabres have won two of the six games, but also lost two of the other four in overtime. The +250 odds on the Sabres are simply too much to pass up for a team that has played the Rangers so well this year. The Rangers are coming off a two-game series vs the Flyers where they took eight minor penalties. If the Sabres can capitalize on their power-play opportunities, they can certainly come away with a big win.
Be sure to check out our full game preview for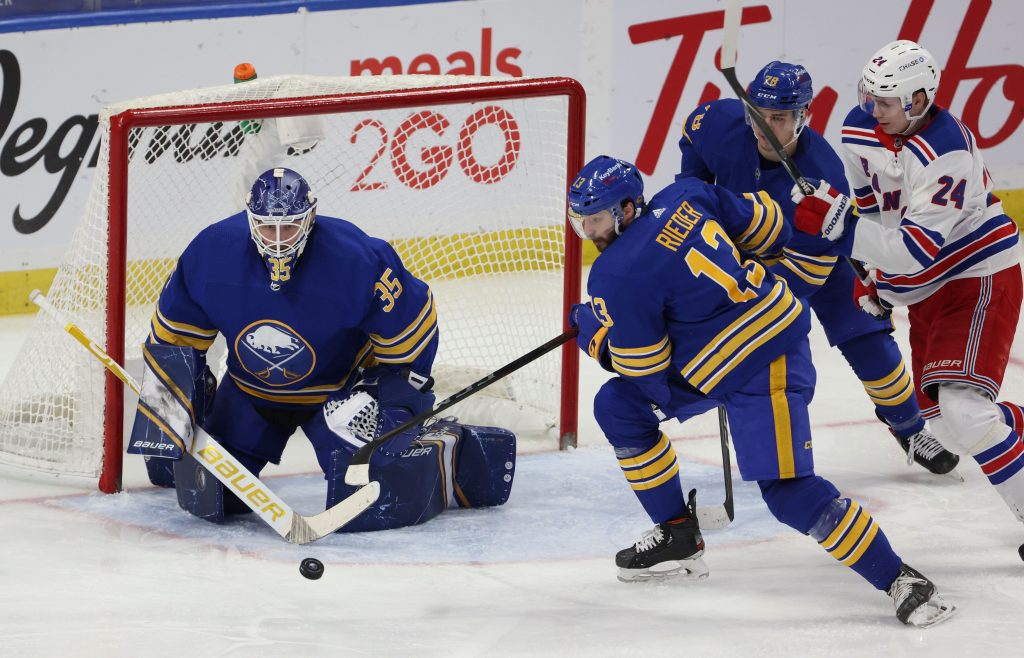 Tampa Bay Lightning -1.5 over Columbus Blue Jackets (-110)
The Tampa Bay Lightning beat the Columbus Blue Jackets on Thursday night for the fourth time this season. The Lightning are making a final push in the Central Division standings while the Blue Jackets are counting down the games until their season ends. Columbus has lost eight in a row and are 1-8-1 in their last 10. Over that period, they are allowing an average of 4.4 goals against. Even though Tampa Bay is dealing with some injuries they should be able to feast on the Blue Jackets defensive weaknesses.  Look for Victor Hedman and his 42 points lead the Lightning to victory. Tampa Bay is an impressive 18-6 on home ice this season while Columbus has just seven wins in 26 games on the road. Brayden Point has three goals in his last four games and should help the Lightning win this game by more than a goal.
Be sure to check out our full game preview for Tampa Bay Lightning vs. Columbus Blue Jackets.
Pickswise is the home of free NHL picks and predictions. Make sure to also check out our 'NHL parlays', 'NHL best bets', and 'NHL props' tabs for free plays all season long.