NHL Thursday mega parlay (+1080 odds): Goalie matchups, divisional rivalries and rematches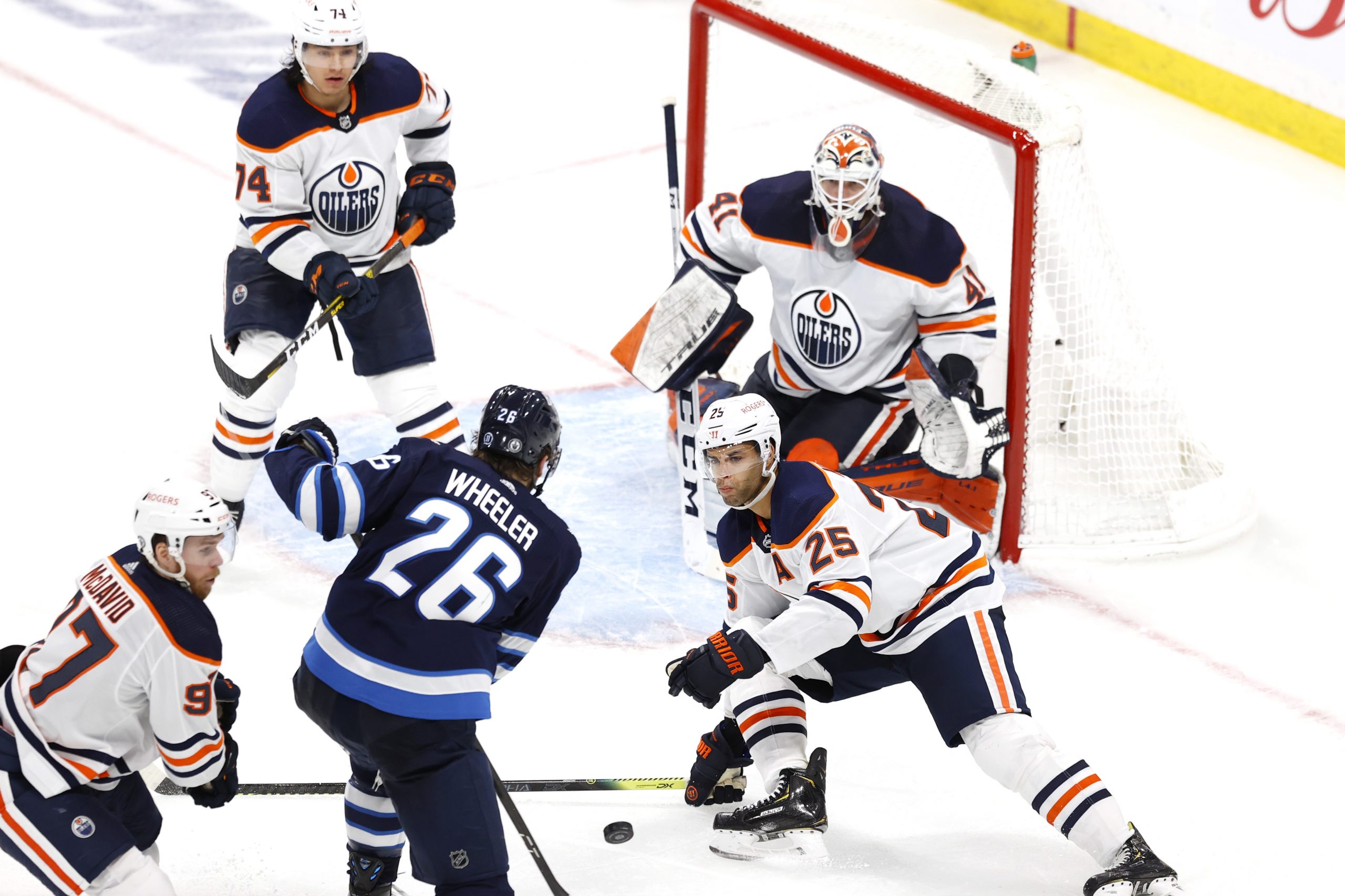 There's 11 games tonight in the NHL. We're looking to parlay three of them for a bet that will hopefully pay big for our readers. This parlay is just over a 10/1 payout for you. But before we dive in, be sure to check out all of our picks and previews for every game tonight.  You can also follow Pickswise on Twitter for plenty of daily betting content.
This parlay is paying out just over 10/1 odds on FanDuel Sportsbook.
Rangers vs. Maple Leafs Under 5.5 (+100)
Wild -1.5 over the Stars (+170)
Jets vs. Oilers over 6.5 goals (+100)
Parlay odds: +1080
Let's break down each of the legs one by one.
New York Rangers vs Toronto Maple Leafs under 5.5 goals (+100)
Both the New York Rangers and the Toronto Maple Leafs are on a four game winning streak, this could be much more of a defensive styled game with both teams playing more conservatively. Despite the many offensive weapons on both teams, this game will feature two of the hottest goalies in the league right now. Jack Campbell has won three starts in a row posting a 1.68 GAA and .943 SVP, and in his last three starts, he's allowed just one combined goal against. In the opposing net, Igor Shesterkin has won his last three starts posting a 2.42 GAA and .930 SVP. In his last three starts, he hasn't allowed more than three goals against in a single game. It's no secret both of these teams have the offensive weapons to turn this into a high scoring matchup, but for +100 odds this seems like good value for what will be an intense goalie matchup tonight.
Their last meeting was a 2-1 OT victory for the Rangers. Both goalies stood on their heads in that matchup and they'll be looking to do that again. With two separate four game win streaks on the line tonight, each goalie will need to bring their A-game's if their team expects to win. Take under 5.5 in this one.
Be sure to check out our full game preview for the New York Rangers vs Toronto Maple Leafs
Minnesota Wild -1.5 over the Dallas Stars (+170)
The Minnesota Wild are currently in second place in the Central Division with a 10-5-0 record. They've been having a great start to the season and have had great depth scoring; eight players on their roster are averaging more than half a point per game. All four lines are working well. The Dallas Stars on the other hand have been underwhelming, to say the least. Their sixth place in the Central Division with a 6-6-2 record. Their goal differential on the season is -6 and they've seriously struggled to produce offense. Leading the way for their team is the highly skilled young defensemen Miro Heiskanen who has 13 points in 14 games; however, when you have a defender leading your team in offense it really highlights the offensive struggles your team has been having. The Stars have been averaging the sixth fewest goals per game this season with just 2.57. The Stars' divisional record this season is 0-1-1.
The Wild are coming off of an embarrassing loss to the San Jose Sharks on Tuesday. When you have a team that's this skilled depth wise, betting on the bounce back can be one of the easiest bets in hockey. We think they bounce back big tonight and cover the spread. Take them on the puck line tonight.
Be sure to check out our full game preview for the Minnesota Wild vs Dallas Stars
Winnipeg Jets vs Edmonton Oilers over 6.5 goals (+100)
This is the second matchup of the season between the Jets and the Oilers, having just played each other Tuesday night. It should be an interesting matchup after that game ended in a 5-2 victory for Winnipeg. The game started off with four unanswered goals for the Jets before Leon Draisaitl and Connor McDavid combined for two late goals in the third period. Expect the Oilers to come out swinging early in this game; they need a redemption game. Both of these teams have two of the best offenses in the league,. The Oilers are scoring the most goals per game with four, while the Jets are scoring the seventh most with 3.33 a game. The forward skill on both teams is highly rated, the Jets have three players operating at more than a point per game pace, while the Oilers have the two best players in the world, both are sitting one and two in league scoring.
Over 6.5 may seem like a lot of goals, but they did it Tuesday night and we shouldn't expect any different considering the offensive capabilities of both teams. The Oilers have been following a pattern in their last five games, every time they score just two goals (which they did on Tuesday) they've scored five goals in their next game. This has occurred twice, if they score five tonight that will be three times in a row in the last six games. The Jets on the other hand have scored three or more goals in their last three games. Take the over in this one.
Be sure to check out our full game preview for the Winnipeg Jets vs Edmonton Oilers
Pickswise is the home of free NHL Picks and NHL Predictions. Check back for our daily NHL Best Bets, including our favorite NHL Prop Bets.