NBA
Back
Warriors eyeing Giannis Antetokounmpo?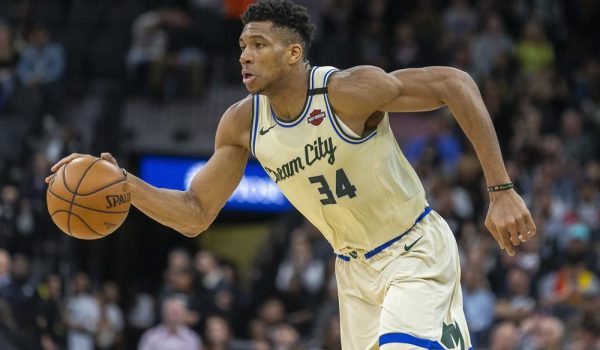 NBA

NBA
Ben Levine
See Bio
Pickswise writer, full-time digital marketer. When not writing, Ben is probably watching Celtics highlights while eating Taco Bell.
See Bio
Pickswise writer, full-time digital marketer. When not writing, Ben is probably watching Celtics highlights while eating Taco Bell.
The strong (could) get stronger. Connor Letourneau of the San Francisco Chronicle recently reported that the Golden State Warriors have their sights set on Bucks star Giannis Antetokounmpo.
"Though all indications are that he's on good terms with team management, league sources believe that Antetokounmpo would want out of Milwaukee if he loses confidence in the franchise's ability to win championships," Letourneau wrote. "This is why the NBA shutdown could buoy the Warriors' chances of landing their long-coveted Greek."
There's two ways of looking at this:
View #1: Obviously. Who wouldn't want Giannis on their team?
View #2: Oh no, the NBA is doomed.
Both of these opinions are technically correct. Most teams will make a run at Antetokounmpo when he hits free agency next offseason, financial limitations be damned. Many teams will inquire on the star's availability via trade, as well.
The thing that makes this "rumor" so notable is that the Warriors are better positioned to make this type of move than most NBA teams.
For starters, the Warriors have one of the most enticing rosters in the entire NBA, and we've already seen the core of Steph Curry/Klay Thompson/Draymond Green recruit one MVP (Kevin Durant). While KD has since left the organization, Golden State has positioned themselves well for another dynasty.
The Warriors should have the best chances at the #1 pick in the upcoming draft, and at the very worst, they'll end up with a top-four selection. The organization also traded for an attractive 2021 Minnesota first and forward Andrew Wiggins. While the former first-rounder certainly hasn't lived up to his draft status (nor his egregious contract extension), he could easily be used for salary-matching purposes. Plus, while the Warriors didn't have much to be excited about this season, they were able to identify some young, inexpensive, talented players, including Eric Paschall and Marquese Chriss.
That's especially relevant because the Warriors' best path to acquiring Giannis would be via trade. I'm skeptical that the Milwaukee Bucks would even shop their star player (they may value being a top contender in 2021). However, if they don't want to risk losing Giannis for nothing, few teams would be able to offer the type of package that Golden State could.
It'd be more difficult to add Giannis via free agency, and it might mean the Warriors have to trade Green. However, in that scenario, the Warriors would still have their treasure chest of young players and picks, so they could easily fill in around Giannis/Steph/Klay.
Even if their pursuit of Antetokounmpo ends up being a pipe dream, it's clear that the Warriors are in great position to compete for more championships. If you come across future, non-2020 championship odds that have Golden State grouped with the likes of the Celtics/Raptors/Nuggets/Heat/Sixers, jump on them immediately.
Last updated: Fri 8th May 2020