Tennis
Back
Who will be the next first-time Grand Slam champion in men's tennis?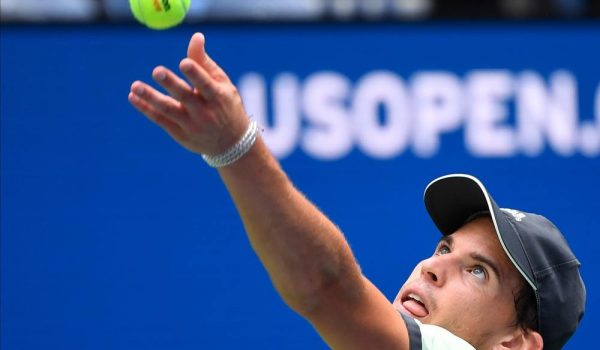 At some point the Big 3 of Novak Djokovic, Rafael Nadal, and Roger Federer will vacate the throne of men's tennis. Perhaps it will be temporary at first. One of the outsiders might win a Grand Slam before Djokovic, Nadal, and Federer restore order to the proceedings. Eventually the passing of the torch will be permanent, but at the moment that looks like it will be later rather than sooner.
The Big 3 have split the last 13 Grand Slam titles. Not since Stan Wawrinka at the 2016 U.S. Open has anyone else managed to triumph. That was Wawrinka's third major success; there has not been a first-time champion since Marin Cilic at the 2014 U.S. Open.
Who will be next?
Dominic Thiem
Thiem came within one set of accomplishing the feat earlier this month, but Djokovic staged a comeback to beat Thiem 6-4, 4-6, 2-6, 6-3, 6-4 in the Australian Open final. The fourth-ranked Austrian has been to a pair of French Open finals, as well, (lost to Nadal on both occasions) so he is clearly the one knocking loudest on the door.
The good news for Thiem is that the next major on the schedule is the French Open on his preferred clay-court surface. Of course, the bad news is that Nadal remains the King of Clay. The second-ranked Spaniard has emerged victorious at Roland Garros 12 times, including three in a row. Nadal is an overwhelming -120 favorite this year, while Thiem and Djokovic are both +300 second choices.
Daniil Medvedev
The recent Aussie Open was the second straight slam in which a young challenger came within one set of upsetting a Big 3 opponent in the title match. First it was Medvedev, who extended Nadal to five sets in New York City last summer before succumbing 7-5, 6-3, 5-7, 4-6, 6-4. That was part of an unbelievable streak in which the fifth-ranked Russian advanced to six consecutive finals, winning three—including the Cincinnati Masters.
Medvedev is not as strong on clay and grass, so a big opportunity came and went with his Australian Open fourth-round loss to Wawrinka. He is +2200 on the red clay of Paris, +1400 on the grass of the All-England Club, and +1000 to go one step further this time around in New York.
Stefanos Tsitsipas
Tsitsipas, Medvedev, and Thiem have taken turns making their claim to being the "next" one. Early last season it was Tsitsipas who stunned Federer at the Australian Open and also picked up wins at smaller tournaments over Djokovic and Nadal. Medvedev came close at the U.S. Open, Tsitsipas lifted the Nitto ATP Finals trophy this past November (beat Thiem in the final), and then Thiem excelled Down Under.
Because he is plenty capable on all surfaces, Tsitsipas has a realistic chance at any Grand Slam in which he participates. The sixth-ranked Greek is +1800 to win the French Open (tied with Federer), +1400 at Wimbledon, and +1400 to lift the U.S. Open trophy.
Last updated: Fri 14th February 2020