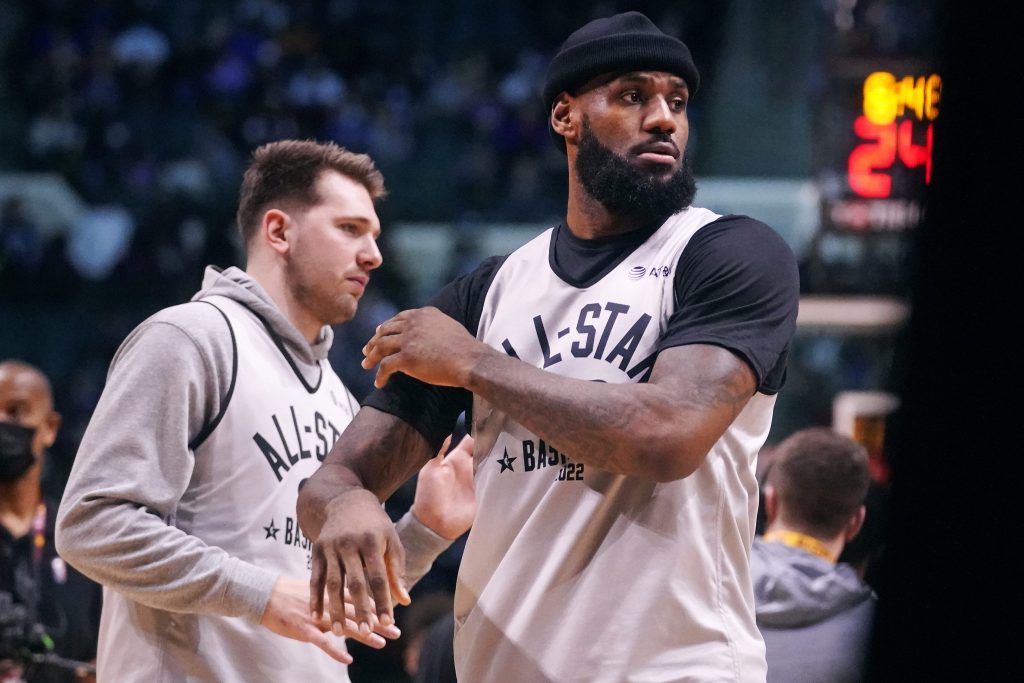 The recent NBA All-Star Game saw Lebron James equal Kobe Bryant's 18 appearances in the premier exhibition game, which puts him just behind Kareem Abdul-Jabbar who played in 19. However, with the 37-year-old showing no signs of slowing down, it would be a huge surprise if he doesn't break the record in the coming years.
With this in mind, Pickswise decided to see which colleges have been most successful in developing players across both leagues based on appearances in the All-Star Game since 1985. We also assess some of those trends in relation to the 2022 draft and evaluate how the likes of Paolo Banchero might fare in his future NBA career. 
"Powerhouses" Lower Than Expected
Neither Gonzaga University (2) nor the University of Michigan (3) made it into the top 10 for All-Star appearances in either the NBA or WNBA, which is hugely disappointing considering their status in college basketball. However, John Stockton and Chris Webber represented them with pride in the NBA as they had 10 and 5 appearances respectively. 
Fierce rivals Michigan State also beat their state rivals when it came to NBA appearances as they've had five separate players feature in the big game, so that is sure to sting for the Wolverines. Magic Johnson and Draymond Green are just two of the star alumni to have featured, although they are yet to see any WNBA players do the same.
Other college "powerhouses" were also shockingly low. 
Last year Baylor, spearheaded by stars such as Davion Mitchell and Jared Butler, won the tournament after upsetting Gonzaga. However the defending champions haven't had a single NBA All-Star come through their ranks – maybe some of last year's heroes can help change that. 
Another powerhouse in Villanova was lower down than expected. In fact, the Wildcats had more National Championships (3) than All-Stars (1). 2019 NBA Champion Kyle Lowry is the lone Villanova All-Star and he'll be hoping to add to his six All-Star appearances in the near future. 
Future All-Stars? 
As this year's tournament tips off, many will be watching and wondering who will be the next biggest star in the pros. Using the All-Star data below, there may be a way of predicting which of this year's top prospects will make the star-studded event. 
Standout Duke Power Forward Paolo Banchero is currently the favorite to go number one overall in this year's draft and the data highlights that he could be destined for All-Star greatness. 
Out of the last 10 number one overall picks, five played for colleges on the table below and 80% of these players went on to become NBA All-Stars, with ex-Duke sensation Zion Williamson being the latest. Banchero will look to emulate Williamson's path to NBA stardom, however, he will be hoping to improve on Williamson's Elite Eight loss with Duke in 2019.
Gonzaga big man Chet Holmgren will be another player looking to shoot up draft boards this month. Holmgren's size, versatility, and athleticism are the reasons many have tipped him for success. However, history may not be on the seven-foot center's side as the Bulldogs have only produced two All-Stars since 1985. 
One more highly touted prospect preparing for this year's tournament is Jaden Hardy. Hardy has taken advantage of the opportunity to forego a college career and go straight into the NBA G League. This path has only become available in recent years, with Rockets star Jalen Green being one of the more notable names to decide on this method.
It's too early to tell whether this path will help younger players achieve NBA success, however, it is certainly one that more young players will be taking in the future – especially if names such as Hardy and Green succeed. 
Universities with the most players to have appeared in an NBA all-star game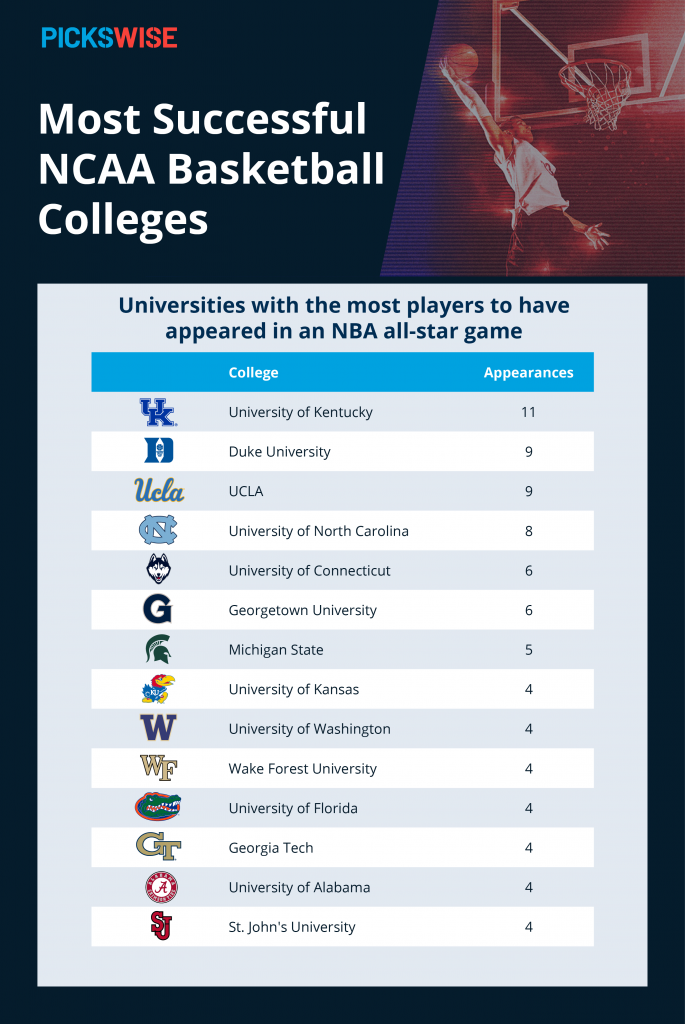 UConn Leads the Way In The WNBA
Interestingly, Bird, Taurasi, and Charles all graduated from the University of Connecticut, which is unsurprising given how UConn has dominated women's college basketball with 11 Division 1 titles. They lead the way with players who have featured in the All-Star Game as they have a total of 16 and they also feature at sixth for the NBA with six graduates making an appearance. 
Universities with the most players to have appeared in an WNBA all-star game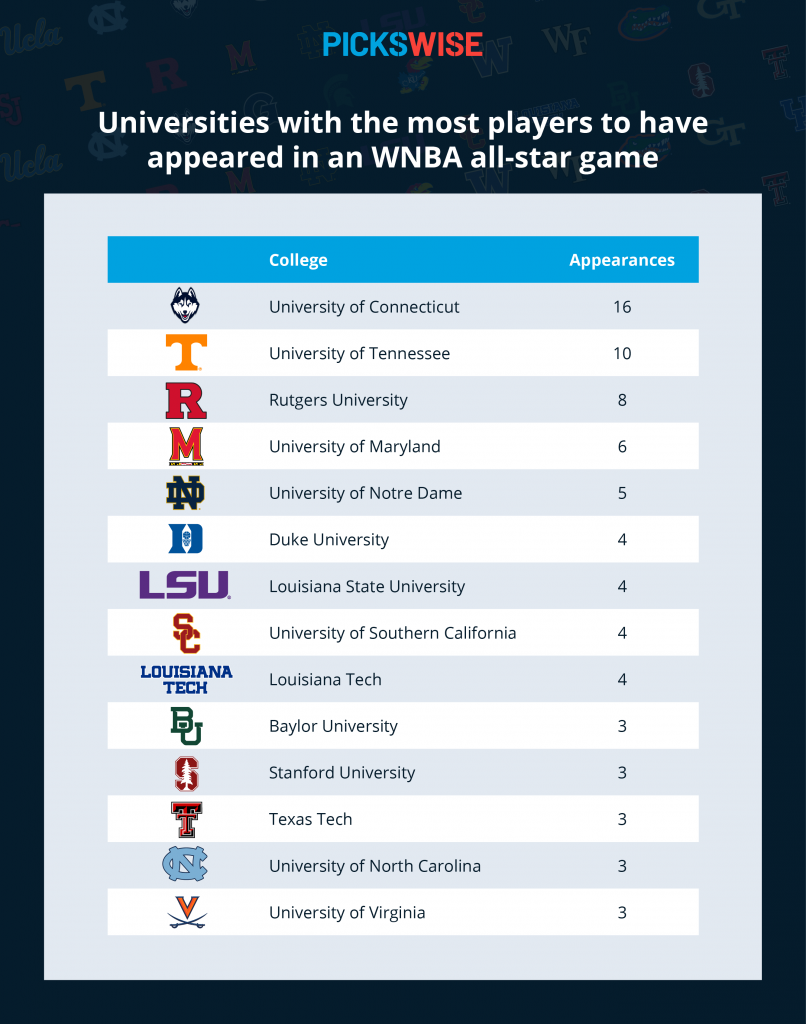 The WNBA is a completely different story, though, as Sue Bird leads the way with a dozen appearances, although at 41-years-old it would be a surprise if she is to add much more to that total. 
Diana Taurasi is hot on her heels with 10, alongside Tamika Catchings, but she is also in a race against time, so Tina Charles and Brittney Griner look best-placed currently to beat Bird's record based on their age and the fact that they have eight and seven appearances apiece.
College vs No College
With the success some NBA players have had skipping the college system, it will be interesting to see whether this continues to become more popular. 
In contrast, the WNBA is still more closely tied to the university route, which could be due to the difference in salaries between the two leagues. The name, image, and likeness (NIL) deals are in the process of revolutionizing this area, though, due to the possibilities they provide for college athletes to make money.
UConn leads the way when it comes to developing talent with an impressive total of 22 players in the All-Star Game across both leagues.
The ability to enter the WNBA and NBA drafts without going to college is popular with the biggest talents as more players from this route have featured in the NBA All-Star Game than the top three colleges combined, with a total of 30 individuals doing this including James, Bryant, Kevin Garnett, Giannis Antetokounmpo and Luka Doncic. 
This is less common in the WNBA, though, as only 12 players have done this who have gone on to feature in the All-Star Game, including Lauren Jackson and Liz Cambage, and this sandwiches them between UConn and the University of Tennessee. 
Pickswise is the home of free expert March Madness Predictions, and we offer so much more. Be sure to also check out our best March Madness Prop Bets and Parlays.