Which NBA Arenas Are Ranked the Most Dangerous?
Even when the weather gets cold and hoops-loving fans are cheering (mostly) from inside an enclosed arena, the atmosphere can get intense.
In the blink of an eye, a three-pointer swishing through the net, a turnover at mid-court or a breakaway pass for a layup can change the entire flow of an NBA game. While one group of fans is celebrating a quick five-point lead, the other is seething in the stands.
And while no sports fan worth their salt wants to incite unsavory – even violent – interactions, the reality is they're becoming increasingly unavoidable (even if you're just a seated onlooker).
Take, for example, the frighteningly brutal interaction between two opposing fans at a Grizzlies and Lakers game back in April, with the only impetus seeming to be a Mike Bibby jersey (back from when the Memphis Grizzlies hibernated in Vancouver).
It's unfortunate, but true: an alarming number of fans we polled have witnessed or been a victim of at least one act of harassment, vandalism, theft or violence in or around the NBA arena they call their home court.
But rather than skip out on seeing your favorite team play in person, being aware of the current state of the stands means you can learn to enjoy cheering from them more safely.
We looked at crime statistics local to each arena and polled 3,000 basketball fans about their specific experiences when it comes to safety – here's what we found.
NBA Fan Experiences: Crime Edition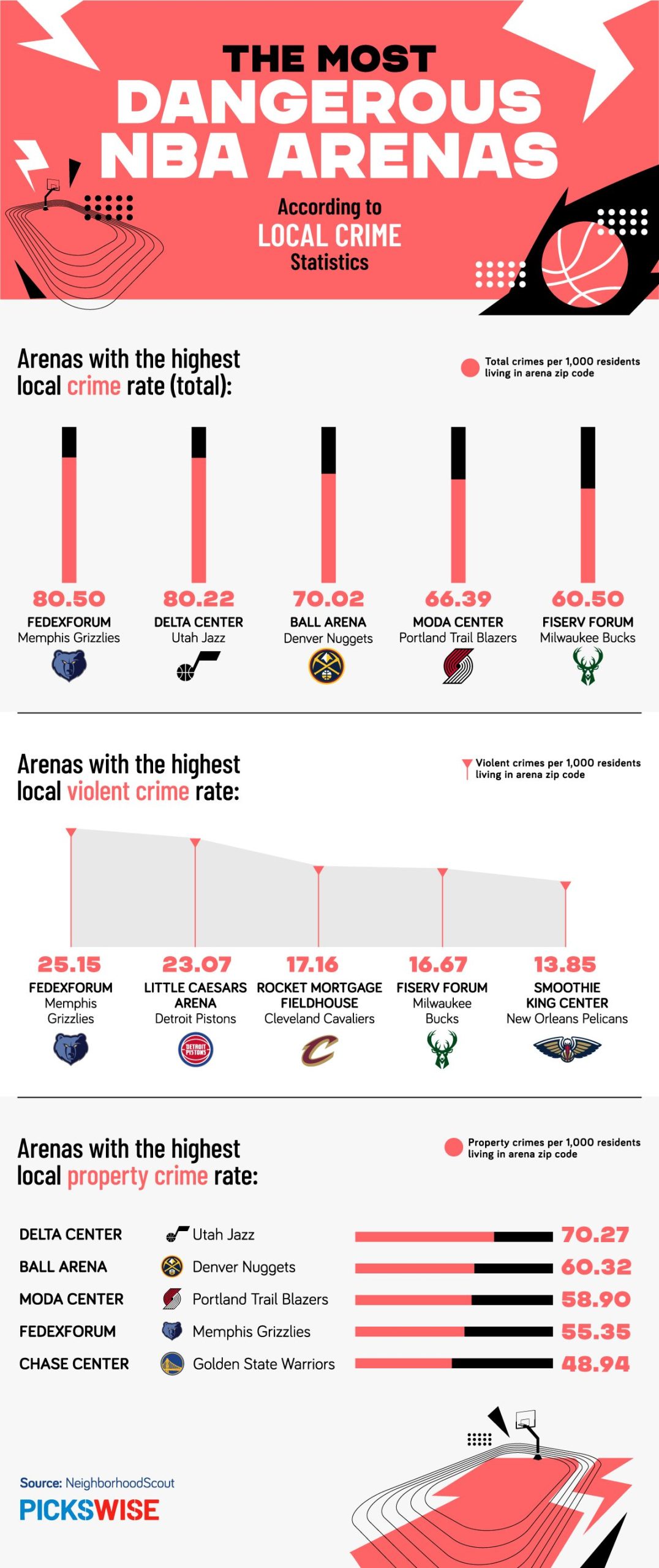 Over a quarter of those surveyed (27%, to be exact) witnessed at least one crime during their fan tenure – but where?
Coming in first for overall local crime according to report data is FedExForum, home of the – you guessed it – Memphis Grizzlies. With 80.5 crimes taking place per 1,000 people that live in the arena's zip code, that's nearly a 1-in-12 chance of being present for one.
Using the same data points, the Delta Center (Utah Jazz) and Ball Arena (Denver Nuggets) are in second and third place for overall crime, with 80.22 and 70.02 reported. The Moda Center and Fiserv Forum round out the top five – a place where most fans probably prefer they not be.
When it comes to property crimes per 1,000 zip code residents, 4 out of the above 5 teams' arenas are in the top five: the Delta Center (70.27), Ball Arena (60.32), Moda Center (58.90) and FedExForum (55.35). Steph Curry's and the Golden State Warriors' home, the Chase Center, was ranked the fifth most dangerous spot with 48.94 property crimes committed.
At least violent crime at NBA arenas is a whole different story. Sort of.
Apparently, Memphis Grizzlies fans and attendees at FedExForum need to be vigilant with their safety measures, because data shows 25.15 violent crimes taking place per 1,000 residents. Being the only team to make the top five in property crime, violent crime, and overall crime won't help get them a Larry O'Brien Trophy anytime soon.
Little Caesars Arena, home of the Detroit Pistons, is close behind with 23.07 crimes per the same evaluation data – the first time this arena makes the "dangerous" cut. Rocket Mortgage FieldHouse in Cleveland sees 17.16 crimes (nearly 25% less than Detroit), the Fiserv Forum 16.67, and the Smoothie King Center in bustling New Orleans 13.85 for every 1,000 area residents.
Common Crimes Experienced by NBA Fans

It's one thing to evaluate overall crime statistics, but another thing entirely to put them in context. As previously mentioned, 27% of fans surveyed said they'd witnessed a crime within a specific arena's zip code – but a very low 4% said they'd been victims of one themselves. Great news, sports fans!
The most common location for first-hand encounters at NBA arenas? Stop right there: it is NOT Memphis, but the Big Apple! Madison Square Garden had the highest percentage of crimes, with 9.31% of our sample witnessing some real unsportsmanlike conduct in and around the arena – with physical violence being the most common crime.
Representing the West Coast in second for crimes witnessed at a rate of 7.84% is Chase Arena, where the Warriors…warrior? Hop back over to the east and the Wizards' Capital One Arena will be in third place, which isn't surprising given the diversified bustle of our nation's capital.
Unlike the crimes often seen by spectators at the Garden, though, the two above arenas see more verbal harassment than anything else.
You'll also find venues like the Crypto.com Arena (both L.A. teams), TD Garden (Boston), and United Center (Chicago) in the top ten with percentages all below 6%, so you can feel just comfortable enough, but not to where you'd taunt LeBron or Jayson if you were a visitor.
Thankfully, verbal harassment is the most popular crime at NBA arenas overall at 37% as opposed to physical violence (27%) and other minor crimes like public intoxication (are you surprised it's 11%?), property damage (10%), and disorderly conduct (5%).
Based on Madison Square Garden having the highest percentage of crimes witnessed, it makes sense 15.25% of people surveyed said they wouldn't feel safe visiting there as fans. Come on NYC, it's been a rough several years, but let's get that below 10%.
The Worst Arenas for Women, Children, and Visitors

Women get loud and competitive for their ball teams, just like men – and seriously, they just want to have fun. Naturally, they also want their children to accompany them at games and pass on the electric feeling they get when hearing the cracking swish sound of a basketball going through a hoop. But how can that happen if they don't feel safe going to one?
When asked whether they felt safe while attending a basketball game at their teams' arena, 42% of women surveyed said they did not.
The top three most dangerous arenas for women (according to women) may not be what you'd expect based on prior data (the Grizzlies didn't even make the list), but they make sense: the Target Center (Minnesota Timberwolves) had a whopping 75.2% say they felt unsafe, which likely also has to do with the surge of crime in the city as a whole the last several years.
Golden 1 Center, home of the Kings, was not far behind with 74.6% of women saying they felt unsafe, and the Moda Center came in third (with over 10% less crime) at 62.3%.
It should be noted that when men answered this question, they named three entirely different stadiums – Smoothie King Center, Delta Center, and Capital One Arena. Somehow, we aren't surprised.
Of all the parents surveyed, 75% said they don't feel their children are safe at their team's stadium without supervision – especially at RocketMortgage Field House (94.6% said no way), Golden 1 Center (93.2%), and Capital One Arena (91.7%).
No matter who your team is, we'll leave it at this: if you see something, say something – and choose your away arenas wisely.
Full Data Table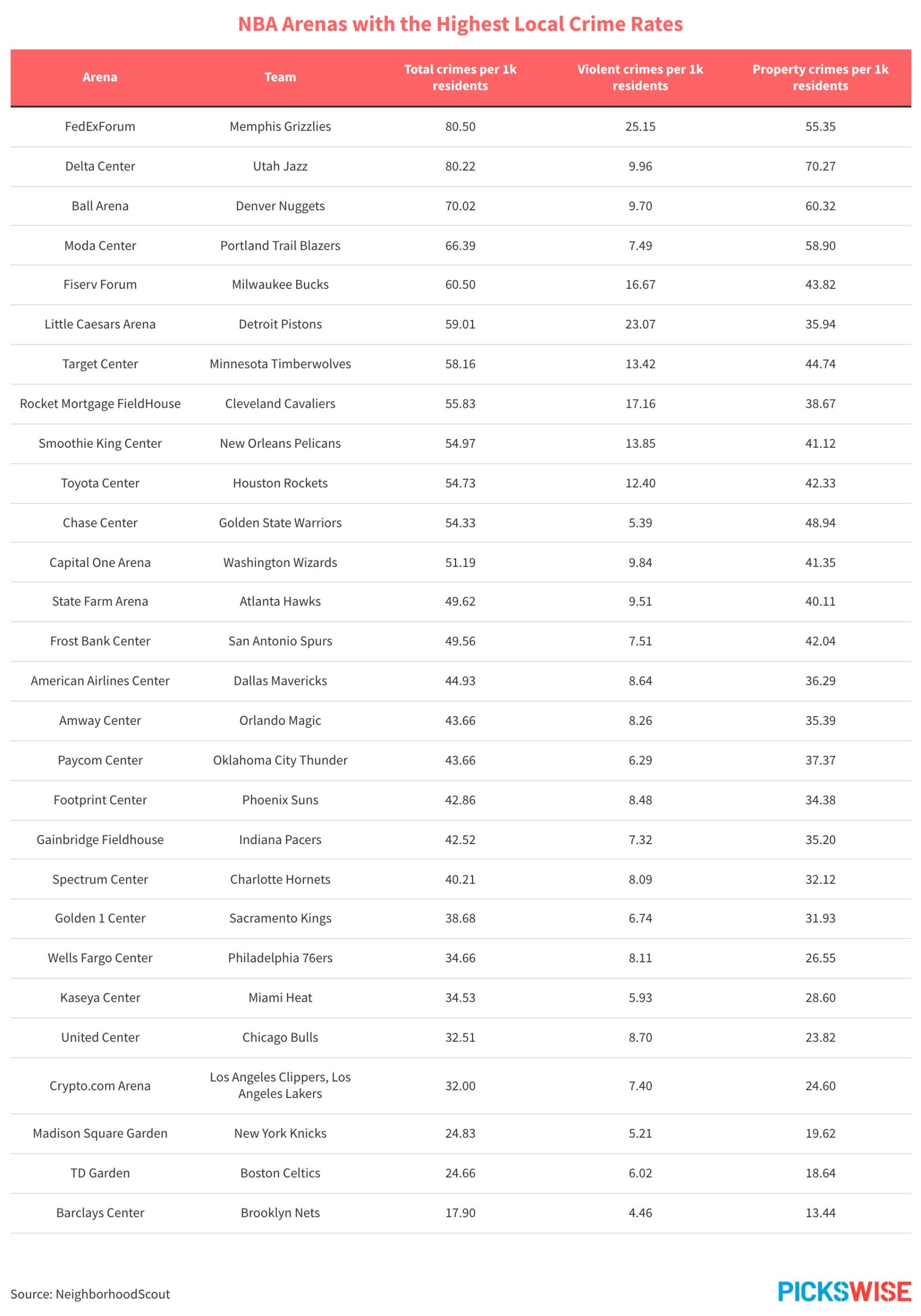 Methodology
To learn about the safety of NBA arenas, we surveyed 3,000 American basketball fans in September 2023. The average age of survey respondents is 37 years old. The majority (75%) identify as male and 25% identify as women. We also collected crime reports from NeighborhoodScout.
Note: Toronto Raptors were excluded from our study due to a lack of available crime data.
Fair Use
Interested in sharing this data? Feel free to use any of the information or graphics above for noncommercial purposes. Please be sure to provide linked attribution to this page in your article.