2022 NBA Draft reaction: Winners, losers and surprises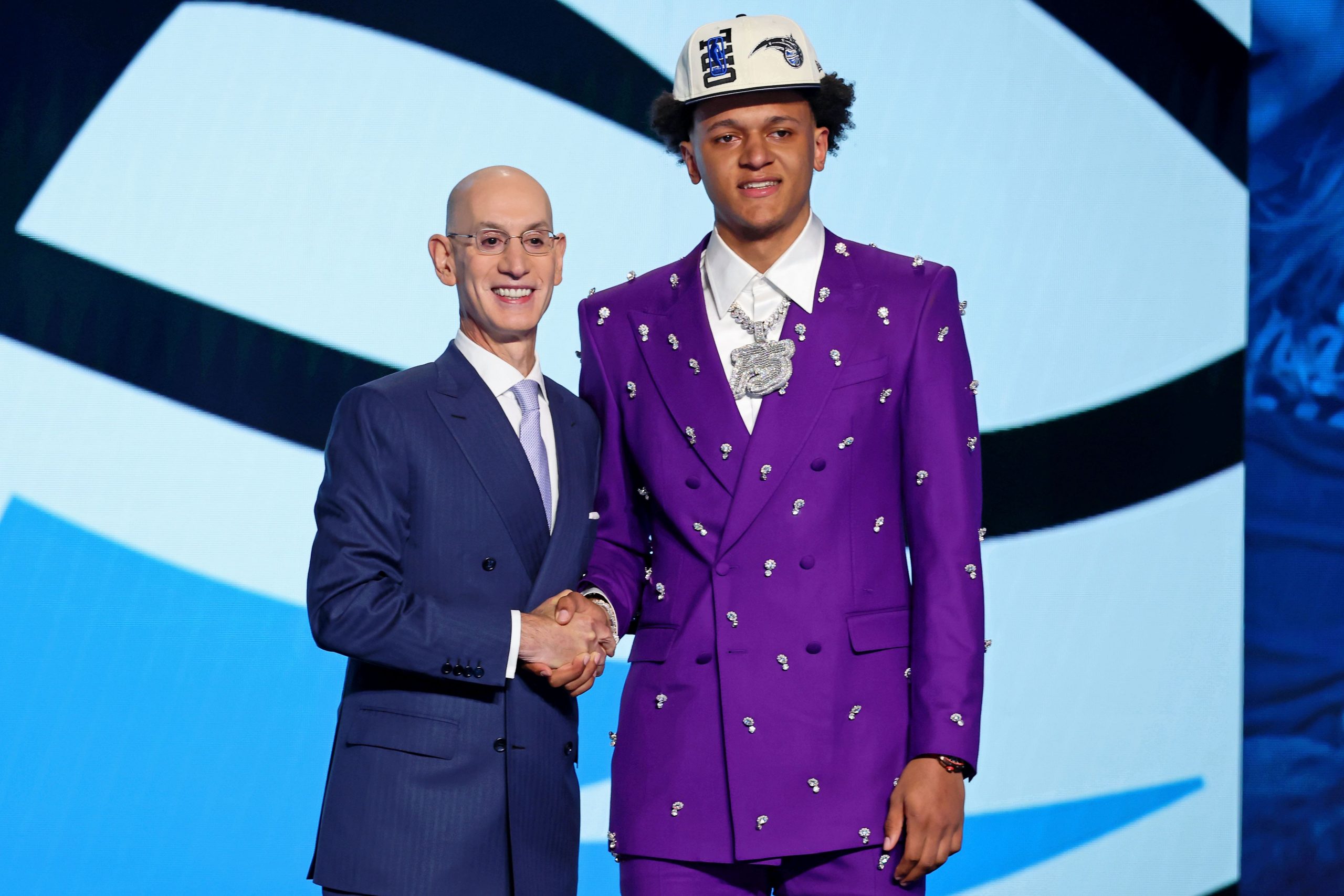 The 2022 NBA Draft has come and gone, but not without some interesting selections. Looking through the first round of the NBA Draft, there are picks that seem to fit well with the organization's future plans, but there are also some that make you raise an eyebrow.
Let's dive into our biggest takeaways from the 2022 NBA Draft.
Biggest surprises
It wasn't a surprise by Thursday, but Paolo Banchero being selected as the first overall pick was unexpected for earlier this week. On Monday at DraftKings Sportsbook, Banchero was +900 to be selected first overall by the Magic. However, Vegas caught wind of Orlando's future plans and the Duke forward's odds dramatically changed overnight. Selections No. 2 and 3 were predictable, as Chet Holmgren and Jabari Smith Jr. were drafted by the Thunder and Rockets, respectively. It was slightly surprising to see Smith not go No. 1 overall since that is when he was projected to get drafted for the majority of time leading up to Thursday night, but regardless he joins a young core in Houston. Smith is a steal at third overall and was a great pick by the Rockets.
I was surprised to see the Kings not move their No. 4 overall pick. They ended up selecting Keegan Murray from Iowa, on whom they had their eye for a while, and although he's a great player I don't love this selection. If they didn't trade it, I would have chosen Jaden Ivey instead of Murray — but it was clear that Ivey did not want to be in Sacramento.
Winners of the 2022 NBA Draft
Detroit Pistons: The biggest winner would have to be the Detroit Pistons. Getting Ivey at No. 5 might be one of the best picks in the draft since many expected the Kings to select Ivey, so when the Pistons had the opportunity for Ivey, they seized it. They also traded for center Jalen Duren to pair up with Ivey and an already young core in Detroit led by Cade Cunningham. Duren is a phenomenal athlete and adds a lot of athleticism to an already athletic Pistons team. Ivey and Cunningham creating looks in the back court with Duren as a shot-blocker and rim protector is a dangerous combination and could be a real threat this coming NBA season. Being able to acquire Duren without giving up a lot of future selections, the Pistons are clear winners of the 2022 NBA Draft.
Houston Rockets: Having Smith fall to the Rockets' lap at No. 3 was ideal for Houston. It was a rough season for the Rockets, as many of their young guards needed the time to develop into the players they were expected to become. Pairing the athletic Smith with Jalen Green will hopefully help Houston's defense — which was miserable last season — and since Smith is already a great shooter who attacks the rim well, he will be a warm sight on offense to Rockets fans.
Losers of the 2022 NBA Draft
Cleveland Cavaliers: This may be an unpopular opinion, but I don't see a ton of upside in Ochai Agbaji. Although the Kansas forward had an excellent March Madness performance, I don't know how well he will fit into Cleveland's rotation. We saw last season that the Cavs strived for strong defenders, but I would consider Agbaji an okay-to-mediocre defender. He won't create a ton of offensive looks with the way Cleveland's offense is set up, so if he just becomes a decent role player then I guess the Cavs got their guy. There were, however, more exciting picks in this draft and this selection surprised me.
New York Knicks: If you're a Knicks fan and missed the draft, you didn't miss much. New York did not end up with a player after the first round. Instead of having a first-round selection this year, the Knicks decided to have 4 first-round picks in the 2023 NBA Draft. It's an interesting move for a team that seems to be in win-now mode, but at least they got rid of Kemba Walker. That's a plus. Overall it was a weird draft by the Knicks that surprised a lot of people with their laid-back drafting style.
Team to watch
Oklahoma City Thunder: I think the Thunder's draft picks have some of the most upside of any team, although I'm hesitant to call them winners at this stage. Maybe I'm just being pessimistic, but it's better than getting my hopes up. Holmgren is great, don't get me wrong, but the Thunder made a questionable trade to acquire Ousmane Dieng. After being selected 11th overall by the Knicks, Dieng was traded to the Thunder for three first-round picks. Yes, the Thunder had a load of draft picks to unload in the next few years, but three first-round draft picks for him? Oklahoma City already has a ton of tall shooting forwards and I'm worried Dieng will get lost in the mix if he fails to make his presence known in the beginning of the season. I'm always hesitant to trade multiple first round draft picks, maybe draft day influenced me too much…who knows?
2022-2023 NBA Champion odds
Following the first round of the 2022 NBA Draft, here is what the odds look like to win the NBA title next season.
Golden State Warriors +550
Milwaukee Bucks +600
Boston Celtics +600
Los Angeles Clippers +650
Brooklyn Nets +900
Keep in mind that if Kyrie Irving decides to leave the Nets, the odds will change drastically. Be sure to check out our article on Irving's possible landing spots if he leaves the Nets.