Anytime touchdown scorer predictions and prop bets for Super Bowl 56: Los Angeles Rams vs Cincinnati Bengals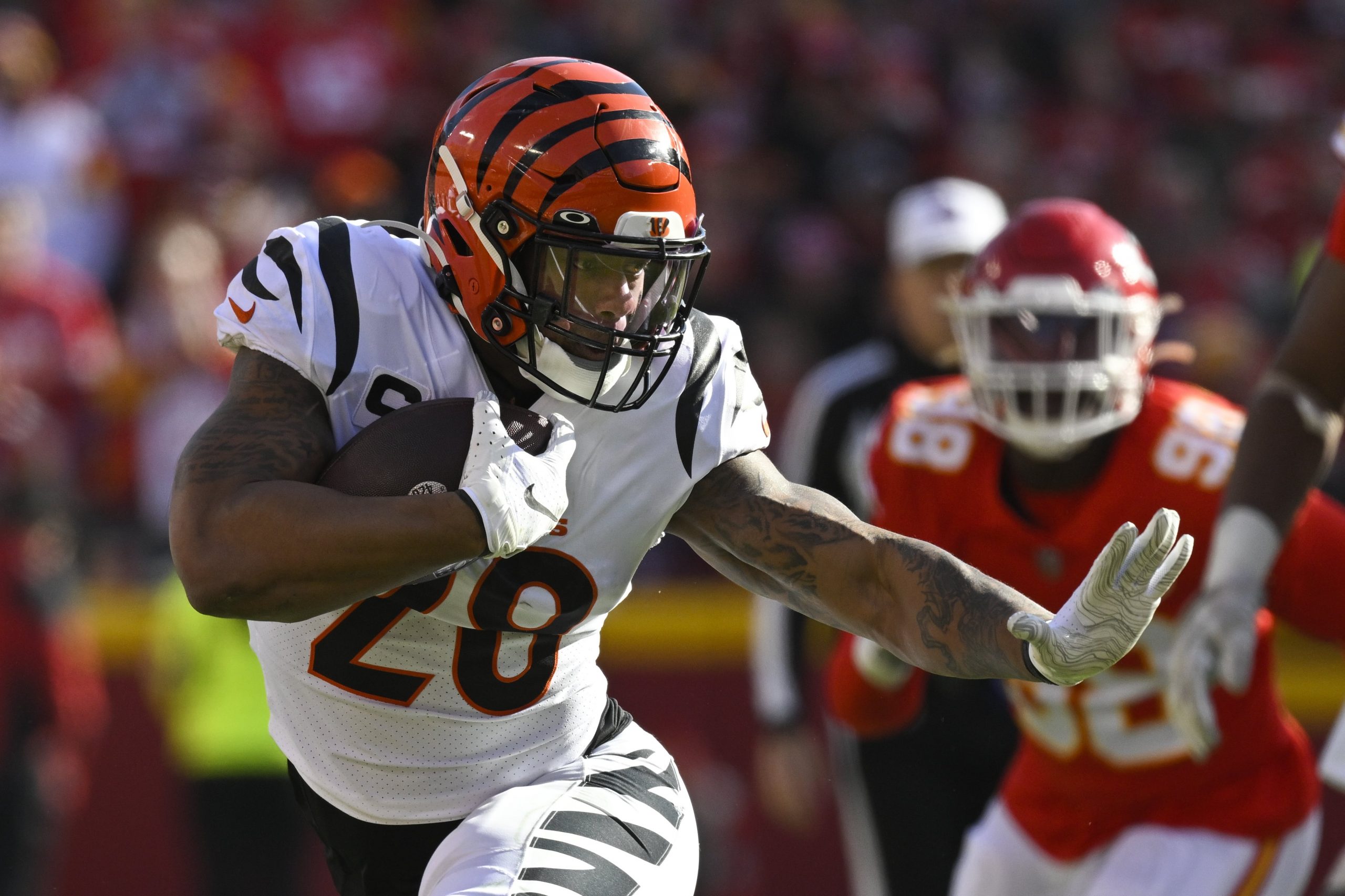 No game in sports inspires more prop betting than the Super Bowl, and one of the most popular football prop bets involves the touchdown. So, needless to say, bets will be coming in hot and heavy on touchdown scorers in Super Bowl LVI between the Los Angeles Rams and Cincinnati Bengals.
Who will be the stars on Sunday? Will Cooper Kupp be unstoppable for the Rams, or will Ja'Marr Chase and Joe Mixon help Joe Burrow lead the Bengals to an upset? Let's take a look at the best touchdown scorer bets, with odds courtesy of FanDuel Sportsbook.
Be sure to check out our full game preview for Los Angeles Rams vs Cincinnati Bengals
Best bet: Joe Mixon, RB, Cincinnati Bengals (+110)
Mixon did not find the endzone in Cincinnati's AFC Championship win over Kansas City, but he did rush 21 times for 88 yards and also caught 3 passes for 27 yards. The 5th-year running back out of Oklahoma did score once in the divisional round against Tennessee. He also delivered a total of 16 TDs during the regular season – 13 rushing and 3 via reception. It's clear that getting Mixon at plus money under any circumstances is a play that has to be looked at with interest. Although the Rams boast a stout defense, they were tied for the 9th-most rushing scores allowed during the regular season with 18. It is also worth noting that Los Angeles was one of only 4 teams in 2021 to have more interceptions (19) than passing TDs allowed (17). It's easier – relatively speaking – to do damage against the Rams on the ground.
The Burning Question: Who will win Super Bowl LVI?
Longshot worth taking: Kendall Blanton, TE, Los Angeles Rams (+260)
Tyler Higbee was +240 to score a touchdown in the Super Bowl before he was ruled out because of a knee injury. Now it's Blanton who is RB1 for Los Angeles, and you can get him at +260 to find the endzone. I like this play, as well. Blanton did not do much in the regular season, but he has already excelled in these playoffs. The rookie out of Missouri scored a touchdown in the divisional round against Tampa Bay and then caught all 5 of his targets for 57 yards in the NFC Championship victory over San Francisco. If there is one thing the Bengals can't do in the Super Bowl, it's let Kupp beat them. They will surely be paying a ton of attention to Odell Beckham Jr., too, so Blanton will have some opportunities. Keep in mind that Cincinnati gave up the seventh-most fantasy points to tight ends this season.
Anytime Touchdown Scorer FAQs
What does "anytime touchdown scorer" mean?
Anytime touchdown scorer is a popular player prop bet that NFL bettors can wager on throughout the season. But what is it, and how do you win?
As the name suggests, placing a wager on the anytime touchdown scorer market is when you tip a particular player to score a touchdown during a game. This can be a rushing or receiving touchdown for an offensive player, or you can wager on a team's defense/special teams to score a touchdown by interception return and fumble return or kickoff and punt returns.
If your player or defense scores a touchdown, you win! The odds will differ from player-to-player depending on the sportsbooks' calculated probability of that player scoring.
Does anytime touchdown scorer include passing touchdowns?
Not for a quarterback, no. A player must get into the endzone, himself, in order to qualify as an anytime touchdown scorer. If a quarterback throws a touchdown pass, only the player who caught it counts as the scorer. If Aaron Rodgers throws a touchdown pass to Davante Adams, wagers placed on Evans as an anytime touchdown scorer will cash. However, those placed on Rodgers as an anytime touchdown scorer will not (unless he also runs for a TD). See below for more on what the anytime touchdown scorer market means for quarterbacks.
What does anytime touchdown scorer mean for a QB?
For a wager on a QB to be an anytime touchdown scorer to cash, he must follow the same rules as a running back, tight end, or receiver. He must get into the end zone himself, either as a runner or a pass-catcher.
In the age of the mobile quarterback, QBs such as Patrick Mahomes, Lamar Jackson, Kyler Murray, and Josh Allen are often seen rushing in for a touchdown on any given Sunday. And don't forget the occasional Philly Special, either. QBs can sometimes catch passes for TDs, too.
Pickswise is the home of NFL Picks. Check out our latest playoff picks and round-by-round analysis as well as our free Super Bowl predictions.