Back to the Futures: Bills and Rams regress, Cards strengthen case, Titans show their teeth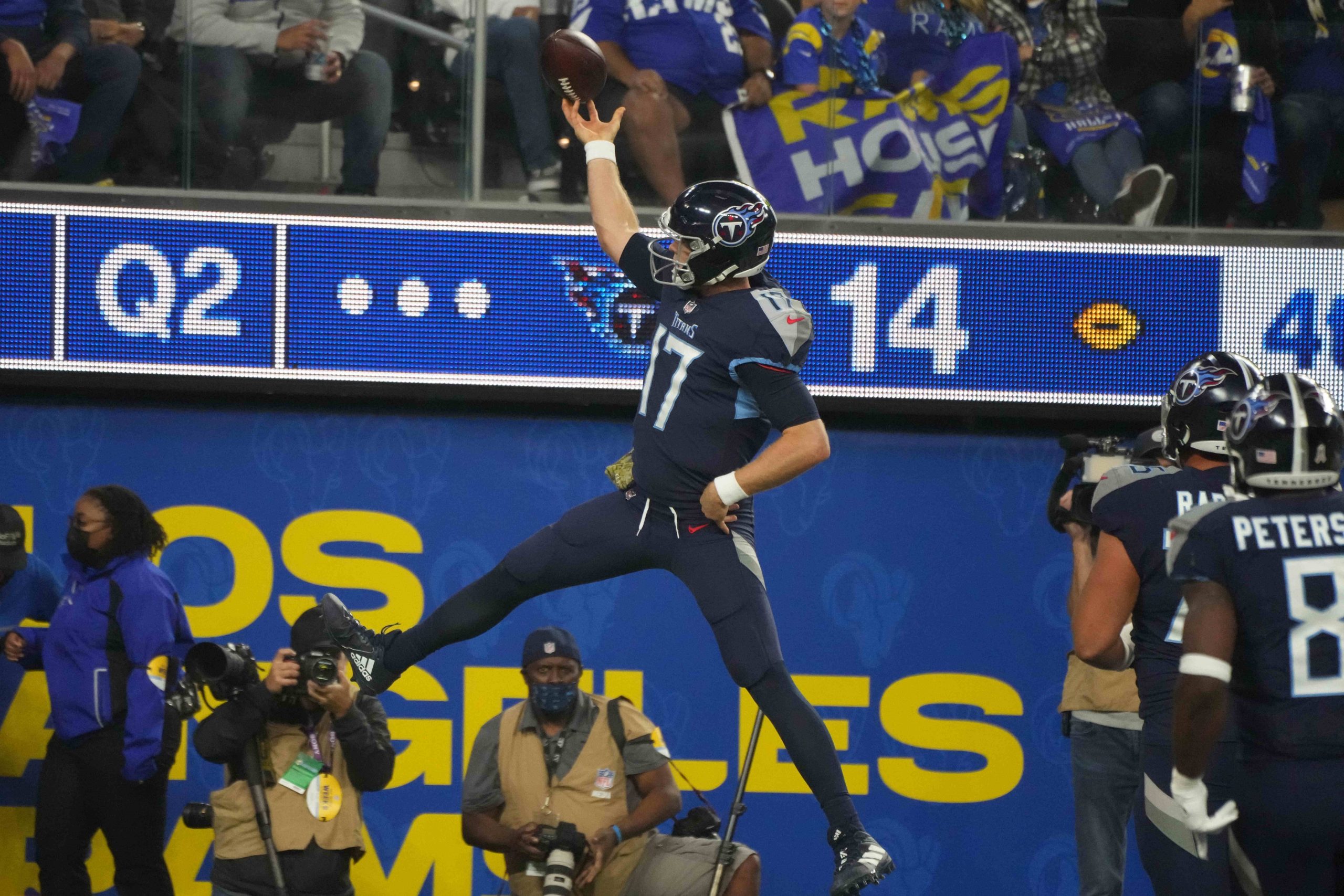 Volatility was on full display in the NFL on Sunday as two double-digit underdogs won outright, marking the two largest upset victories of the season. Overall, dogs went 10-4 against the spread for the week, and are 20-8-1 ATS over the last two weeks.
The Jaguars' shocking win over the Bills as 15-point underdogs was the biggest surprise, and it marked the fourth straight season that an underdog of more than two touchdowns has won outright. But does Sunday's loss to the Jaguars raise any real concerns with Buffalo or was it just an extremely volatile result that bettors should look past?
Well, all the bookmakers I asked this week say it's the latter. "I'm still a believer in them going forward," said TwinSpires Trading Analyst Zachary Lucas.
"The Bills are an extremely talented team that just didn't take a bad team seriously," said WynnBet Trader Sawyer Johnson.
I expect the Bills to bounce back this week against the Jets, but after that, Buffalo will be tasked with a brutal 4-game stretch against the Colts, Saints, Patriots and Bucs, followed up by one more trip to Foxboro on the day after Christmas. My gut says they will slip up again at least one more time before the postseason begins, which could drop them out of the running for a first-round bye and put more downward pressure on futures pricing.
Here are some other notable moves that took place this week and how oddsmakers are analyzing the market.
Los Angeles Rams: +600 to +800 to win the Super Bowl at WynnBET
After the Bills and Cowboys both lost outright as double-digit favorites earlier in the day, the shock-value of the Rams losing to the Titans later that night as 7.5-point favorites was lessened a bit, at least for me. Going forward, there is uncertainty surrounding the health of Matthew Stafford, which will have an impact on the market. BetMGM Trader Darren Darby said the book "needs more information about Stafford before moving the odds further" while Wynn's Sawyer Johnson is more confident in LA and called the loss a "bump in the road."
However, not all bookmakers are in agreement. "I think the Rams have a lot of great pieces but if they want to make a run they'll need to give Stafford better protection," said TwinSpires Analyst Zachary Lucas. The injury issues alone are enough to make me pass here. Additionally, Sunday night's loss coupled with the Cardinals' unexpected win over the 49ers will make the path to a division title and first-round bye much more difficult. That means the Rams will likely have to win three straight road playoff games before a possible home Super Bowl at SoFi Stadium.
Tennessee Titans: +2000 to +1400 to win the Super Bowl at BetMGM
It's getting harder and harder to doubt Mike Vrabel's team with each passing week. Tennessee improved to 7-0 ATS and 6-1 SU as an underdog of 6 points or more during Vrabel's tenure after Sunday's night decisive upset over the Rams. It's a sign of just how mentally tough the Titans are and why they might be the one team I wouldn't want to play right now in the AFC, even without Derrick Henry. "If the Titans are able to get that bye and have Henry return, watch out for them," said TwinSpires Trader Zachary Lucas. "That defense I was saying looked rough has improved and Vrabel has done a great job with this team."
While the Titans' Super Bowl number may be tempting, I'm more interested in their odds to win the AFC, which dropped from +850 to +650 at BetMGM. Considering Tennessee has the inside track to earn a first-round bye, they are a team bettors should be taking very seriously. "Five teams are +900 or better to win the AFC, so the conference is wide open," said BetMGM Trader Darren Darby. Two weeks ago I recommended a small play on the Chiefs to win the AFC at +700, and those odds have shortened to +500. I will add to that portfolio this week and open a small position on the Titans.
Arizona Cardinals: +1000 to +700 to win the Super Bowl at WynnBET
Just when I was ready to sound the alarm on Arizona after that Thursday Night loss to the Packers and the injury to Kyler Murray, they surprised everyone once again, winning by 14 as 5.5-point underdogs against the 49ers with Colt McCoy under center. "This was an extremely impressive win and shows that this team didn't just have a lucky start to the year," said WynnBET Trader Sawyer Johnson.
Unlike the AFC, which is much more wide open, there are really just five contenders in the NFC with a legit claim to the throne (Bucs, Rams, Cardinals, Cowboys, Packers). Arizona currently has the inside track for the first-round bye, which will have a significant impact on how much their odds will shrink before the postseason begins. "If the Cardinals were to get the #1 seed they would be even stronger favorites to win," said BetMGM Trader Darren Darby. Considering the health of Kyler Murray is still in question, if you haven't already invested in Arizona, I think it's best to wait at least another week.
Cleveland Browns: +600 to +450 to win the AFC North at TwinSpires
The Browns' 25-point blowout of the Bengals on Sunday vaulted them right back into the thick of the division race, as they are now the second favorite on the board behind Baltimore. "The Browns are the intriguing team here because they're finally getting healthy and showcasing that firepower we know they have," said TwinSpires Trading Analyst Zachary Lucas. Cleveland has two winnable games over the next two weeks against the Patriots and Lions before a stretch of two straight games against the Ravens sandwiched around a bye week.
Those two games will likely decide this market, and because of how exposed some books are to Cleveland in the overall futures market, bettors should proceed with caution. "The Cleveland Browns are far and away our biggest Super Bowl and AFC liability, so we have to make sure we're on top of them when it comes to pricing," said Lucas. That means finding fair value on the Browns might be tough to do, even if you are a believer in them long-term. I still think Baltimore is the best team in this division top to bottom, and the odds reflect that as well.
This Week's New Investments:
Titans to win AFC +650 (0.5u at BetMGM)
Make sure you check out Jared's best early bets for NFL Week 10 in his Early Birds column!
Pickswise is the home of NFL Picks. Check out our latest playoff picks and round-by-round analysis as well as our free Super Bowl predictions.