Back to the Futures: Chiefs odds take a tumble, bookmakers react to NFL Week 7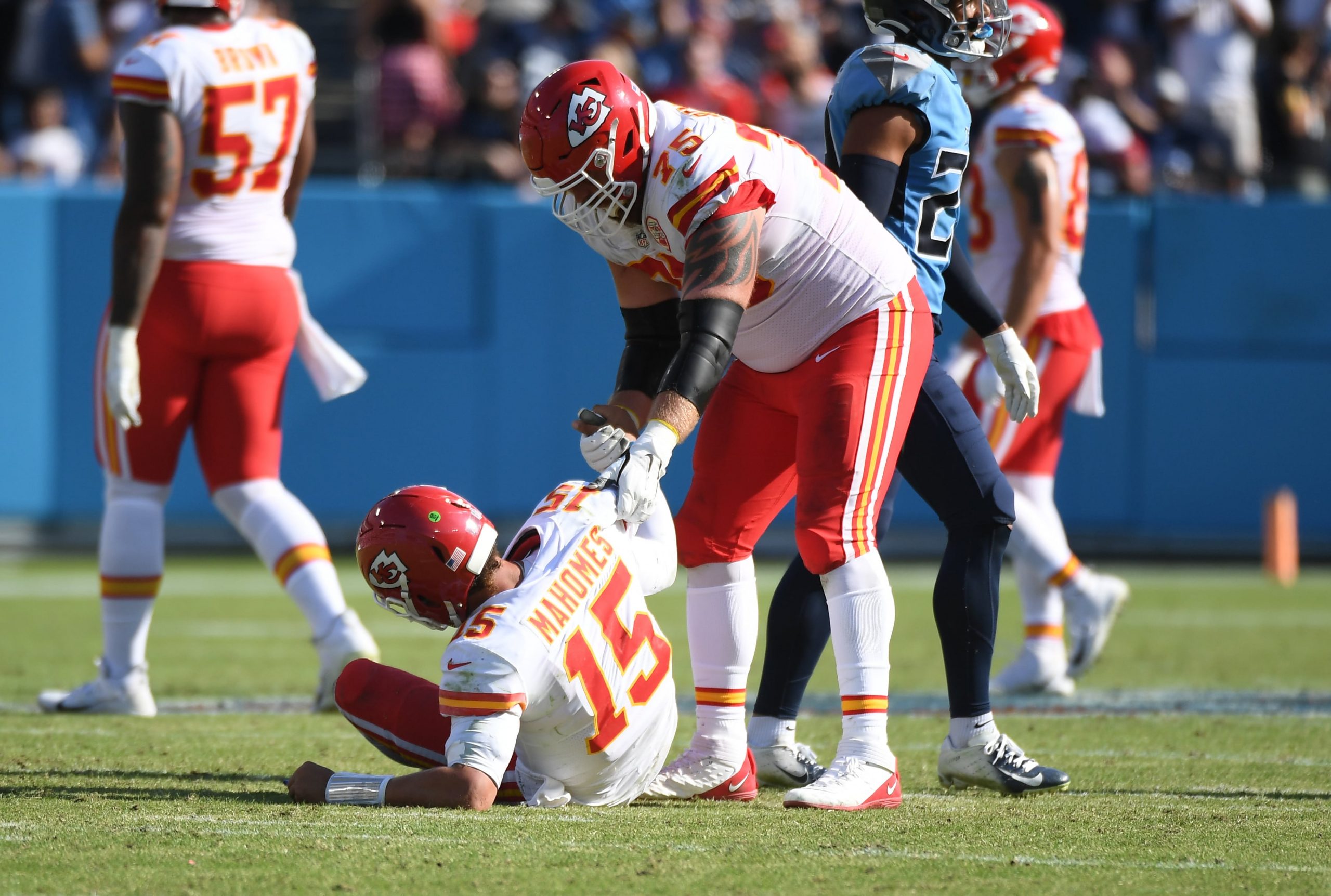 Oh how the mighty have fallen. For the first time this season, the Chiefs are looking up at multiple teams on the Super Bowl odds board as they dropped from +750 to +1600 at BetMGM following Sunday's blowout loss to the Titans. Besides the defense allowing the most yards per play in the league this season (6.6), turnovers and inefficiency on offense also have caught the attention of some oddsmakers.
"Mahomes doesn't look like his usual self," said TwinSpires trading analyst Zachary Lucas.
But the reaction wasn't entirely negative, as some oddsmakers believe getting the Chiefs at a discount this week could be advantageous if they can straighten out the defense at some point down the road.
"They will most likely beat the Giants and the price to pay will be much lower next week," said WynnBet trader Sawyer Johnson. "You don't need this team to have a first-round bye to win the Super Bowl or the AFC. You just need them to make it into the dance."
Valid point. I've been patiently waiting for a buy-low opportunity with Kansas City all season, and the +1600 at BetMGM was the best price I could find. I invested a full unit on the Chiefs this week and split the allocation evenly between their Super Bowl price at +1600 and the AFC at +700. It's a massive discount from the preseason splits of around +500 and +250, so even if KC fails to figure things out on defense I am satisfied with our buy-in price.
Week 8 Super Bowl Tiers via Westgate SuperBook
Top tier (+500 to +600): Bills, Bucs
Second tier (+700 to +800): Cardinals, Cowboys, Rams
Third tier (+1000 to +1200): Packers, Chiefs
Fringe contenders (+1400 to +2000): Chargers, Titans, Ravens, Browns
The biggest mover of the week at the Westgate SuperBook was Tennessee, moving from +4000 to +1400 following its resounding win over Kansas City. However some oddsmakers are not convinced the Titans have staying power.
"Given their weak and depleted secondary — and that they will be playing the likes of Josh Allen, Justin Herbert, Lamar Jackson, and Patrick Mahomes in the playoffs — they will have a tough time beating all of them," said WynnBet trader Sawyer Johnson.
Cincinnati Bengals: +850 to +350 to win AFC North at BetMGM
Joe Burrow is sizzling. The second-year QB threw for a career-high 416 yards in a statement win over the Ravens. Their schedule is relatively soft over the next few weeks with games against the Jets, Browns, and Raiders, so I can see their price shortening a bit, especially if Cleveland continues to sink. Oddsmakers also believe Cincinnati has staying power.
"The Bengals have an impressive road win against the Ravens and the team's only two losses were each by a field goal," said BetMGM trader Darren Darby.
I was very close to opening a position with Cincinnati this week, but I paused when I saw the Ravens upcoming schedule. Baltimore is on a bye this week and then will have a six-game stretch against the Vikings, Dolphins, Bears, Browns (twice), and Steelers before closing at the Bengals and home against the Rams and Steelers. Considering the Ravens were plus-money to win the division preseason, I still don't think we're getting a good enough price on them to buy–plus the Bengals should blow out the Jets this week, so my instincts say to pass on this market for now.
Las Vegas Raiders: +650 to +350 to win AFC West at TwinSpires
Are the Raiders better without Jon Gruden? We asked that question to experts and oddsmakers this week and the reaction was mixed. From an odds perspective, the sample size is too small to draw any meaningful conclusions. But the eye test tells me Derek Carr looks more comfortable, and Sunday's results certainly reflect that. Carr completed 91.1 percent of his passes (31 of 34), a career-best and second-best single-game percentage in NFL history. But despite weakness at the top of the division, oddsmakers are not convinced this short-term resurgence by Las Vegas has staying power.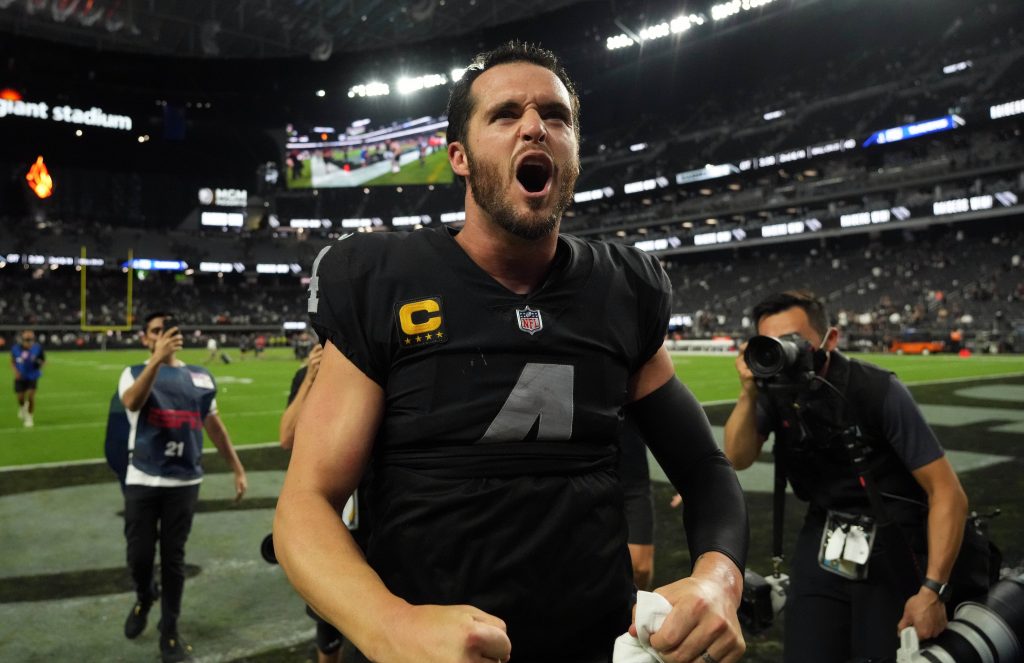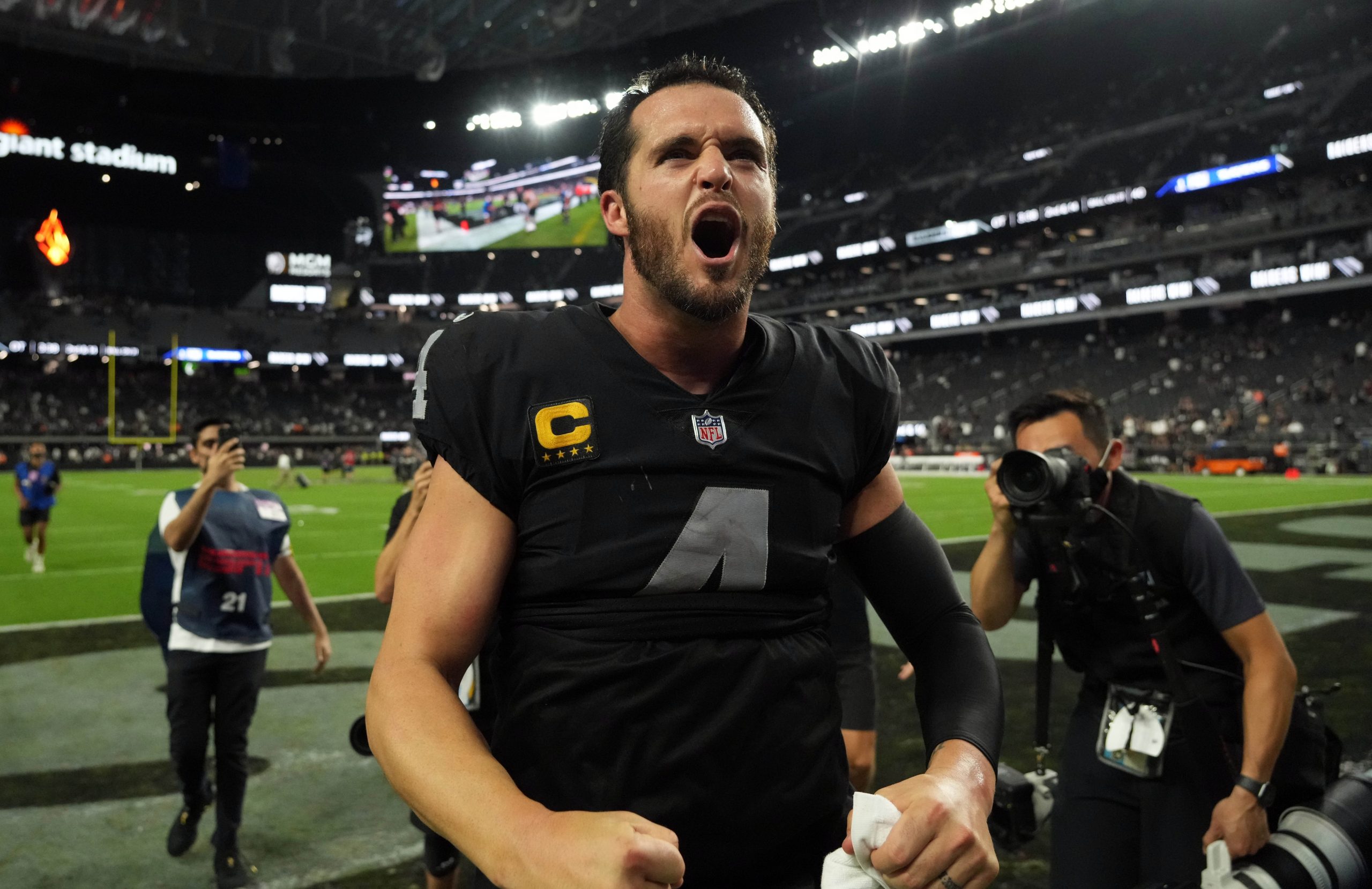 "They beat up on two bad teams. I think people are overreacting just a bit here," said TwinSpires trading analyst Zachary Lucas. "I think LA is the clear favorite and I would take them on a neutral field vs any team in this division."
That is sound advice and this is also a pass for me. If you truly believe in the Raiders, there will be plenty of opportunities to back them as underdogs in the coming weeks with tough matchups against the Bengals, Chiefs, and Cowboys.
CJ Stroud: +700 to +300 to win Heisman Trophy at WynnBET
I had Stroud on my Heisman radar two weeks ago, and I believe his edge is only sharpening. Ohio State is on cruise control and should be favored in the remainder of its regular-season games in addition to the Big 10 title. Stroud's numbers have also been eye-popping over the last three weeks (14 TDs, 0 INTs) and he has perhaps the best trio of weapons in the nation with Chris Olave, Garrett Wilson, and Jaxon Smith-Njigba.
"I think he has a very real chance to win it and there are not enough people talking about him right now," said WynnBet trader Sawyer Johnson.
If Auburn beats Ole Miss on Saturday, which the Tigers are favored to do, I expect Stroud to pull ahead of Matt Corral as the second favorite on the board behind Bryce Young. That will be especially the case if Stroud plays well at home against Penn State in a game where the Buckeyes are favored by more than two touchdowns. I had a previous position on Corral for 1 unit at +900, but I cashed out this week for a net gain of 1.15 units as I feel like the timing is right to sell considering his injury concerns. I pocketed a little more than half of those profits, but I also reinvested a 0.5-unit and opened a small position on Stroud. The best price I could find was +600 at Caesars.
This Week's New Investments:
Chiefs to win Super Bowl +1600 (0.5u at BetMGM)
Chiefs to win AFC +700 (0.5u at BetMGM)
CJ Stroud to win Heisman Trophy (0.5u at Caesars)
Pickswise is the home of NFL Picks. Check out our latest playoff picks and round-by-round analysis as well as our free Super Bowl predictions.