Best NBA Player Props for Monday's Slate: Shooting my Shot with Edwards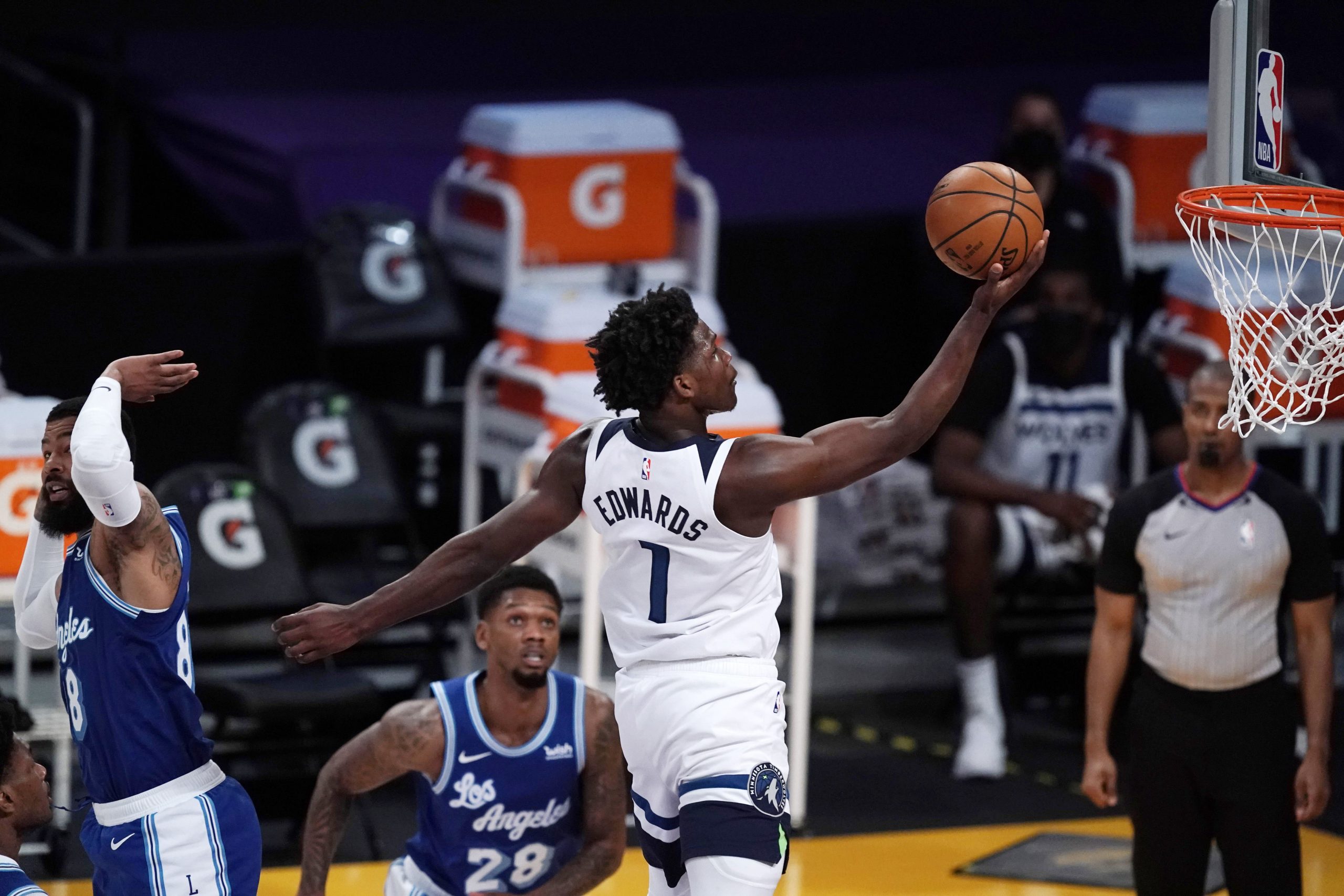 Who doesn't love Mondays?!  Okay, maybe I'm overexaggerating, but it's easy to get excited when I'm looking at an eight game NBA slate to start the week.  With six of the games posted with a spread of six points or less (at the time of publishing), we could be in store for some fireworks.  Before you even think about betting sides or totals, be sure to check out our full game previews with picks and analysis.
After a satisfying 13-9 week, I'm looking to keep it rolling coming into Monday. We're chest-deep into the NBA regular season at this point, meaning books continue to sharpen their lines. However, I've identified two spots where I see a lot of value based on recent trends.
#NBA  weekly recap:

W1: 25-17 +6.1u ✅
W2: 12-7 +3.9u ✅
W3: 12-5 +7.1u ✅
W4: 9-10 -1.9u ❌
W5: 15-3 +11.9u ✅
W6: 10-6 +3.4u ✅
W7: 11-11 -1.1u ❌
W8: 11-7 +3.3u ✅
W9: 9-7 +2.4u ✅
W10: 14-14 -2.6u ❌
W11: 13-9 +2.4u ✅

Season YTD: 141-93 +34.7u
Win %: 59%
Total ROI: 14%

— Prop Bet Guy (@PropBetGuy) March 22, 2021
Anthony Edwards over 22.5 points (-112)
Line available at publishing. Playable up to over 23.5 points.
While the Timberwolves find themselves at the very bottom of the NBA standings, they have to be thrilled with the recent stretch from the first pick of the 2020 draft. In the nine games since Malik Beasley was suspended, Edwards has revved up his production and usage. The rookie is averaging 25.3 points over that stretch, paired with a 31.8% usage (the latter ranking tenth in the NBA in that span, amongst qualifiers). He hasn't been shy to shoot either, averaging 22.4 field goal attempts per game (third in the NBA).
While Edwards isn't exactly the poster boy of efficiency, his recently ramped-up production has come with better shooting.  In the last nine games, Edwards is shooting 42% from the field, compared to 37% in the games prior.
In looking at his matchup tonight versus the Thunder, I wanted to see how Oklahoma City performed versus high volume shooters. Amongst the last 25 guards/wings who registered at least 18 field goal attempts (Edwards low total for the last nine games), 16 of these players scored at least 23 points, with an average of 25.6.  Of course, this is compiling vastly different players and play-styles, but it does prove that volume easily translates to points versus the Thunder.  Plus, over the last month, Oklahoma City is allowing their opponents the tenth highest field goal percentage.
Finally given the opportunity to shine next to Wolves center Karl-Anthony Towns, Edwards has come out firing. I have the rookie projected at 26 points in another high-volume game.
Be sure to check out our full game preview for Oklahoma City Thunder vs. Minnesota Timberwolves.
DeMar DeRozan over 7.5 assists (+105)
Line available at publishing. Playable to -125.
The Spurs, somewhat surprisingly, find themselves in the thick of the ultra-competitve Western Conference playoff picture, largely in part to DeRozan. The twelfth-year pro is not only leading the team in scoring, but assists as well, averaging a career-high 7.5 per game. His assist rate of 33.4% ranks 16th in the NBA, ahead of the likes of Ben Simmons and Steph Curry. The Spurs are at their best when he shares the rock, with DeRozan averaging 8.1 assists in Spurs wins.
Tonight, DeRozan faces a Hornets team that allows the most assists per game. In fact, Charlotte has allowed an opposing player to dish out at least eight dimes in eleven of their last twelve games (including non-point guards such as Nikola Jokic and Draymond Green). In their February matchup, DeRozan had nine assists.
The Spurs forward has ramped up his assist production as of late, averaging 9.2 over his last eleven games. In that span, he eclipsed eight assists in eight of those games. Against the teams in the top eight of most assists allowed, DeRozan has exceeded this total in six of those games. I have the Spurs' lead dog pegged at close to nine assists tonight.
Be sure to check out our full game preview for Charlotte Hornets vs. San Antonio Spurs.
Pickswise is the home of free NBA picks and predictions. Make sure to also check out our 'NBA parlays' and 'NBA prop bets' tabs for more expert picks.