NFL Anytime Touchdown Scorer Predictions and Prop Bets for Super Bowl LV
The final installment of our weekly anytime touchdown scorer picks has arrived. Super Bowl LV between the Tampa Bay Buccaneers and Kansas City Chiefs has been hyped up for more than a week now and we will soon find out if it lives up to the billing. We will also find out which players make their ways into the endzone. Will the usual suspects be the stars on the biggest stage in sports, or will unexpected players seize the moment and make a name for themselves? Or perhaps we see a little bit of both? Let's take a look at the best anytime touchdown scorer bets.
Favored to score – Travis Kelce, TE, Chiefs (-175)
Something a little bit closer to even money would be nice, but even at -175 there is still decent value on Kelce scoring a touchdown on Sunday. After all, the undisputed best tight end in football has already scored three times in the playoffs after scoring four times in last year's playoffs—three in the divisional round against Houston and one more in the Super Bowl victory over San Francisco. In the regular season, Kelce finished with 11 TDs. Tampa Bay's defense has not been spectacular against opposing tight ends. The Bucs surrendered nine touchdowns to TEs in 16-regular season games; only six teams allowed more.
Slight underdog – Leonard Fournette, RB, Buccaneers (+120)
After a disgruntled Fournette was waived by Jacksonville, Tampa Bay snatched him up and to say it has paid off would be a gross understatement. He scored six TDs in the regular season (four in the final five games) and added one against both the Football Team and the Packers in the NFC playoffs.  It is also worth noting that Fournette generally thrives when the lights shine brightest. During Jacksonville's 2017 postseason run he scored three touchdowns in the divisional round against Pittsburgh and one in an AFC Championship loss to New England.
Bigger underdog – Clyde Edwards-Helaire (+150)
Back from injury, Edwards-Helaire was on the field for 32 snaps compared to 30 for Darrel Williams in the AFC Championship (26 to 14 on pass plays). With a game under his belt and two more weeks of rest thereafter, Edwards-Helaire should only be healthier, more involved in the offense, and quite simply better. Plus, he still found paydirt once against the Bills despite getting only seven carries. And the TD came from one yard out, which is essential to note because it means the Chiefs trust him at the goal line.
Longshot – Rob Gronkowski, TE, Buccaneers (+225)
Nothing would be more classic than Brady—at 43 years old—throwing a touchdown pass in a Super Bowl to an out-of-retirement Gronkowski on their second team together. And it could happen. Like Tampa Bay, Kansas City also gave up nine touchdown passes to tight ends during the regular season. The Chiefs also surrendered either the seventh-most or eight-most fantasy points to tight ends depending on the scoring system. Although Gronkowski's touches have been limited of late, he always seems to step up on the biggest stages and in the biggest moments.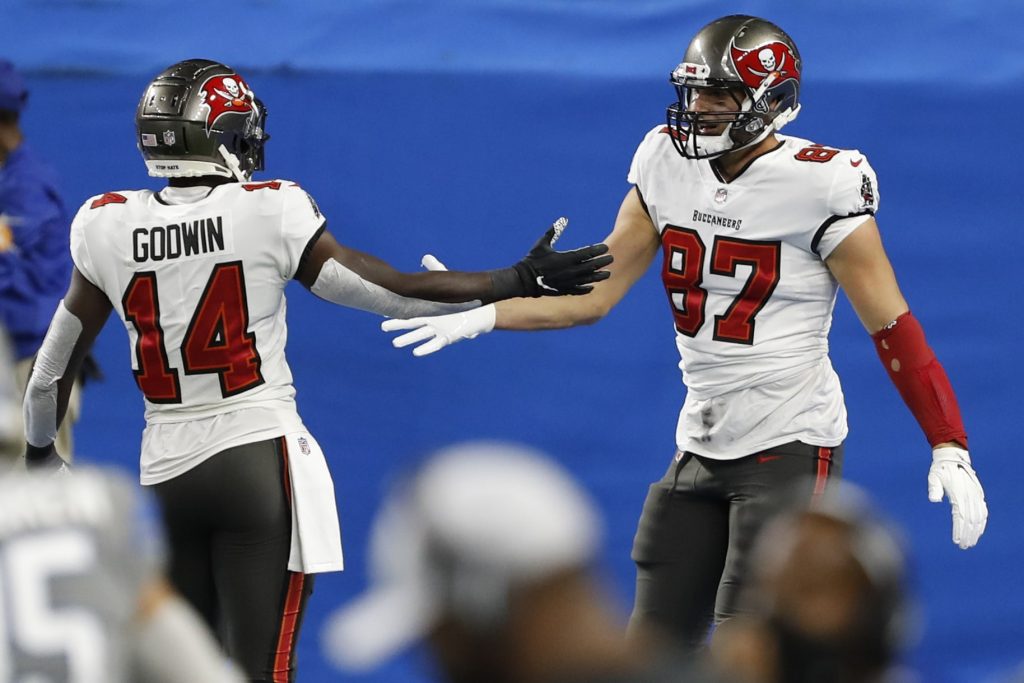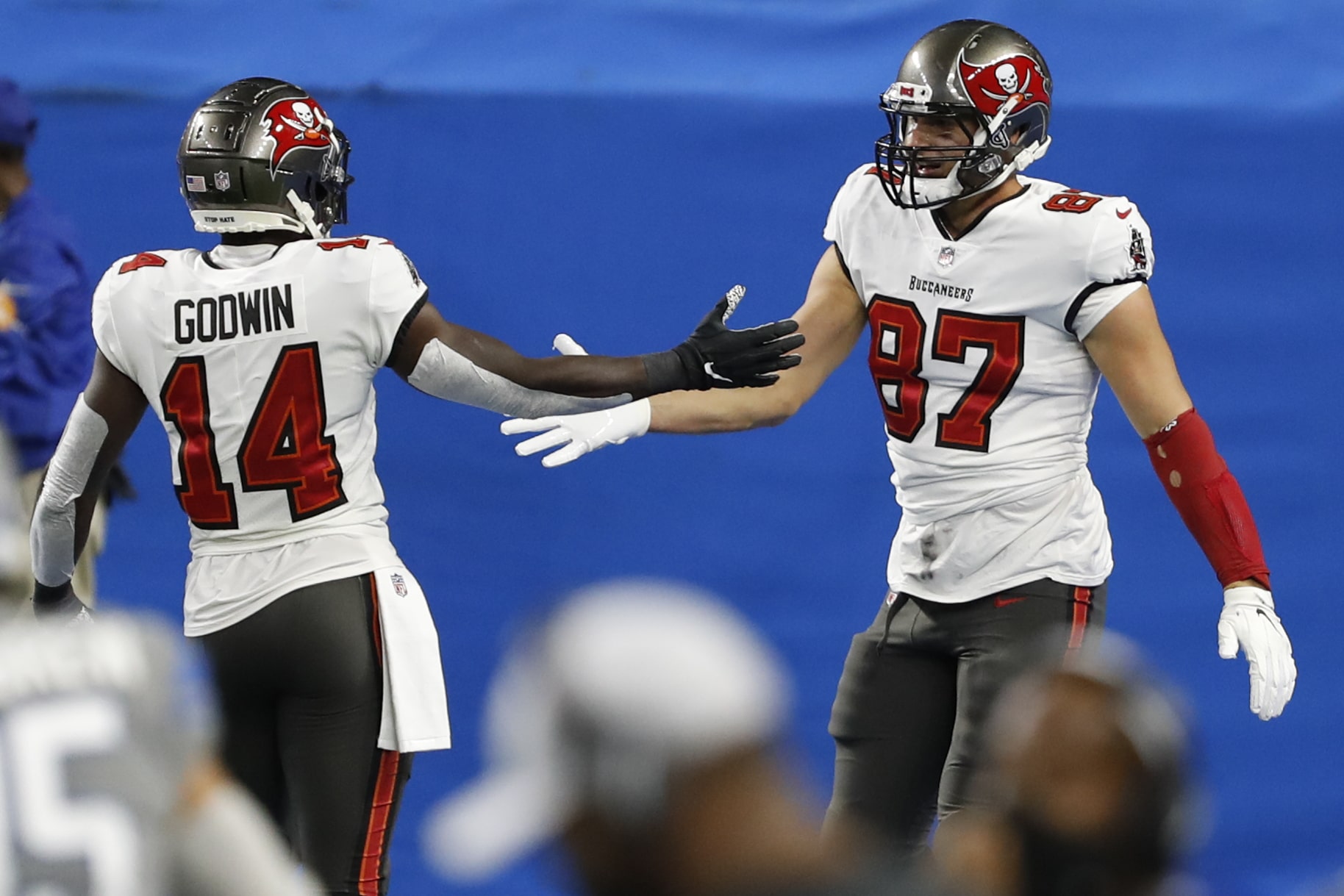 Anytime touchdown scorer FAQs
What does "anytime touchdown scorer" mean?
Anytime touchdown scorer is a popular player prop bet that NFL bettors can wager on throughout the season. But what is it, and how do you win?
As the name suggests, placing a wager on the anytime touchdown scorer market is when you tip a particular player to score a touchdown during a game. This can be a rushing or receiving touchdown for an offensive player, or you can wager on a team's defense/special teams to score a touchdown by interception return and fumble return or kickoff and punt returns.
If your player or defense scores a touchdown, you win! The odds will differ from player-to-player depending on the sportsbooks' calculated probability of that player scoring.
Does anytime touchdown scorer include passing touchdowns?
Not for a quarterback, no. A player must get into the endzone, himself, in order to qualify as an anytime touchdown scorer. If a quarterback throws a touchdown pass, only the player who caught it counts as the scorer. If Tom Brady throws a touchdown pass to Rob Gronkowski, wagers placed on Gronkowski as an anytime touchdown scorer will cash. However, those placed on Brady as an anytime touchdown scorer will not. See below for more on what the anytime touchdown scorer market means for quarterbacks.
What does anytime touchdown scorer mean for a QB?
For a wager on a QB to be an anytime touchdown scorer to cash, he must follow the same rules as a running back, tight end, or receiver. He must get into the endzone himself, either as a runner or a pass-catcher.
In the age of the mobile quarterback, QBs such as Patrick Mahomes, Josh Allen, Lamar Jackson, and Kyler Murray are often seen rushing in for a touchdown on any given Sunday. And don't forget the occasional Philly Special, either. QBs can sometimes catch passes for TDs, too.
Be sure to check out the Pickswise NFL Computer Picks and score predictions. With predictions available across the top NFL betting markets including Moneyline, Totals, and Against the Spread predictions for every game.