Best player props for Sunday's MLB slate: Thompson Ks Cubs
It's Father's Day everyone. When our forefathers put this day in the constitution, they envisioned a day where fathers (or just dudes in general) everywhere would be able to kick back, have a few beers and gamble on sports all day long without any interruption. Their vision is what this day is all about. It would be irresponsible for us to do anything but that today. Thankfully, the MLB is cranking out a 16-game MLB slate, which gives us roughly 32 pitchers to pick through when looking for strikeout props. I don't know about you but that's more than enough for me. Here are two MLB player props I found that should make today special.
Don't forget to check what our MLB analysts have backed with side and total picks for all the games today/tonight. As always, bets can be added to the card, so why not follow me on Twitter in case we get some last-second action? It makes sense.
Zach Thompson over 4.5 strikeouts (+130)
Line available at DraftKings at time of publishing
This one looks like a DraftKings special, as no one else seems to have this one available. We should always look into the plus money prices first, because that's just where the magic appears. I think we may have found a little Father's Day magic with this one.
First of all, Thompson is 6'7″ tall. He's not exactly Chris Young…but he's close. There's just something about watching an NBA sized pitcher just mow down guys at plus money that I like. In his last start against the Atlanta Braves he dropped six guys himself. He's throwing 93 mph and he was striking out AAA guys at a 30.2 percent clip earlier this season, so there's also that. We have a good one here.
Today he will get a Chicago Cubs team that seems to love striking out. Over the last week they have sat down 69 times in seven games. Their OPS is .478 in that span which rivals that of a little league team. Simply put, they are just not a team that inspires much confidence at the moment. Thompson won't have to be great to get five of the today.
Be sure to check out our full game preview for Miami Marlins vs. Chicago Cubs
Bryse Wilson over 3.5 strikeouts (-105)
Line available at DraftKings at time of publishing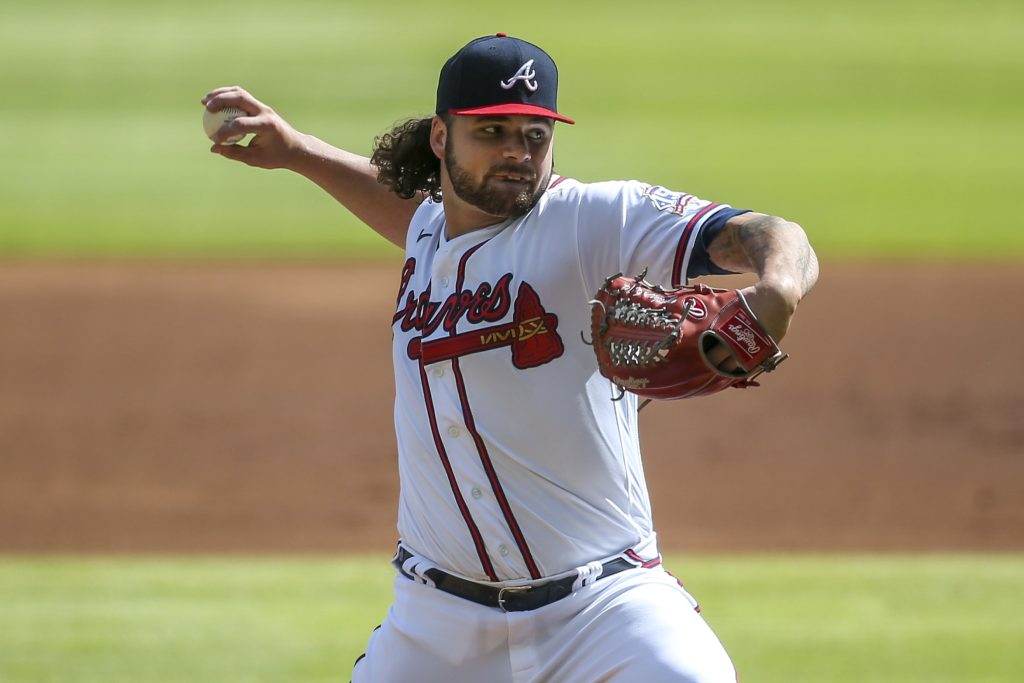 This is another DraftKings special as most books don't even have a line for this game. Hats off to the DraftKings guys for going the extra mile to make our day special. Also, the ultra low -105 price tag was a nice touch.
Wilson has a mullet which is a fantastic start. He doesn't stop there as he has a sweet tat on his glove arm which is also deadly. He's not really a "strikeout guy," but he has struck out at least four in each of his last two MLB starts. He hasn't thrown a MLB game since May 22, but he has been throwing in the minors so he is stretched out. i think he can go at least five innings today.
He likely won't have to go five innings to strike out at least four Cardinals but the opportunity should be there. While they haven't been striking out much lately, they sport the worst .OPS in MLB over the last seven days. This should allow for Wilson to hang around if he can't get his number the first couple times through the order. I think he can fan four Cardinals today.
Be sure to check out our full game preview for St. Louis Cardinals vs. Atlanta Braves
Pickswise is the home of free MLB picks and predictions. Make sure to also check out our MLB parlays and MLB prop bets tabs for more expert picks.