Best tennis prop bets for the Australian Open men's singles final: Djokovic vs. Medvedev
After all of the quarantining in Melbourne, a one-day pause for coronavirus testing during smaller tournaments the week before the Australian Open, and a five-day lockdown in the state of Victoria that temporarily prevented fans from attending Melbourne Park, the season's first Grand Slam has reached the final weekend. The men's singles final will cap it all off on Sunday night, and it should be a grand finale. It pits eight-time Aussie champion Novak Djokovic against the hottest player on tour, Daniil Medvedev.
Let's take a look at the four best prop bets for the women's final, and be sure to check out our Djokovic vs. Medvedev outright picks as well.
Five sets played in the match (+225)
Djokovic is an ever-so-slight favorite at most books, but for the most part this is an even-money matchup. And it's not hard to figure out why. Djokovic is the world No. 1 and an eight-time champion of the Australian Open (8-0 lifetime in finals). Medvedev is currently the hottest player on tour, riding a 20-match winning streak that includes an absurd 12-0 record against top-10 opponents (1-0 against Djokovic). Moreover, the head-to-head series stands at a competitive 4-3 in Djokovic's favor. In other words, this showdown has every reason to live up to the hype. Anything less than a marathon of high quality from start to finish would be a disappointment. With a five-setter having longer odds than both three and four sets, you have to like the value here.
Over 5.5 total service breaks (-150)
Medvedev leads the field with 35 service breaks during this Australian Open. Djokovic is third with 30 breaks. For those counting, that means Medvedev is averaging 5.83 service breaks per match and Djokovic is averaging five service breaks per match. Also keep in mind that Sunday's showdown is expected to be much closer and last a lot longer than each one's average match. More games played naturally mean more breaks will happen. Yes, Medvedev and Djokovic are also two of the best servers in the business–but not to the exact that they can hold so often that fewer than six breaks occur. For both of these players, returning is their specialty. Djokovic's tilt with Alexander Zverev featured nine breaks and the top seed faced 12 break points (lost three of them) even though Zverev is a far worse returner than Medvedev.
Medvedev -2.5 aces (-143)
This should be your favorite play in the match. Djokovic leads the Australian Open field with 100 aces compared to 74 for Medvedev, but you have to dig a lot deeper than that. The Serb has been aced a whopping 103 times, whereas Medvedev has been aced only 20 times. For those counting, that means Djokovic is minus-3 and Medvedev is +54 in the aces-vs.-aces against category. Yes, the world No. 1 had to face the likes of Zverev and Milos Raonic so the numbers are skewed just a bit, but that hardly makes up for the entire difference. What really matters is that Medvedev not only has a bigger serve but also stands farther back when returning and has a longer wingspan than Djokovic. The Russian is simply tougher to ace. In their last six head-to-head encounters, Medvedev has 57 aces to Djokovic's 28.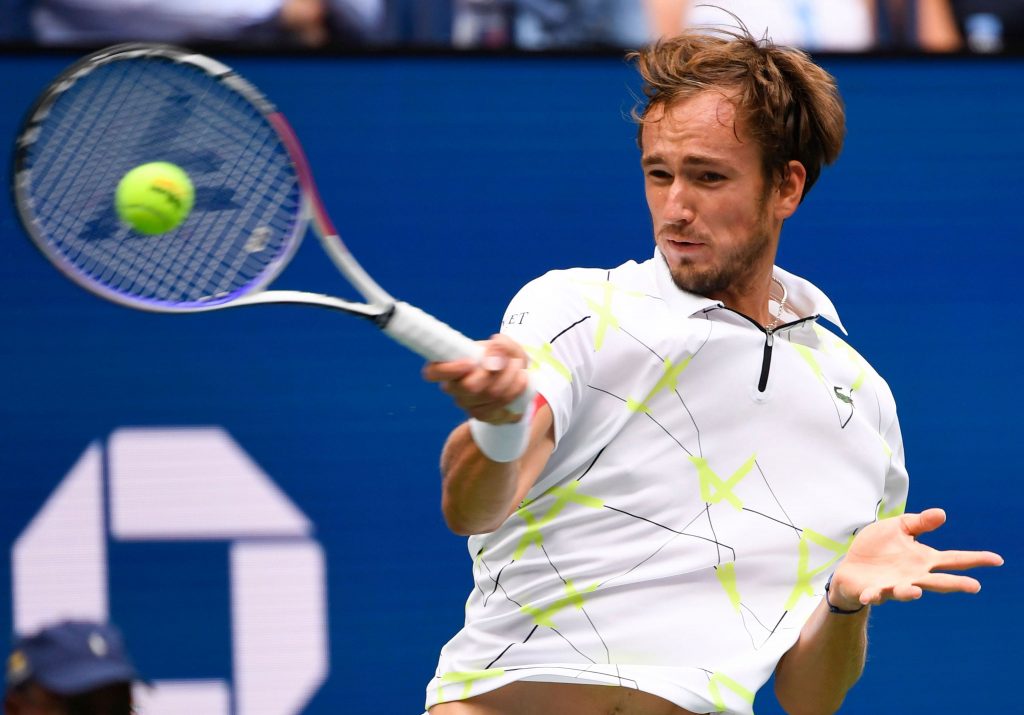 Djokovic +0.5 double-faults (-120)
Djokovic has struck 21 double-faults through six matches this fortnight; Medvedev has committed 17. With Djokovic a slight underdog (+0.5) to hit more doubles on Sunday, you have to like the value. You should also consider when these double-faults have come. The Serb double-faulted 18 times in his four relatively competitive matches, which the final projects to be. Medvedev has played only one close match and doubled a modest four times. Other than that scare against Filip Krajinovic, the world No. 4 has played only two tense sets–the first against Andrey Rublev and the third against Stefanos Tsitsipas. He DFed just once in each of those sets. In all facets of the game right now, Medvedev is just incredibly solid.
Pickswise is the home of free tennis predictions. Make sure to check out our daily previews and picks throughout the 2021 Australian Open—and during all of the Grand Slams.