College Football
Back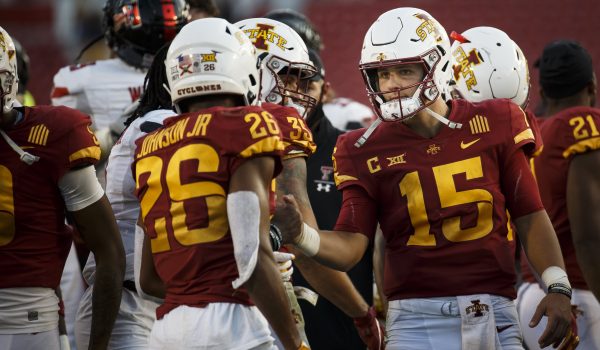 Breaking down the biggest games of this weekend's college football slate
The 2020 college football season is officially in full swing, and we're starting to get a clearer sense of where the conferences currently playing stand. The Big Ten is back in action for the first time this weekend, making the slate even more appealing with a few big matchups.
We've already seen some epic rivalry games, and this weekend has plenty of Top 25 on Top 25 action. Without further ado, let's dive in.
#17 Iowa State Cyclones @ #6 Oklahoma State Cowboys – 3:30 p.m ET – FOX
This is the highest a Mike Gundy team has been ranked in a long time, and Oklahoma State will get a chance to prove they belong with the big boys this weekend when they host Iowa State. It's the first real test of the season for the Cowboys, although they've certainly looked good against weaker competition. Just this past week, they crushed Kansas by 40 on the road.
Iowa State started things off with a shocking and lopsided loss to Louisiana, but they've since bounced back with three straight wins, including an upset over Oklahoma. That being said, Oklahoma has since proven to not be as good as we all thought, so we can't give the Cyclones too much credit. Matt Campbell has often done well as an underdog, but our expert is rolling with the Cowboys this week.
#18 Michigan Wolverines @ #21 Minnesota Golden Gophers- 7:30 p.m ET – ABC
This is the Big Ten game I'm most intrigued by in their first weekend back. Jim Harbaugh has caught a lot of flak for failing to elevate Michigan to the top tier of college football, and if he falls flat again in 2020 the situation could become untenable. Starting things off on the right foot is essential for this shortened eight-game season, and the importance of this one can't be understated.
The Wolverines are replacing Shea Patterson at quarterback, and it looks like they'll go with 2018 four-star passer Joe Milton. He will be the first quarterback Harbaugh has recruited to start for him, and I can't wait to see what he looks like. Minnesota on the other hand has a lot more continuity, as they return quarterback Tanner Morgan, who had 30 touchdowns and only seven interceptions last year. Oddsmakers may be shading the line a bit too much toward Michigan because of their annual offseason hype cycle, and our expert thinks the home underdog makes some sense on the money line.
#9 Cincinnati Bearcats @ #16 SMU Mustangs – 9:00 p.m ET – ESPN2
This game is flying a bit under the radar but I'm stoked for it because of the bowl implications, as the winner of this game has a clear path to ending the season as the highest-ranked non-power conference team. Cincinnati is in the top 10, but oddsmakers have the Mustangs as a slight favorite for this one nonetheless. When a much lower-ranked team is favored, there's usually a pretty good reason why–and we're rolling with SMU in this one.
Cincinnati's game against Tulsa last week got postponed because of COVID-19 and it had a bye week before that, so this team hasn't played since October 3. As such, the Bearcats could be pretty rusty, and it'll be interesting to see how much they're able to get up for this pivotal game after all the time off. It's a huge test for Luke Fickell. SMU's offense has been extremely efficient led by Texas transfer Shane Buechele, although this will easily be their toughest test as well. Grab your popcorn, because this one should produce some fireworks.
Want the best college football picks all season long? Check out our 'NCAAF picks' tab for breakdowns and picks on every big game of the 2020 season. 
Last updated: Fri 23rd October 2020