Brian Scalabrine: NBA champion shares his mid-season takeaways, futures value plays & best bets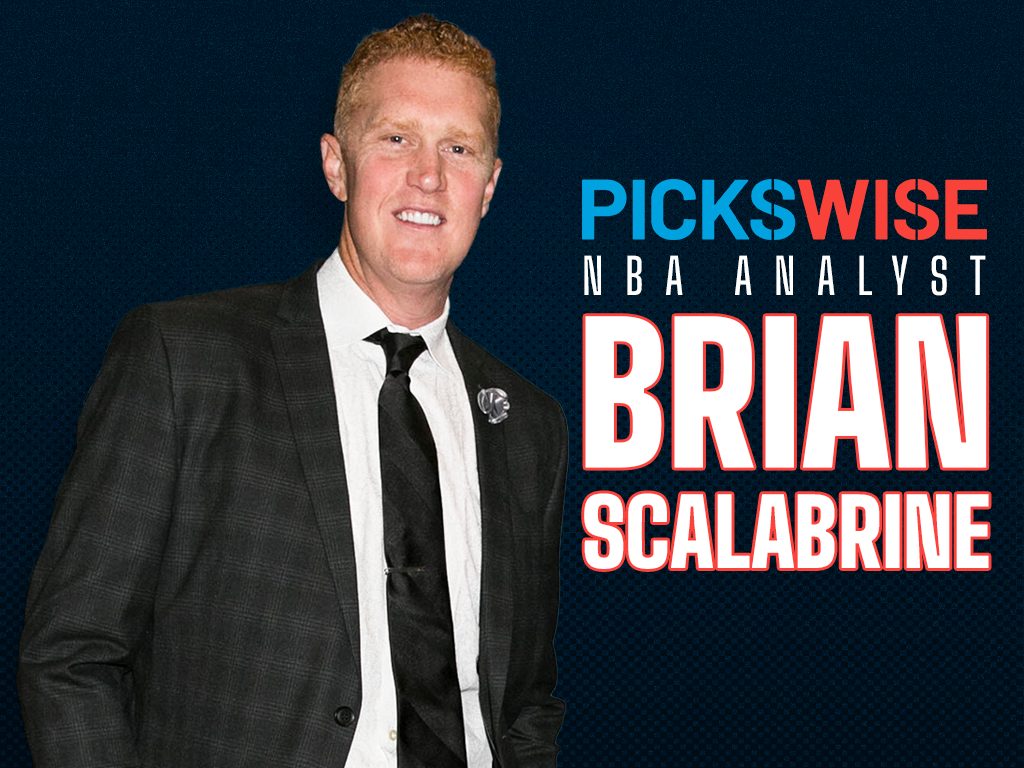 I'm Brian Scalabrine, 11-year NBA vet and member of the world champion 2008 Boston Celtics. Moving forward I'll be writing regular columns here at Pickswise, giving my thoughts on the NBA betting market. The All-Star break has presented the perfect opportunity to step back and reflect on a wild first few months of the season, and that's what we'll be doing today.
Let's talk about everything we've seen up to this point, and then we'll take a look at the futures betting market at the break and dive into a couple of my favorite bets.
Nets/76ers trade: both teams become title contenders
I'd be remiss not to start off with the biggest trade at the deadline, the Ben Simmons/James Harden swap. I think James Harden is a great fit for Philadelphia, and with Joel Embiid playing the way he is Harden is going to be unbelievable for them. The 76ers might have the best 1-2 punch in the league now, and can surely compete for a championship. At the same time, Simmons is going to thrive playing with Kevin Durant, and not having to be "the guy" late in games. He'll guard opposing teams' best player, and the Nets also got some much-needed physicality and shooting in Andre Drummond and Seth Curry respectively.
At the end of the day, with this trade you added not one but two teams in the Eastern Conference that can win it all. Oddsmakers seemed to think the Nets had a very good chance of making a title run even before this trade, but I didn't look at them in any way as a team that could beat the Milwaukee Bucks. Now, I look at both teams as teams that could get past Milwaukee. It's truly a win-win trade for both sides.
All that being said, it's a dangerous trade for 76ers GM Daryl Morey. He didn't just tie the franchise's hopes and dreams to a 32-year-old James Harden, he ran the risk of gifting a conference rival a championship if the Nets are now able to pull this out and Simmons shines, because I don't think they would've been able to before this.
Teams that have impressed so far: Cavaliers, Raptors
The All-Star break is a natural point to look back at all the things we didn't see coming, both positive and negative. We'll start with the good. Two teams that have far surpassed my expectations entering the season have been the Cavaliers and Raptors.
The most surprising team this season is the Cavs. For Evan Mobley to come in and make a defensive impact the way that he has in his first year is unprecedented in the NBA. Rookies aren't supposed to be high IQ defenders, rookies aren't supposed to be able to block shots and stay out of foul trouble, and rookies aren't supposed to have perfect timing or defensive versatility. Mobley has shown all of that. I've said it before and I'll say it again, I think Darius Garland is better than Kyrie Irving. This team is a ton of fun, and J.B. Bickerstaff deserves a lot of credit.
I've also been really pleasantly surprised by Toronto. A lot of people thought the Raptors might be tanking this season, but Nick Nurse has found his starting group and isn't afraid to play them 40 minutes per night. These guys are really connected, and they root for each other in a way that's contagious. They have a tremendous amount of athleticism and length, and Fred VanVleet consistently makes big shots. It shouldn't get lost when praising Mobley's phenomenal rookie season that Scottie Barnes has also done a ton of good things for the Raptors in his first year.
Teams that have disappointed so far: Nets, Hawks
The Nets are going to be in a lot better shape moving forward thanks to their deadline blockbuster, but it would be hard not to acknowledge how big of a disappointment they've been so far. In the first half of the season they've dealt with an onslaught of injuries, and I don't think Harden was the best fit even when he, Durant and Irving were all together. Harden's skillset was a bit redundant, and the team didn't need three elite scorers. Simmons will complement Durant and Irving much better. At 31-28, they'd currently be in the play-in if the season ended today, which obviously isn't what anyone had in mind at the beginning of the year.
Another team that's failed to live up to expectations has been the Hawks. It looked like they were ready to take that next step after their run to the Conference Finals last year, but they just got off to such a poor start. Now you wonder if they're going to be able to flip the script. It seems like every time they have a  game where they could create some real momentum, they lose that game or somebody gets hurt. They're currently the 10 seed in the East, and it's going to be hard for Atlanta to win two games on the road just to emerge out of the play-in tournament. Their win over Philly in the playoffs last year now feels like a lifetime ago.
NBA futures best bets: Grizzlies worth bearing in mind
Now to the fun part, the betting market. Odds have changed dramatically since the beginning of the season, and I've identified a couple of spots I think have value.
I like the Grizzlies at +3000 to win it all. I'm not necessarily saying Memphis is a championship team, but they can very easily make it to the Conference Finals and once there you can just hedge your bet and lock in a little profit. The Grizzlies are really hard to guard and they all believe that with Ja Morant they can win. They have inside play with Steven Adams and Jaren Jackson Jr., and guys on the perimeter with a chip on their shoulder like Desmond Bane and Dillon Brooks.
The Nuggets are another one that I like at +3500. Denver was in Boston to play the Celtics recently and I was able to watch Jamal Murray work out. He looked good. Nikola Jokic is insane and when you add Murray to what he's got cooking the possibilities are endless, so they're another team I could see making a crazy deep run.
All that being said, at the end of the day if I had to pick one team to win it all it'd be the Bucks. I do think Milwaukee will win again when it's all said and done, but if you're looking to sprinkle a few dollars on a longshot who just might do it, Memphis and Denver both make sense.
NBA awards bets: Cunningham climbs to the top
The various NBA awards races are also heating up with only six weeks or so of games left, and there are a couple of spots I like. For MVP I don't love any of the odds but I do think Joel Embiid ends up squeaking it out as voters will give him a lot of credit for how he's dealt with the Ben Simmons situation.
For Rookie of the Year, a bet that I like is Cade Cunningham at +750. I wonder if the media would give the award to somebody with the stats rather than somebody who has had more of an impact on winning like Mobley, but Cunningham is worth a flyer at this price. Cunningham keeps playing better and better, and if he closes strong he could really make this a race.
Don't mess around with any Sixth Man of the Year bets, Tyler Herro is -1400 and he's pretty much a lock. I do think Monty Williams is going to win Coach of the Year, but J.B. Bickerstaff is one that I like at +320. With Chris Paul being sidelined with his finger fracture the Suns could fall off a bit down the stretch, which would open the door for Bickerstaff to win the award for his incredible work with the Cavs.
Pickswise is the home of free NBA picks and predictions. Make sure to also check out our NBA parlays and NBA prop bets tabs for more expert picks.