Celtics, Bucks live up to the hype on first full day of 2020-21 NBA action
Wednesday night's showdown between the Boston Celtics and Milwaukee Bucks gave us what we were supposed to get on Tuesday. Opening night featured Nets-Warriors and Clippers-Lakers, but neither game amounted to much. To say the Celtics and Bucks picked up the slack 24 hours later would be a gross understatement.
Let's reflect on that contest in addition to some other key storylines that emerged from Wednesday's 12-game slate (would have been 13, but Rockets-Thunder was postponed because of coronavirus issues on the Houston roster).
Luck of the Irish late in Celtics-Bucks thriller
The first game of TNT's Wednesday night double-header certainly did not disappoint. There were dominant offensive performances, occasional clutch plays on defense, and almost an incredible comeback by the Bucks. Trailing 101-84 heading into the fourth quarter, the defending Eastern Conference champions grabbed a late lead and would have won if not for a banked-in three by Jayson Tatum with 0.4 seconds remaining. Giannis Antetokounmpo got fouled on the ensuing inbounds play, but he missed the second free-throw as time expired while trying to send the game to overtime. Thus the Celtics survived 122-121.
Antetokounmpo still finished with 35 points and 13 rebounds, also displaying an improved outside jumped with three triples. Tatum countered with 30 points, seven rebounds, and two steals. It was quite simply a great battle between two MVP candidates (the Greek Freak is +450; Tatum is +1600) and perhaps the two best teams in the East (Milwaukee is +230; Boston is +650).
Atlanta's offense is going to be a problem in 2020-21
Not one, not two, not three, not four, not five, not six, not seven…not 81, not 82…. No, the Atlanta Hawks scored 83 points in the first half of their season opener against the Chicago Bulls. Atlanta coasted the rest of the way, so the visitors finished with "only" 124 in their 124-104 rout. Trae Young set a record for the most points scored (37) on no more than 12 shots (10-for-12 shooting) in the NBA's shot-clock era. Newcomers Bogdan Bogdanovic (15 points) and Danilo Gallinari (13 points) provided more than enough support for a Hawks squad that did not even have Clint Capela or Rajon Rondo on Wednesday.
Sure, it's the Bulls; they stink. But 83 points in one half of basketball is impressive any way you slice it. If Atlanta can play even an ounce of defense (which Capela, Rondo, and fellow new addition Kris Dunn can provide), this team is going to the playoffs—and perhaps even with room to spare.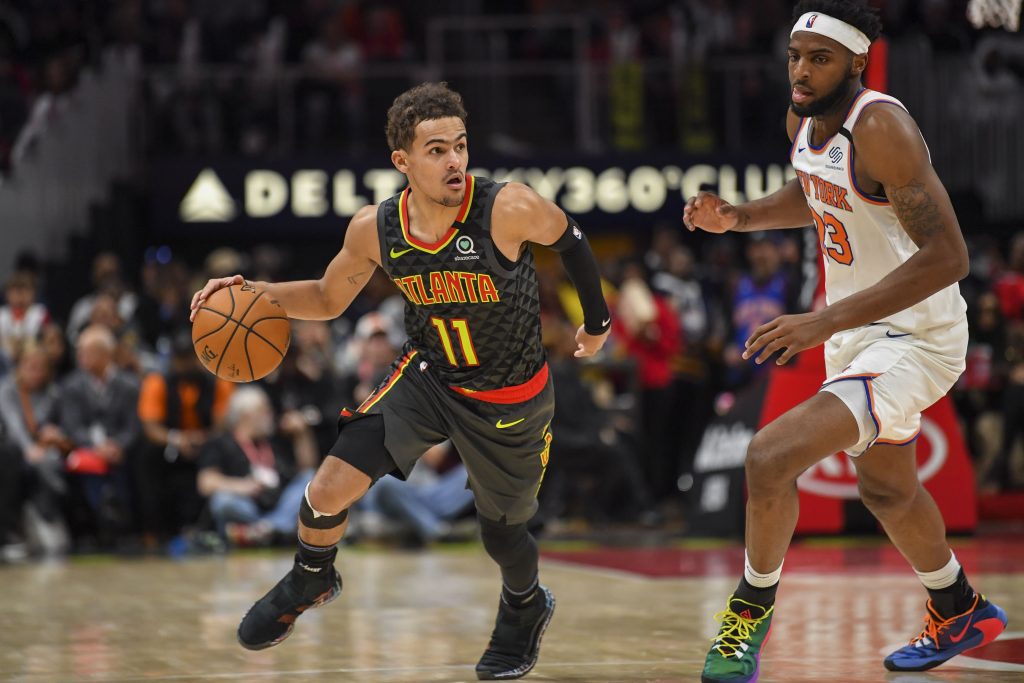 Lock city
The Minnesota Timberwolves were our lock of the day and that move paid off handsomely. That's not to say it was easy. D'Angelo Russell was benched at the start of his team's game against the Detroit Pistons for somehow botching coronavirus testing and thus getting his results back later than planned. Russell scored only two points in the first quarter and four in the first half, a big reason why Minnesota trailed by 14 points midway through the second quarter. With Russell rolling late (he finished with 18 points), the Timberwolves dominated the fourth by a 31-16 margin en route to a win—and cover—in the form of a 111-101 decision. Anthony Edwards, the No. 1 overall pick this fall, impressed to the tune of 15 points, four rebounds, and four assists.
Our #PickswiseLock of the day HITS. Thank you Timberwolves 👏. Drop a ♥️ if you want another lock tomorrow! pic.twitter.com/CgrXStzWuB

— Pickswise (@Pickswise) December 24, 2020
As for other heralded rookies, James Wiseman (19 points) was strong for an otherwise lackluster Golden State team on Tuesday and Patrick Williams had 16 points for the Bulls in their loss. At the other end of the spectrum, LaMelo Ball could not have been worse for the Charlotte Hornets; he did not score a single point and turned the ball over three times during their 121-114 loss to the Cleveland Cavaliers.
It should go without saying, but…don't overreact to one game. Ball will probably be fine. The Lakers (lost to the Clippers) are fine. The Miami Heat (lost to the Orlando Magic) are fine. It's going to take some youngsters some time, just as it's going to take the Lakers and Heat some time to get back in gear following a ridiculously short offseason.
Pickswise is the home of free NBA picks and predictions. We will cover all the big offseason news before making picks for every game during the 2021 season.