Chiefs aim for dynasty as early Super Bowl LV favorites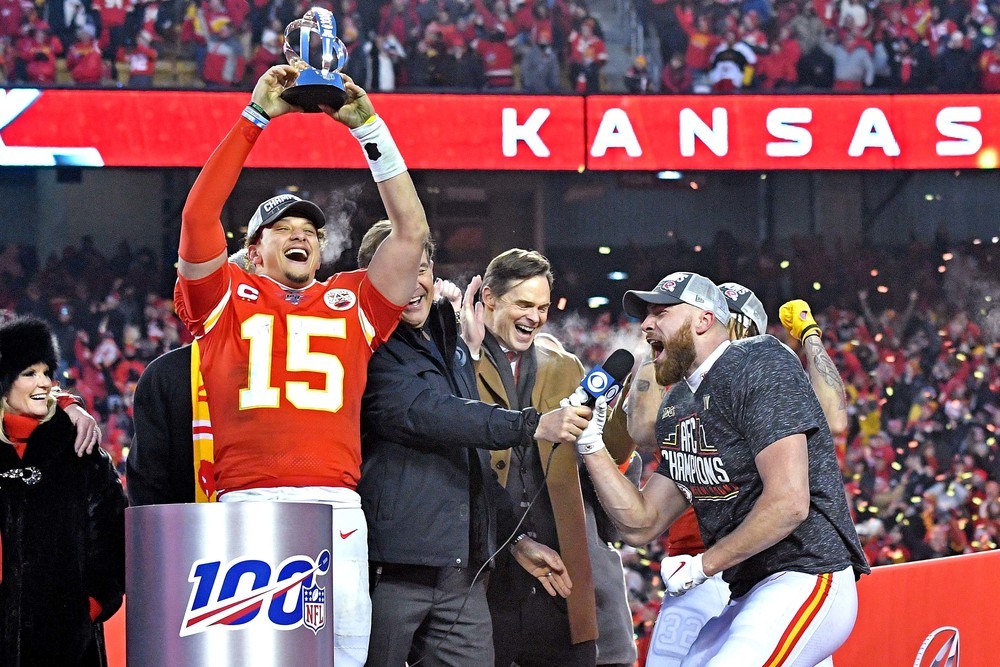 Is there another NFL dynasty in the making? An heir apparent to the New England Patriots, perhaps?
The Kansas Chiefs certainly have the makings of it after winning Super Bowl LIV on Sunday, when they dominated the fourth quarter 21-0 to beat the San Francisco 49ers 31-20. Most importantly, they possess the brightest young star in the game in quarterback Patrick Mahomes—NFL MVP in 2018 and MVP of Super Bowl LIV. Andy Reid is a Hall of Fame head coach (he locked that up at some point down the road thanks to Sunday's triumph). An effective supporting cast for Mahomes is showcased on offense, defense, and special teams.
But making it back is never guarantee—not the very next year and not ever.
Speaking of blown fourth-quarter Super Bowl leads (specially by Kyle Shanahan, in fact!), just ask the Atlanta Falcons about the difficulty of sustaining success. They seemed to be a team on the rise in 2016 but apparently still have yet to recover from their Super Bowl LI meltdown against the New England Patriots. The New York Jets, Tampa Bay Buccaneers, New Orleans Saints, Los Angeles Chargers (then San Diego), Tennessee Titans, and Arizona Cardinals have never made it back to the big game following their debut appearance.
So, what will the future hold? You never know, but the early Super Bowl LV odds will give us at least some idea of what to expect during the 2020 NFL season.
Kansas City Chiefs (+500)
Mahomes was mediocre at best through three quarters on Sunday, but—as expected—he caught fire when it mattered most in the fourth to earn Super Bowl MVP honors. With the former Texas Tech standout at the helm, the Chiefs have produced back-to-back 12-4 seasons. There is no reason to think they will suddenly slow down.
Baltimore Ravens (+700)
Baltimore boasts the reigning NFL MVP in Lamar Jackson, who is actually younger than 2019 Heisman Trophy winner Joe Burrow. Needless to say, the Ravens are set up perfectly at the most important position in football for years to come. They were favored to win it all this season as the AFC's No. 1 seed going into the playoffs but got bounced out in the divisional round by Tennessee.
San Francisco 49ers (+800)
It was all right there for the 49ers to lift the Lombardi Trophy, but Shanahan (their third-year head coach and former Atlanta offensive coordinator) watched a 10-point lead evaporate. On the bright side, this team has a ton of promising young talent on both sides of the ball such as Nick Bosa, George Kittle, and Deebo Samuel.
New England Patriots (+900)
What will Tom Brady do? We know (well, we already knew) from the famous Hulu commercial that the 42-year-old is not ready to hang 'em up and will be back in the NFL. But will it be with the Patriots? If so, Brady and Bill Belichick can never be counted out. Either way, however, Kansas City and Baltimore seem to have usurped this dynasty in the AFC.
Dallas Cowboys (+1800)
There are the Chiefs, Ravens, 49ers, and Patriots. And then there is everyone else. You have to double New England's +900 odds before finding the fifth favorites, a group that includes Dallas, the Green Bay Packers, Philadelphia Eagles, and Seattle Seahawks. If Jason Garrett was truly the problem, then new head coach Mike McCarthy may be able to cure what has ailed the Cowboys.
Check out our Super Bowl Odds page for the latest odds ahead of Super Bowl LV. Be sure to also check out our latest Super Bowl Predictions for the big game!