NFL
Back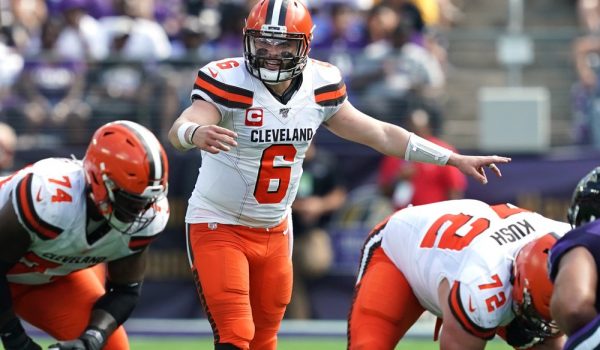 Cleveland Browns: What will their 2020 record be?
Expectations were high for Freddie Kitchens' first and only season as head coach of the Cleveland Browns, but they floundered to the tune of a 6-10 record. That marked an unbelievable 12th consecutive losing season for the franchise.
Will Baker Mayfield and company be able to turn things around in 2020 under new boss Kevin Stefanski? The 38-year-old takes over following a brief stint as the Minnesota Vikings' offensive coordinator, and if the schedule has anything to do with it his new team should have a chance to achieve immediate success.
Cleveland went into Baltimore and somehow handed the Ravens one of their two regular-season losses in 2019. That simply is not going to happen again. Loss
Week 2: vs. Cincinnati Bengals
In a battle between No. 1 overall draft picks, Mayfield should be able to get the best of Joe Burrow. Mayfield has more experience and benefits from a superior supporting cast. Win
Week 3: vs. Washington Redskins
It would be so Cleveland of Cleveland to actually lose at home to the Redskins. Don't be surprised if the Browns make a mess of this, but they will likely survive for an ugly 'W.' Win
Week 4: @ Dallas Cowboys
I have the Browns winning just a single road contest in 2020 even though the away schedule is far from impossible. Week 4 at Dallas certainly won't be the one. Loss
Week 5: vs. Indianapolis Colts
The home schedule is not difficult, either. One of the easiest of all could come against the Colts, who boast a veteran quarterback in Philip Rivers but are probably best served rebuilding. Win
Week 6: @ Pittsburgh Steelers
A lot of eyes will be on this showdown—not for the quality of football, but simply because if what transpired last year. This time, however, Pittsburgh has Ben Roethlisberger. Loss
Week 7: @ Cincinnati Bengals
Are the Browns good enough to sweep anyone? No; not even the Bengals. With home-field advantage, Burrow should be able to lead his team to a rare victory. Loss
Week 8: vs. Las Vegas Raiders
The Browns' bye week comes right in the middle of the year, and they would still be in striking distance if they head into it with a .500 record. A home date with Las Vegas will help that effort. Win
Week 9: BYE
Week 10: vs. Houston Texans
Good grief this schedule is easy. If it was a walk in the park heading into the bye, it gets even more favorable coming out of it. Houston is coming off a disastrous playoff collapse and an even worse offseason. Win
Week 11: vs. Philadelphia Eagles
It's a third consecutive home game for Cleveland. Although this one will be far more difficult than what the Raiders and Texans bring to the table, a big win is possible. Win
Week 12: @ Jacksonville Jaguars
Break up the Browns! Make it four straight for them as they continue to capitalize on what is the easiest part of any overall easy 16-game late. Jacksonville quite simply stinks. Win
Week 13: @ Tennessee Titans
Look for Cleveland to go 3-1 at the expense of the AFC South. But there is no way a clean sweep is in the cards, because a road trip to Tennessee is a recipe for a rout. Loss
Week 14: vs. Baltimore Ravens
Tennessee and Baltimore back-to-back is Cleveland's toughest stretch of the 2020 campaign. It will hardly matter that this one is at home, as the Ravens are just in a different league. Loss
Week 15: @ New York Giants
This is a winnable road foray for Cleveland, but at the same time no game is a lock for a mediocre squad such as this one. The Browns will probably find a way to throw this away. Loss
Week 16: @ New York Jets
Going loss-loss during back-to-back weeks in New York would be an utter disaster. The Browns, though, are no strangers to utter disasters. It's going to happen. Loss
Week 17: vs. Pittsburgh Steelers
I have this year being a roller-coaster ride for Cleveland and it continues—concludes, in fact—by bouncing back from two straight setbacks with a defeat of rival Pittsburgh. Welcome to 8-8. Win
Cleveland should be able to take a small step forward this season, but that is not exactly saying a lot. Week 16 at the Jets could be especially large, and if the Browns pull out a victory there and somehow manage a winning record then the AFC's seventh and final seed is possible. But the pick here is that they miss out on the playoffs yet again despite ending—albeit just barely—their streak of losing seasons.
Last updated: Wed 27th May 2020